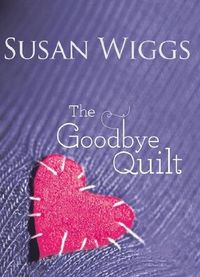 Purchase
Endearing and straight from the heart, a story about the bonds between mother and daughter.
MIRA
April 2011
On Sale: April 1, 2011
Featuring: Linda Davis; Molly Davis
400 pages
ISBN: 0778329968
EAN: 9780778329961
Hardcover
Add to Wish List

Linda Davis' local fabric shop is a place where women gather to share their creations: quilts commemorating important events in their lives. Wedding quilts, baby quilts, memorial quilts - each is bound tight with dreams, hopes and yearnings.
Now, as her only child readies for college, Linda is torn between excitement for Molly, and heartache for herself. Who will she be when she is no longer needed in her role as mom? What will become of her days? Of her marriage?
Mother and daughter decide to share one last adventure together - a cross-country road trip to move Molly into her dorm. As they wend their way through the heart of the country, Linda pieces together the scraps that make up Molly's young life. And in the stitching of each bit of fabric - the hem of a christening gown, a snippet from a Halloween costume - Linda discovers that the memories of a shared journey can come together in a way that will keep them both warm in the years to come.
Comments
9 comments posted.
I really want to read this for this story is close to home, my daughter willbe going off to college and I'll be an empty-nester. Akso Susan always writes a good story from her heart and I like reading her books.
(Carole Fiore 3:52pm March 17, 2011)
I cannot wait to read this book.

I gave her candy, took her out to eat - she spent the weekend with us and also gave her a gift card so she could pick out something nice.
(Pat Lieberman 11:59am May 12, 2011)
I gave her my presence, spices from Penzi's, and several plants from annual plant sale including a black viola, a red coleus and lavendar.
(Alyson Widen 1:40pm May 12, 2011)
Unfortunately, my Mother passed away a few years ago, so I spoke to her, as I do almost every day. It seems as if she passed away only yesterday, and I miss her terribly. I did call my Dad, though, and I think he knew that I was going to call. Out of the 3 girls in the family, even though I don't live nearby, I'm pretty much the closest to him, and have since I was small. It could be because I'm the baby of the family. Anyway, if she was still here, I would have driven out to see her with my Husband, and spoiled her rotten!!
(Peggy Roberson 3:14pm May 12, 2011)
Our mother is no longer with us either, but my brother passed away not quite 10 weeks ago. I'm sure he passed on our good thoughts and prayers to her and our father.
(Sigrun Schulz 5:49pm May 12, 2011)
My mother passed away nearly 20 years ago, but I miss her as much today as I ever have. She loved to read and I appreciate her sharing her love of books with me. I'm looking forward to reading "The Goodbye Quilt" but I must confess "Home Before Dark" remains remains my favorite of your books.
(Jill Hayden 6:49pm May 12, 2011)
Sadly, my Mother is not with us any more. She died 4 years ago. However, this year was special in a different way. May 8th also happened to be my oldest son's 38 birthday. He and I went out to dinner to celebrate our "Happy Mother's Birthing Day". It is our special event.
(Robin McKay 7:01pm May 12, 2011)
I absolutely loved The Goodbye Quilt and felt many of the same things when my only child went off to college. Funny enough, I'm working on my own quilt right now with a purpose that will change my life as much as the quilt in the bood did. What did I get my mother? A quilted purse. She had looked for one over a year ago and couldn't find one so when Mother's day came around it seemed the perfect gift for her. She loved it. The colors were good for almost anything she wore and it was the size of a purse she normally buys herself.
(Christina Harrison 10:48pm May 13, 2011)
When I picked up The Goodbye Quilt I didn't realize that it was going to be a journey of saying goodbye to one life and hello to another.

As a woman of an age to soon be an empty nester this is a story that falls close to my home. I can only hope that as my last chick flies my nest I'm as supportive as Linda ended up being.

If you're an empty nester or soon to be like me then The Goodbye Quilt might be a story to read, so you can feel less alone on your journey.
(Sandi Shilhanek 9:12am June 8, 2011)
Registered users may leave comments.
Log in or register now!