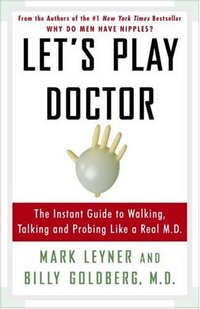 Purchase
The Instant Guide To Walking, Talking, And Probing Like A Real M.D.
Three Rivers Press
December 2008
On Sale: December 2, 2008
224 pages
ISBN: 030734598X
EAN: 9780307345981
Paperback
Add to Wish List

CONGRATULATIONS! Your purchase of this book means that the admissions committee has thoroughly reviewed your application and we are pleased to welcome you to the Why Do Men Have Nipples School of Medicine.**A not quite fully accredited institutionLet's Play Doctor is your instant guide to becoming a Real Fake Doctor. At the Why Do Men Have Nipples School of Medicine, we offer an informative, immersive, and incredibly entertaining course of study that will give you the special skills needed to get your M.D. on! By following the lessons in Let's Play Doctor, you'll learn:• Special mental exercises to give yourself that buff, bulging Doctor brain• How to impress your peers with big, polysyllabic, esoteric medical lingo (can you say pneumonoultramicroscopicsilicovolcanokoniosis?)• Easy ways to diagnose your girlfriend's goiter or your father's fistula• Do-it-yourself surgeries from hemorrhoidectomy to breast enlargement• And, most important, how to craft a completely believable, official-sounding get-out-of-work-for-medical-reasons noteTuition? Just $14.95. Enroll today! It's time to play doctor!
Comments
No comments posted.

Registered users may leave comments.
Log in or register now!