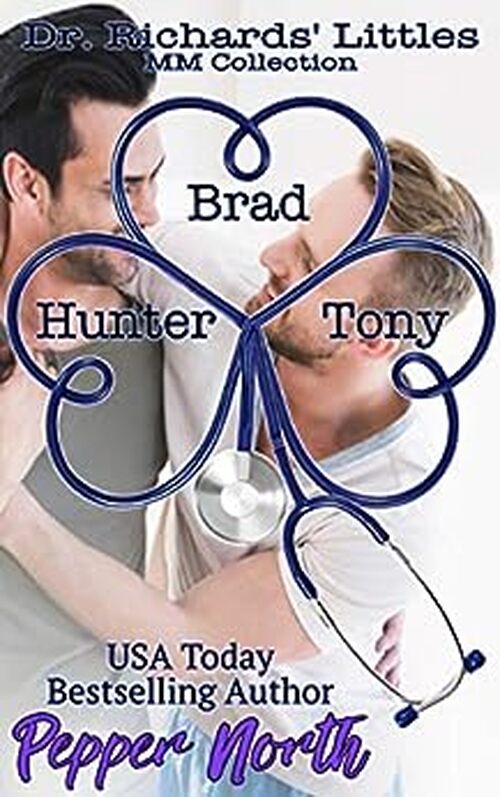 Purchase
Dr. Richards' Littles®: MM Collection
Pepper North
With A Wink Publishing, LLC
September 2018
On Sale: August 27, 2018
362 pages
ISBN: 1719926220
EAN: 9781719926225
Kindle: B07GWFL123
e-Book
Add to Wish List

Brad: Could two guard dogs play matchmaker between an older man and a young male nurse?
Walking home from the hospital past the ornate gates of the Burmingham estate, ICU nurse Brad always stopped to talk to the ferocious guard dogs. He'd been trying to make friends with the German shepherds for months.
Thorston Burmingham doesn't know what to make of the young man in scrubs. Drawn to the caring nurse, the wealthy reclusive man soon pursues Brad with single-minded determination. When Thorston forces Brad to admit his interest in living as a Little, Brad quickly learns that the strict man could be the Daddy that he has dreamed of for years.
Hunter: Hunter will not find it easy to yield to the fantasies he's had for years. Luckily, his Daddy will not let him run away or hide from his desires.
Hunter Stevens may be a law-abiding business owner, but his tattooed appearance and motorcycle can give people the wrong impression. When faced with a judgmental police officer, he reacts badly.
Lazzaro Bianchi is a police homicide detective. While filling in for a fellow police officer on patrol, he learns he seriously misjudged the tattoo studio owner and artist. Now this intriguing man needs to accept his apology so he can pursue the Little who the Lazzaro knows is his.
Tony: A talented, young mechanic's new boss offers him the opportunity for an entirely different life. Will he be brave enough to listen to his heart?
Tony needs this job. He needs it badly. When he applies for a mechanic's job at a local repair shop, it seems to be a perfect match for the boss' plans to expand his business. As the sexual tension grows between the two men, he discovers that Rob is searching for a special kind of relationship.
Attracted to his handsome, young employee, Rob Harris is willing to offer him a job with a place to stay and food to eat, without any strings attached. Quickly, he discovers that Tony is his exact match, his Little. When the young man reveals his attraction to Rob, the garage owner introduces him to life as a cherished Little. Rob can only hope the love growing between them can convince Tony to stay.
Addiction Warning: Pepper's stories will touch your heart and may warm your bottom. While both sweet & spicy, the Dr. Richards' Littles stories may contain more heat than some will find comfortable. Playing doctor with Dr. Richards can be an intense experience that borders on electrifying. The greatest risk, however, is developing an intense craving for more after reading just one. Proceed with caution.
Comments
No comments posted.

Registered users may leave comments.
Log in or register now!