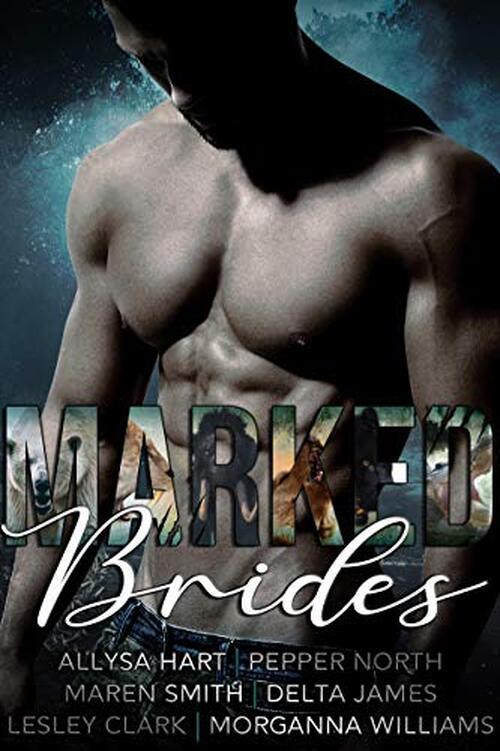 Purchase
Brides of Terra Arcus #1
Stormy Nights Publications
August 2020
On Sale: August 7, 2020
499 pages
ISBN:
Kindle: B08FG8GLYQ
e-Book
Add to Wish List

Science Fiction Romance | Paranormal
First they were sold. Now they will be marked and mated.
Marked Brides is a collection featuring six brand-new, scorching hot shifter romances from six wonderfully talented authors. This exquisitely sexy box set includes the following novellas:
Versoth Bride by Maren Smith
Josie anticipated hardship when she agreed to work on Terra Arcus, but she didn't expect to be stripped bare, put on the auction block, and sold to the highest bidder with her bottom still sore from a strapping to curb her defiance. Though she escapes the brutes who bought her, she soon ends up in the hands of three even more fearsome beasts who decide to claim her as their mate.
Mate of the Mamuut by Morganna Williams
When Shiloh arrives on Terra Arcus she soon realizes that she has been deceived. She was not brought to this planet to study the native wildlife, but to be sold at auction. As the giant beast who bought her carries her off, she quickly discovers that he will not hesitate to spank her soundly for any disobedience before claiming her beautiful body long and hard and thoroughly.
Wildcat by Delta James
Upon awakening to find a rugged brute in her cabin claiming to be her mate, Salem expresses her lack of interest in accompanying him to his planet by means of a knife thrown at his head. Unfortunately for her, he wasn't asking, and she will be coming with him to Terra Arcus whether she likes it or not. The only thing up to her is how sore her bottom will be when they arrive.
A Polar Hope by Pepper North
After losing her job on Earth, Marisol signs up for a cultural exchange program with Terra Arcus, but upon her arrival she is stripped and put up for auction. When the northern clan chief recognizes her as his own, he claims her and escorts her back to his lands. While their future children are the hope for the clan's survival, she captures her stern mate's heart as well. He will ease her adaptation to her new life with a firm hand and a loving embrace.
Daddy's Stowaway by Allysa Hart
When Callie is caught stowing away aboard a ship bound for Terra Arcus, she ends up in the custody of a stern, handsome scientist who quickly takes on the role of her firm-handed daddy. Her efforts to deceive him soon earn her a sound spanking on her bare bottom followed by a thorough, intimate medical examination, and before long he has decided to claim her as his mate.
Their Fated Mate by Lesley Clark
After signing a contract to spend a year on Terra Arcus performing medical research, Natalie is shocked to instead find herself being stripped and put on shameful display on the auction block. One look at her beautiful naked body convinces an alpha wolf and his beta to buy her, and to her surprise it isn't long before their dominance awakens an uncontrollable mating fever within her.
Publisher's Note: Marked Brides is the first book of the Brides of Terra Arcus series. The novellas of this collection include spankings and sexual scenes. If such material offends you, please don't buy this
Brides of Terra Arcus
Comments
No comments posted.

Registered users may leave comments.
Log in or register now!