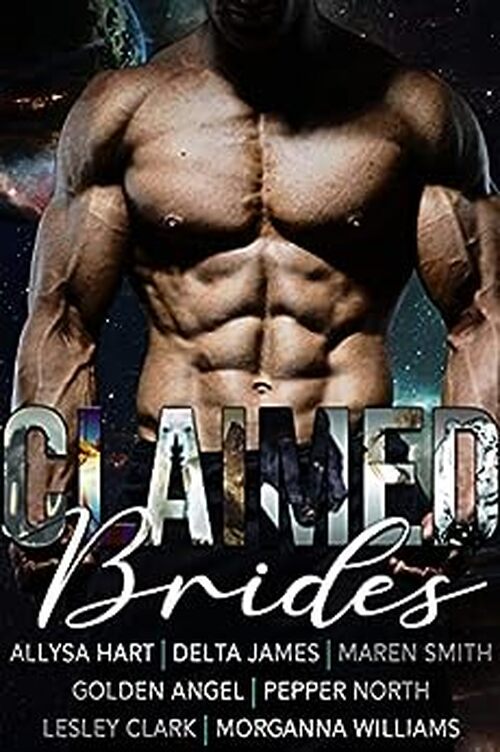 Purchase
Brides of Terra Arcus #2
Stormy Nights Publications
August 2021
On Sale: August 5, 2021
622 pages
ISBN: B09B59HXRK
Kindle: B09C2J671W
e-Book
Add to Wish List

Other Editions
e-Book (August 2021)
Paranormal Romance | Romance Science Fiction
Some were bought. Others were taken. All will be claimed.
Claimed Brides is a collection featuring seven scalding hot new shifter romances from seven awesome authors. This thrillingly sexy box set includes the following novellas:
A Polar Second Chance by Pepper North
Ruth would have never expected to experience a connection with the seer of Clan Thorben, but merely touching the handsome polar bear shifter's hand leaves her feeling warm in a way she never has before. But he doesn't plan for her to be just his mate. She will be his little girl also, to be loved, cherished, and spanked very soundly on her bare bottom when she's been naughty.
Daddy's Naughty Mate by Allysa Hart
In the time since she snuck aboard a ship bound for Terra Arcus and ended up claimed by a firm-handed panther shifter she now calls daddy, Callie has learned what it means to belong to a savage beast. But when the mate she loves must return to his ancestral homeland to care for his ailing mother, Callie finds herself thrust into the midst of a deadly battle for control of his pack.
Blackwell's Price by Maren Smith
Though Cyan Price is having second thoughts about her decision to sign up for the trip to Terra Arcus, upon her arrival she soon learns that what happens next isn't going to be up to her. The huge, fearsomely sexy tiger shifter in charge of auctioning off human females as mates has chosen her for himself, and he is looking forward to taming her and making her his in every way.
Marked for the Gryphons by Golden Angel
Eva intended to infiltrate Terra Arcus via the bride program, but she ended up stripped bare and sold to three gryphon shifters. As she is flown to her new home on the back of a terrifying beast with her cheeks blushing and her well-spanked bottom burning, she knows the most shameful part is yet to come. Her mates don't just plan to share her, they plan to take her all at once.
Sabretooth by Delta James
When reporter Tegan Mason sets out to expose the truth about the women who volunteer to work on Terra Arcus, she ends up taken captive and sent there herself to be sold at auction. But the shifters of Clan Sabre don't buy mates, they take them, and when the ship that transported her is raided she finds herself being carried off by a brute who has no intention of claiming her gently.
Mamuut's Haven by Morganna Williams
Caring for what is left of her people is all that keeps Haven going, but her life is changed forever when the alpha of Clan Mamuut saves her from scavengers. The massive, effortlessly dominant mammoth shifter informs Haven that she is his mate, and in spite of her defiance she has soon been bared and very soundly spanked. But before he claims her, she will be made to beg for it.
Their Sassy Mate by Lesley Clark
When her quest to track down her sister prompts her to accept help from a mysterious stranger, Susie ends up on Terra Arcus in the company of a man who turns out to be an alpha shifter. But her guide soon makes it clear that not only is he planning to claim her as his mate and spank her any time she disobeys him, he will be sharing her with another wolf from his pack as well.
Publisher's Note: Claimed Brides is the second book of the Brides of Terra Arcus series. The novellas of this collection include spankings and sexual scenes. If such material offends you, please don't buy this book.
Brides of Terra Arcus
Comments
No comments posted.

Registered users may leave comments.
Log in or register now!