Mia Marlowe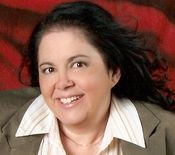 Blogging at Fresh Fiction
Mia Marlowe | What Would the Dowager Say?
November 5, 2014
It is my very great pleasure to introduce you to Phillippa, the Most Honorable, the Dowager Marchioness of Somerset. She is the velvet-fisted power Read More...
Mia Marlowe | The Joys (& Horrors) of Being a Pantser
January 16, 2014
Sometimes readers like to peel back the writer's curtain and peek into the creative process. I'm what's known as a 'linear pantser Read More...
Mia Marlowe | Writing Assistants
June 20, 2013
There was a time when an author's only job was to turn out marketable, respectably error-free manuscripts. At least, that's what they Read More...
Mia Marlowe | When Good Characters Do Bad Things...
January 10, 2013
A hero doesn't do unheroic things. That's a given in the romance world. However, my co-author New York Times bestseller Read More...
Mia Marlowe | What's so special about a guy in a kilt?
January 12, 2012
Getting him out of it, of course. In SINS OF THE HIGHLANDER, "Mad Rob" MacLaren Read More...
Mia Marlowe | Reading the "Wrong Sort of Book"
September 27, 2011
I'm always interested in how what we read changes how we think about things. Unfortunately for my hero in Read More...
Pseudonym for Diana Groe.
Pseudonym: Emily Bryan.

A classically trained soprano, Mia Marlowe learned the elements of storytelling while performing operatic roles. Now she's an award winning author whose books have been translated into German, Dutch, Italian, Russian, Spanish and Japanese. Her work was even featured in the Best of 2010 issue of PEOPLE magazine! Mia has lived in nine different states, but she now makes her home in the heart of New England.
Interviews for Mia Marlowe
Interview with Mia Marlowe about LORD OF FIRE AND ICE
Lord Of Fire And Ice
July 5, 2012
Log In to see more information about Mia Marlowe
Log in or register now!
Series
Regency Rakes | Somerfield Park | Order of the M.U.S.E.
Books:
The Singular Mr. Sinclair, July 2018
The House of Lovell #1
e-Book
The Lost Soul of Lord Badewyn, December 2015
Order of the M.U.S.E. #3
e-Book
The Madness Of Lord Westfall, September 2015
Order of the M.U.S.E. #2
e-Book
The Curse of Lord Stanstead, August 2015
Order of the M.U.S.E. #1
Paperback / e-Book
Never Resist A Rake, June 2015
Somerfield Park
Paperback / e-Book
A Rake By Any Other Name, November 2014
Paperback / e-Book
Once Upon a Plaid, October 2014
Paperback / e-Book
Between A Rake And A Hard Place, January 2014
Paperback / e-Book
Plaid Tidings, October 2013
Spirit of the Highlands
Paperback / e-Book
One Night With A Rake, June 2013
Regency Rakes #2
Paperback / e-Book
Waking Up With A Rake, January 2013
Royal Rakes #1
Paperback / e-Book
Touch Of A Scoundrel, August 2012
Paperback / e-Book
Lord Of Fire And Ice, July 2012
Paperback / e-Book
Sins Of The Highlander, January 2012
Paperback / e-Book
My Lady Below Stairs, October 2011
e-Book (reprint)
A Duke for All Seasons, September 2011
e-Book
Improper Gentlemen, August 2011
Paperback
Touch Of A Thief, May 2011
Touch of Seduction #1
Trade Size / e-Book