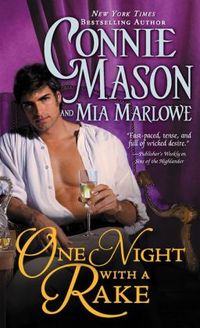 Purchase
Regency Rakes #2
Sourcebooks Casablanca
June 2013
On Sale: June 1, 2013
Featuring: Nathaniel Colton; Lady Georgette
384 pages
ISBN: 140227243X
EAN: 9781402272431
Kindle: B00BEXP50W
Paperback / e-Book
Add to Wish List

The race is on in this sexy Regency series. To prevent three dukes from shoving their way into the royal line, the monarchy will dangle the ton's most notorious rakes before the dukes' intended brides. They'll cause a scandal, then call off any plans of matrimony. But just who will have the last laugh?
Nathaniel Colton's polished Hessians have been in countless well-born ladies' beds since the death of his fiancée. So it's a small matter to him to frustrate the Duke of Sussex in his pursuit of Lady Georgette. But the lady is no easy conquest. Nathaniel has to make her believe he cares about someone besides himself—and no one is more surprised than Nathaniel when he realizes he actually does.
Regency Rakes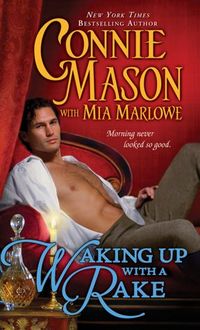 Waking Up With A Rake
#1.0
Amazon.com | BN.com | | |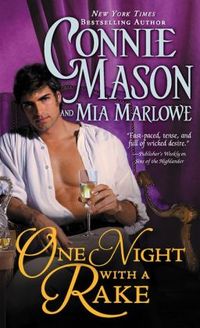 One Night With A Rake
#2.0
Amazon.com | BN.com | | |
Comments
40 comments posted.
I have a lab who is really a cat - love to sit and watch the world go by and purrs when you scratch his ears.
(Beth Elder 11:02am June 20, 2013)
Sometimes, Mack rubs on my legs like a cat too. I think he may be species impaired!
(Mia Marlowe 11:08am June 20, 2013)
I love the picture of your dogs!! They are so cute. And your book sounds wonderful that you have for the giveaway. I hope I win.
(Sarah Bauman 11:53am June 20, 2013)
i have 4 bogs so i am a dog lover also i also have 1 cat so
our house is very lively with 2 girls and my husband and me.
the book sounds so good i would really love to read it
(Denise Smith 12:27pm June 20, 2013)
How cute... I have always had pets in my life... dogs, cats, birds, fish, lizards, rodents, etc... each with their own unique personalities. My best friend in my teens was my very first parrot... Oscar was the best... my playmate, my alarm clock, my room's guard bird, lol... no one would get past Oscar.
(Colleen Conklin 12:51pm June 20, 2013)
I too am a dog lover...and an inveterate reader. Would love
to delve into this novel!
(Diana Corlett 1:31pm June 20, 2013)
Your dogs are so cute. My dog is named Peaches. She's 10 years old now and was a Christmas gift for me when she was a puppy. She was the best present I ever got, she's my constant companion and still likes to follow me everywhere I go.
(Jamie Fortney 1:38pm June 20, 2013)
Thanks, Sarah. I'm pretty attached to the little scamps. Good luck in the drawing.
(Mia Marlowe 3:10pm June 20, 2013)
Denise, when we lived in Wyoming, we had two horses, two dogs & two cats. My DH joked that he should have been named Noah!
(Mia Marlowe 3:11pm June 20, 2013)
Colleen--A parrot, wow! That's a commitment. My aunt had one she used to bring to all our family reunions. I'm ashamed to admit my girls taught it to say "Graham's a dork" just to irritate their cousin!
(Mia Marlowe 3:13pm June 20, 2013)
Diana, sounds like we have a lot in common! Dogs by our sides and our noses in books!
(Mia Marlowe 3:14pm June 20, 2013)
Jamie, Peaches sounds wonderful. Give her a hug from me!
(Mia Marlowe 3:15pm June 20, 2013)
Your dogs are adorable! We have two cats, Riley and Fiona, that keep
each other and me company when my husband is at work and our children
are in school.
(Linda Brennan 3:39pm June 20, 2013)
I have a 13 1/2 year West Highland Terrrier. Her name is Blithe and she is the love of my life. She has been a diabetic now for over four years. She can be a bossy little thing but she is a doll.
(Lori Yost 4:17pm June 20, 2013)
I had a dog.
(Cheryl McEwen 5:04pm June 20, 2013)
Don't have any pets and never did. I don't want to be emotionally distraught if they
die. :'(
(Lazydrag0n Puff 6:05pm June 20, 2013)
I have no pets but my daughter does and I love that German Shepard so much...he is my "grand puppy" at 7 years old!!!
(Bonnie Capuano 6:10pm June 20, 2013)
I have a cat named Gibbs, surprisingly named BEFORE NCIS came
out. :-D He is what we call a Psycho Cat. He sees things
that we do not and goes crazy when he tries to chase them.
But he provides many fun stories.
(Karin Anderson 7:17pm June 20, 2013)
dogs here, ty
(Debbi Shaw 7:29pm June 20, 2013)
We take care of our daughter's dog and cat when they are gone. Max (dog) thinks he is still a puppy, 8 years old, and Charcoal is very active at the ripe old age of 21.
(Leona Olson 8:05pm June 20, 2013)
A good pet always improves the quality of life. Currently, I only have my daughter's cat that she left with us when she moved out. She (the cat) vacillates in her moods, but she does have her moments when she brings humor or companionship.
(Janie McGaugh 9:21pm June 20, 2013)
I do not have a pet of my own but I feel like my neighbors dog is definitely part of our family!
(Shirley Younger 9:39pm June 20, 2013)
I have 2 beagles and 2 cats---all try to be assistants but sometimes have to be shooed out of the office if they get to frisky.
(Sue Farrell 9:46pm June 20, 2013)
Hi Mia!

I've always loved our pets (both dogs and cats) but must admit that our cat Charlie (aka Atilla the cat) was my favorite above all. Like many pet owners we form a special bond with our beloved pets who manage to run our homes instead of us and when Charlie passed away recently we realized how much he had added to our lives.

He got his nick-name when he was just a few weeks old when he managed to open our heavy sliding glass door in our kitchen and managed to escape and terrorize the "wildlife" in our back yard! Who would have ever guessed when we "adopted" him fro the Rescue League that my husband who vowed he never met a cat he liked that Charlie favorite place to sleep would be on top of my husband!

We've found that pets have minds of their own and can sneak into your hearts without you even realizing it. They can't talk back and never stay mad at you for long and freely give you their love - even when you do forget to pick up "kibble" or treats for them when you go shopping!

A pet's love is freely given and they add joy to your life without expecting you to thank them. They love without restraint and up-lift you when the skies are cloudy and the rain seems like it will never go away.
(Jeanne Miro 9:46pm June 20, 2013)
When I was in high school we had a black lab. He listened to me the best
out of the whole family. To describe him my mother said he reminded her of
Clifford the big red dog.(He would accompany her on her daily walks.) my
father referred to him as "Hunter the hound from hell" for all the trouble he
got into and all the times he almost died while pursuing trouble. He was my
favorite of all our pets growing up. He was a great playmate.
(Laura Gullickson 9:57pm June 20, 2013)
My kids and I had a cocker spaniel while they were young and 4 cats! I'm in a condo now and pets are not allowed. I'm glad that I have the memories of the pets.
(Betty Hamilton 10:39pm June 20, 2013)
I don't have a pet now. I did have a cat that would watch me type. And
circled the printer growling. :) she died when she was 18.
(Penny Mettert 11:28pm June 20, 2013)
I have two cats who are currently teaching me about pose. The male cat is teaching me to walk calmly. The girl cat is teaching me be well... be feminine. How's that for having two self-image instructors.
(Kai Wong 12:55pm June 21, 2013)
I love your story about Harry and Mack, they sound like the perfect assistants! I don't have any pets now, but growing up I had 2 hamsters with my sister. They were helpful when we had a bad day, since both were calm and loved to cuddle in our laps. Sadly, they are longer with us, but we have good memories of them.
(Anita H 3:01am June 21, 2013)
Unfortunately I have allergies, so I don't have any pets. But
your dogs sounds wonderful, I'm glad you were able to save
them and give them a good home.
(Ada H. 3:25am June 21, 2013)
My dog passed away almost 3 years ago, and it was pretty quiet around our apartment. Because my Husband and I feed the strays here in the country, what started out to be one cat, turned into 2 mama cats, and their litters, which was a total of 8 kittens to boot!! Our Landlord was nice enough to let us keep them in the apartment until they were old enough to be weaned, then we kept 2 kittens, and the rest of them went to a no-kill shelter, where they would be placed in a good home. These 2 kittens turned out to be the loves of our lives, even though at times, they can be little stinkers. It was such a hard choice to pick only 2, because each one of them had such a great quality to them, but the 2 we kept are complete opposites, and both loving in their own way. Sugar Ray, the male, likes to sit by the computer and watch the cursor. Gizmo, the female, just likes to sit on my lap while I'm on the computer, and fall asleep, after I've given her some loving. While they're awake, they love to play, and love to follow us around the apartment. I'd love to tell you stories of their antics, but it would take up too much space. Some day I'd love to throw a puppy into the mix, since they love dogs, too, and would have fun with a new playmate.
(Peggy Roberson 9:26am June 21, 2013)
Nope... not anymore... I grew up with a puppy though and really loved him!
(May Pau 10:38am June 21, 2013)
For most of my life I had various dogs, one at a time. However I now live in a nursing home where they are not allowed. I get my dog fix now when people bring their therapy dogs in so we can pet them.
(Carol Woodruff 11:38am June 21, 2013)
Over a year ago I had to put down my cat of numerous years, I was feeling a little lost when for Christmas DH took me to the shelter. I looked around, but nothing - until I reached a far corner, hidden - there was this fat, older, beautiful cat that looked up with her green eyes and I just had to get in there. She purred and snuggled, played, and was very affectionate. My present - Miss Fancy. She has lost the extra weight she had, she makes me get up and take care of things, she has a pattern that if off - she vocally and physically lets me know. When DH is away, she knows and keeps me company, when I am sick she lays beside the bed on the side I sleep on and gets DH when I wake up. She requires daily activity in the screened porch and lets me read and catch some sun. I am so glad for my Christmas present.
(Carla Carlson 2:05pm June 21, 2013)
I have a cat who is really a miniature black panther. No really, he's not overweight
and weighs 20 pounds. He was 28 when he came to live with us, via our daughter who
inherited him from Grandpa when he passed. He's a huge domestic short hair with a
really long tail. He adores it when I scratch his ears and jaw with my glittery gel
fingernails. He sleeps with us and makes sure we don't forget to feed him while he
guards our fish tank. He tries really hard to get to our pleco but so far we're all
safe, lol.
(Lenna Hendershott 5:10pm June 21, 2013)
I have to say that an assistant who never points out your mistakes, listens to everything, and loves you is beyond price!!
(Janet Martin 6:05pm June 21, 2013)
My cat likes to sit next to me in my armchair while I am reading romance
novels.
(Sharyn Lewis 6:59pm June 21, 2013)
All my pets have improved the quality of my life! We currently have four lovely cats. But when I was single it was so good to come home to cats who welcomed me at the door and kept me company.
(Clare O'Beara 11:20am June 22, 2013)
I have a cat who tells me when it is bedtime. If I am hanging around too long she will sit and star at me until I feel those eyes then after I get up, she hops into my chair curls up and quickly falls asleep. Pets know exactly how to make us do what we should do!
(Annetta Sweetko 3:37pm June 22, 2013)
Mack and Harry are wonderful writing assistants. It is amazing how easily dogs become valuable members of our families. Thanks for sharing.
(Bonnie H 8:31pm June 23, 2013)
Registered users may leave comments.
Log in or register now!