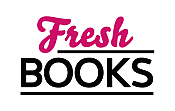 Spring flowers, great May books to enjoy!
Reviews
Two Rivers
by T. Greenwood
"The River of Redemption"
Posted March 12, 2009

In the sweeping tale of love and secrets, TWO RIVERS by T. Greenwood is a novel that has been garnishing acclaim from readers and critics alike. The story unfolds in the small town of Two Rivers, where a tragic train accident brings the community together. Harper Montgomery, the main character Read more...



Good Luck
by Whitney Gaskell
"Lady Luck"
Posted March 8, 2009

What could be worse than winning $87 million dollars? For Lucy Parker, the upbeat and hilarious main character in Whitney Gaskell's new novel, GOOD LUCK, it would be getting fired, having your car break down, and breaking up with your boyfriend on the same day. Things only get worse Read more...



The Lost Recipe For Happiness
by Barbara O'Neal
"The Spice of Life"
Posted February 9, 2009

"Along Elena's smooth white back is an ancient scar that cuts downward in grotesque beauty like a long, graceful snake." So, goes the first sentence of Barbara O'Neal's first novel, The Lost Recipe of Happiness." Like a snake charmer, O'Neal has written her first novel with Read more...



The Amnesiac
by Sam Taylor
"Forget about it!"
Posted September 8, 2008

Sam Taylor is an academic writer with creative ambition. In his American debut, THE AMNESIAC, is the elusive story of a man who is lost in life, due in part to a loss of memory. After James Purdew, the main character of the novel, breaks his leg, looses his girlfriend Read more...



Burning Bright
by Tracy Chevalier
"The Brightness of Greatness"
Posted September 8, 2008

It's lucky for us that author Tracy Chevalier went to a William Blake exhibit at the Tate Museum in 2001. She bought a souvenir notebook with a Blake image on the cover and said one day she'd write about Blake. The day arrived, over two years since she Read more...



Jack With A Twist
by Brenda Janowitz
"Chick-lit that rocks like a wild wedding reception!"
Posted July 18, 2008

Brooke Miller, the overly imaginative and hilarious character from SCOT ON THE ROCKS, is back and things have gotten a little hectic for her. She's dealing with the stress of planning the wedding of a lifetime with her close-to-perfect fiancÚ, Jack. That includes dealing with family and Read more...



Lulu Meets God and Doubts Him
by Danielle Ganek
"Nothing to Doubt..."
Posted July 18, 2008

Don't let the title of this book make you think that this is a heady-philosophical read. It's not. It's the perfect summer beach read when you want to escape into another world with filled with colorful characters. LULU MEETS GOD AND DOUBTS HIM is the debut Read more...



A Hollywood Ending
by Robyn Sisman
"The Sweetest Hollywood Escape"
Posted June 1, 2008

There might not be a better author to write about Hollywood endings than Robyn Sisman. Her grandmother was an actress that worked with the big greats like Ginger Rogers and her grandfather wrote the hit Broadway play, Burlesque, and even took Laurel and Hardy on tour. Her mother even attended Read more...



Last Known Victim
by Erica Spindler
"Even Hurrican Katrina Can't Stop Evil"
Posted March 10, 2008

August 2005. Devastation has hit New Orleans leaving thousands stranded in a city lost in destruction. Captain Patti O'Shay is a straight-laced female cop assigned to maintain order during the city's time of crisis. In the midst of it all, her husband shows up dead and a Read more...



On Wings of the Morning
by Marie Bostwick
"The Soaring Spirit of Soul Mates"
Posted March 10, 2008

ON THE WINGS OF THE MORNING is the sequel to Marie Bostwick's debut novel, FIELDS OF GOLD, and that's were this historical drama picks up telling the story of Morgan Glennon. The novel begins with a passionate prologue by Morgan Glennon's regarding the secretive nature of family Read more...



The Pinball Theory of Apocalypse
by Jonathan Selwood
"Doom in the Hills of Hollywood"
Posted March 7, 2008

If the title of this book doesn't immediately set you off, then the first chapter will! Jonathan Selwood has crafted a wonderful debut novel complete with zany characters, improbable ideas, and laugh-out-loud situations. The novel starts off with the ultra hip painter, Isabel Raven rising to sudden Read more...



Missing Witness
by Gordon Campbell
"Winning isn't everything when Murder is the Case"
Posted January 13, 2008

1973. A mother, armed with a gun, and daughter ride their horses up to the family ranch and walk inside. Shots are fired and no one is there to witness the death of a man, husband and father to the women. It seems to be an open and shut case Read more...



My Summer of Southern Discomfort
by Stephanie Gayle
"You can't run away from life-even if you leave Manhattan for the South!"
Posted November 27, 2007

When does sleeping with the boss ever work out? As Natalie Goldberg, recent Harvard Law Grad, discovers in MY SUMMER OF SOUTHERN DISCOMFORT, she learns it doesn't. Unfortunately, it doesn't help that when the romance backfires on her, in a big way, that she packs up her Manhattan Read more...



One Dance In Paris
by Julia Holden
"Sometimes, the less you're wearing, the more you're hiding..."
Posted September 9, 2007

What if you learned that your mother was a famous-and infamous-international showgirl? Linda Stone is a tomboy waitress taking orders from snobbish Harvard students in Julia Holden's second novel ONE DANCE IN PARIS. She'll be the first to admit that her life is less than fabulous Read more...



Scot On The Rocks
by Brenda Janowitz
"Should attending your ex-boyfriend's wedding be against the law?"
Posted August 6, 2007

Should attending your ex-boyfriend's wedding be against the law? Brooke Miller is a funny, ever so quick witted, and intelligent Manhattan lawyer that makes a few hard-knock choices that lead to a complete quandary. Frisky, hopeful, and ever so in love with her sexy Scottish boyfriend, Brenda Read more...



The Blue Zone
by Andrew Gross
"A vendetta that runs deeper than blood..."
Posted June 23, 2007

When life is too perfect, things have to shatter. In Andrew Gross's first solo debut, THE BLUE ZONE, Kate Raab had it all. She had the ideal family, an inspiring career, and the man of her dreams. In one fretful phone call everything splintered. Kate's father, Benjamin Raab Read more...



Ice Blue
by Anne Stuart
"A chilling romance motivated by the consequences of life and death."
Posted June 7, 2007

Summer Hawthorne, a shy museum curator in the sunny hills of Los Angeles, is the focal point of interest when she proudly displays an ancient Japanese Hayashi ceramic urn bequeath from her late nanny. It seems that everyone wants a piece of Summer including her own mother who has been Read more...



Kamela Cody
http://www.moderngirlstyle.com
Kamela Cody is a writer & designer that has worked across North America. Her design work has appeared in Time magazine to The Drake Guide to Chicago. She has finished the first draft of a new novel. She divides her time between Orange County, California & Toronto. Kamela is looking forward to an awesome year in 2009! Let 2009 be filled with inspiring books, fresh ideas, and simply wonderful characters! See you at Fresh Fiction!
Features & Posts
No posts found.