"A swoony and lyrical romance..."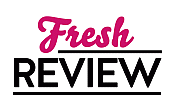 Reviewed by Jennifer Rummel
Posted May 16, 2019

Young Adult | Romance Contemporary | Romance Comedy
One day Ruby discovers a strange boy playing her piano. He's amazingly talented. She's stunned to discover that not only did he compose the piece, but that Oscar will be living at her house for the summer. No one has played that piano since she stopped.
Ruby doesn't know who she is without music. Music is in her blood, in her name. She's the daughter of a renowned composer and a famous pianist. But after a horrific audition at the school where her father teaches, it's clear that music is no longer her future.
After dedicating hours and hours to practicing, she's lost. With the long summer stretching out in front of her, she isn't sure how to fill her days. Eventually, she reconnects with an old friend and joins her for morning runs. She tries her hand at philanthropy, singing, and being a normal teenager. She talks music with Oscar and the more time she spends with Oscar, the more she believes in him.
NIGHT MUSIC is a swoony romance that tackles hard subjects. Ruby struggles with grief after the death of her musical career. She's desperately trying to find something that will earn her place in the world while at the same time trying to break free from her family's shadow of musical geniuses.
Oscar, a black musical prodigy, works hard to compose a musical creation by summer's end. He's new to the idea of fame after becoming internet famous with a viral video. He speaks the language of music, but the stress of the program eats at him. He's working twice as hard to prove his worth.
Together, Ruby and Oscar banter about music, life, and proving yourself. But they also have deeper conversations about race, family dynamics, privilege, and musical talent. They challenge each other.
SUMMARY
Music has always been Ruby's first love. But has it ever loved her back?
Slip behind the scenes of the classical music world one hot, anything-can-happen, New York City summer.
Ruby has always been Ruby Chertok: future classical pianist and daughter of renowned composer Martin Chertok. But after her horrendous audition for the prestigious music school where her father is on faculty, it's clear that music has publicly dumped her. Now Ruby is suddenly just . . . Ruby. And who is that again? All she knows is that she wants away from the world of classical music for good.
Oscar is a wunderkind, a musical genius. Just ask any of the 1.8 million people who've watched him conduct on YouTube--or hey, just ask Oscar. But while he might be the type who'd name himself when asked about his favorite composer and somehow make you love him more for it, Oscar is not the type to jeopardize his chance to study under the great Martin Chertok--not for a crush. He's all too aware of how the ultra-privileged world of classical music might interpret a black guy like him falling for his benefactor's white daughter.
But as the New York City summer heats up, so does the spark between Ruby and Oscar. Soon their connection crackles with the same alive, uncontainable energy as the city itself. Can two people still figuring themselves out figure out how to be together? Or will the world make the choice for them?
---
What do you think about this review?
Comments
No comments posted.

Registered users may leave comments.
Log in or register now!