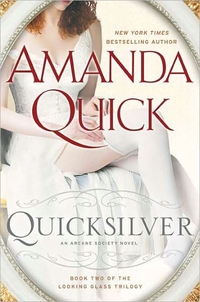 Quicksilver, April 2011
Looking Glass Trilogy #2; Arcane Society #11
by Amanda Quick

Putnam
Featuring: Virginia Dean; Owen Sweetwater
352 pages
ISBN: 0399157379
EAN: 9780399157370
Hardcover
Add to Wish List

Purchase
"Chilling addition to this exceptional paranormal series!"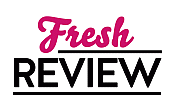 Reviewed by Tanzey Cutter
Posted March 29, 2011

Romance Historical | Paranormal Mystery
Owen Sweetwater, a hunter-talent, doesn't know what to expect when he follows "mirror reader" Virginia Dean to the mansion that night. Thinking to discredit her as a fraud, Owen instead has to rescue Virginia from a locked, mirrored room after she awakens next to a dead body with blood on her hands. Instinctively knowing she's being framed for the murder, Owen whisks her away to safety before the authorities arrive. Now he has to figure out why she's been targeted -- and by whom.
Owen is currently conducting an investigation for Jones & Jones, Arcane Society's new psychical investigation agency. Since all the Sweetwater men are hunters, Owen has been called on to locate a monster preying on the paranormal practitioners of London. It doesn't take him long to realize that Virginia is indeed a genuine glasslight- reader, unlike the talents of so many of her colleagues at the Leybrook Institute. Soon Owen is not only intrigued with Virginia's exceptional talent, but also her female sensuality. He realizes she could be the key to solving his case, which puts her in even more danger. Now he will stop at nothing to find the vicious monster and save the woman he can't live without.
Amanda Quick serves up another fascinating, engaging addition to her Arcane Society saga with this second installment in the Looking Glass Trilogy. Set in Victorian England, she expertly teams up a lovely glass-reader with a skeptical psychic investigator to give readers a perfect reading experience. I've been an Arcane Society fan since the first novel and can't wait for the next installment.
SUMMARY
Virginia Dean wakes at midnight beside a dead body, with a bloody knife in her hand and no memory of the evening's events. Dark energy, emanating from the mirrors lining the room, overpowers her senses. With no apparent way in or out, she is rescued by a man she has met only once before, but won't soon forget...
Owen Sweetwater inherited his family's talent for hunting the psychical monsters who prey on London's women and children, and his investigation into the deaths of two glass-readers has led him here. The high-society types of the exclusive Arcane Society would consider her an illusionist, a charlatan, even a criminal, but Owen knows better. Virginia's powers are real — and they just might be the key to solving this challenging case.
---
What do you think about this review?
Comments
No comments posted.

Registered users may leave comments.
Log in or register now!