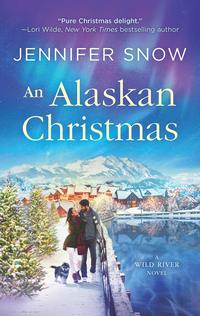 A Wild River Novel #1
HQN
October 2019
On Sale: September 24, 2019
Featuring: Reed Reynolds; Erika Sheraton
384 pages
ISBN: 1335041508
EAN: 9781335041500
Kindle: B07L5NHVFQ
Mass Market Paperback / e-Book
Add to Wish List

In Alaska, it's always a white Christmas—but the sparks flying between two reunited friends could turn it red-hot…

If there's one gift Erika Sheraton does not want for Christmas, it's a vacation. Ordered to take time off, the workaholic surgeon reluctantly trades in her scrubs for a ski suit and heads to Wild River, Alaska. Her friend Cassie owns a tour company that offers adventures to fit every visitor. But nothing compares to the adrenaline rush Erika feels on being reunited with Cassie's brother, Reed Reynolds.

Gone is the buttoned-up girl Reed remembers. His sister's best friend has blossomed into a strong, skilled, confident woman. She's exactly what his search-and-rescue team needs—and everything he didn't know he craved. The gulf between his life in Wild River and her big-city career is wide. But it's no match for a desire powerful enough to melt two stubborn hearts…
Excerpt
As the elevator stopped, Erika took a deep breath, expecting to see a flurry of organized chaos as the doors opened. Stretchers, ambulance lights flashing and sirens wailing outside, paramedics and nurses… Instead, she ran square into her father.
No emergency, just his six-foot-three frame and his usual neutral expression. It was impossible to read her father, as his face gave nothing away. His emotions were never too high or too low, just infuriatingly balanced no matter the circumstance. His calm presence and rational thinking made him fantastic at his profession, but sometimes he was irritating as shit as a father.
"Hi. I was just coming to see you." Eventually.
"Walk with me," he said, turning on his heel and nodding.
Her jaw clenched so tight her teeth might snap. This was so like him—assuming she could drop everything at his command. He may run the hospital, but he often had no idea how hectic her schedule was. "Can we talk as I do my rounds, Darren is…"
"More than capable," he said, leading the way to his first-floor corner office. "And requesting to be transferred, I see."
His tone made her palms sweat. He should be happy that she was pushing these interns to their limits. What awaited them once they graduated wasn't for the faint of heart. Better to get used to grueling days and nights now, performing on little to no sleep, living on caffeine and leftover Halloween chocolate bars, than to realize they couldn't cut it when lives were in their hands.
Unfortunately, he didn't always agree with her beliefs . He wanted the interns to feel at home at Alaska General so they'd apply here once they graduated. The hospital was short staffed and more doctors would benefit everyone, but Erika preferred to work alongside the best.
Her father had an open-door policy—literally—so when he closed the office door behind her, she knew the head of General Surgery hadn't called her in to discuss Thanksgiving dinner plans.
She glanced at his wall calendar as she sat. Especially since Thanksgiving was a week ago.
"Dad, this intern thing is just ridiculous…"
He held up a hand. "This isn't about your inability to effectively manage others."
Kick to the gut delivered and received. She clamped her lips together.
He opened his desk drawer and handed her a letter as he sat in the plush, leather chair behind his oversize mahogany desk.
Her eyes widened, seeing the Hospital Foundation logo on the top of the page. "Is this the final approval from the board for the clinical trials?" They'd submitted the application six months ago to start trials on a new antirejection drug after years of research, and they were waiting on the formal go-ahead to start with a test group.
Would Darren reconsider staying with her if he knew he could be part of a medical breakthrough? He'd been a lot of help in the past month.
"Just read it," her father said.
She scanned the letter from the board of directors, feeling her excitement fade and anxiety rise with each word. "Recommended vacation? What is this?"
"I don't like it either, but the board is reviewing policies and making sure we are following them," he said, the edge indicating he'd been outvoted in this decision. He certainly didn't believe in time off and had never encouraged her to take any. Her life was her career, just like him.
"But any day now we will be starting clinical trials on the new drug." It had taken her father and his team almost three years to get the experimental antirejection product approved for testing on organ transplant patients and they'd finally gotten it. They'd worked around the clock for a year to make sure they did. Subjects were undergoing assessment right now to be ready for the trials.
Now was not the time to take a break.
Her father looked as though he'd made the same argument to the hospital board. "The team will have to handle it."
So recommended actually meant forced. "Why now? I'm fine. I don't need a break." At twenty-nine, she was eager to prove herself as one of the top general surgeons in the state. Between her surgical success record and the research time she'd invested in this new drug, she was close. Helping her father get one step closer to winning the Lister Medal was high on her priority list. "Come on, Dad, you know I'm good. My last two operations were impossible surgeries…"
"Improbable surgeries."
Erika clamped her lips together again, forcing her argument to stay put. It wouldn't do any good. Three years working alongside her father and she'd yet to prove herself. Despite two back-to-back improbable surgeries that she'd performed successfully, he still doubted her abilities. His micromanagement over her research team had driven her insane, but he'd reluctantly agreed to let her run her own set of clinical trials on the antirejection drug, and she'd foolishly believed she was making progress with him.
Now she was being forced into taking a break.
What the hell was a break? She hadn't had one since starting university. She'd graduated with her bachelor's in three years instead of four by doubling up on courses and then had applied directly to med school. She'd interned at Alaska General and secured a position there shortly after graduation. She couldn't remember the last day she had off, let alone…she glanced at the letter. Two weeks?
What the hell would she do with all that free time?
Start Reading AN ALASKAN CHRISTMAS Now

Wild River

Our Past Week of Fresh Picks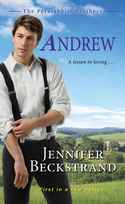 ANDREW
by Jennifer Beckstrand
Featured as Fresh Pick on January 17, 2020
Andrew, Abraham, and Austin Petersheim's family business has earned them the nickname The Peanut Butter Brothers. But if their matchmaking younger siblings have their Read More »

A thoughtful and entertaining romance with two very naughty little boys!
A LONGER FALL
by Charlaine Harris
Featured as Fresh Pick on January 16, 2020
#1 New York Times bestselling author Charlaine Harris returns with the second of the Gunnie Rose series, in which Lizbeth is hired onto a new Read More »

Splendid combination of multiple genres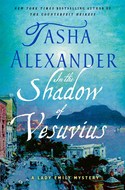 IN THE SHADOW OF VESUVIUS
by Tasha Alexander
Featured as Fresh Pick on January 15, 2020
In this new installment in Tasha Alexander's bestselling Victorian series, Lady Emily Hargreaves uncovers a mystery in the ancient city of Pompeii.Some corpses Read More »

Another case for Lady Emily - among the ruins of Pompeii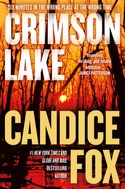 CRIMSON LAKE
by Candice Fox
Featured as Fresh Pick on January 14, 2020
#1 New York Times bestselling author Candice Fox's Crimson Lake is the first novel in a thrilling contemporary crime series set in Queensland, Australia Read More »

Can they discover the truth?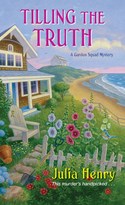 TILLING THE TRUTH
by Julia Henry
Featured as Fresh Pick on January 13, 2020
It's August in Goosebush, Massachusetts, and go-getter retiree Lilly Jayne and her youthful senior pals show no sign of slowing down during Read More »

A nosy small town, committee work and double dealings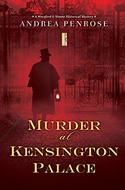 MURDER AT KENSINGTON PALACE
by Andrea Penrose
Featured as Fresh Pick on January 12, 2020
Wrexford and Sloane must unravel secrets within secrets--including a few that entangle their own hearts--when they reunite to solve a string of shocking Read More »

Scientific endeavours in the Regency days are the background to murder most foul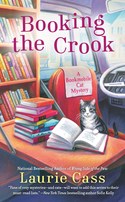 BOOKING THE CROOK
by Laurie Cass
Featured as Fresh Pick on January 11, 2020
It\'s all paws on deck as a librarian and her rescue cat track down a killer in the newest book in the national bestselling Read More »

Michigan in January - snow brings problems for the library bookmobile
COPPER AND GOLDIE
by Rosemary and Larry Mild
Featured as Fresh Pick on January 10, 2020
Homicide detective Sam Nahoe takes a bullet in his spine in the line of duty. Disabled, his career with the Honolulu Police Department shattered, what Read More »

An ex-detective and his sidekick golden retriever make a heck of a team fighting crime!