Latest Buzz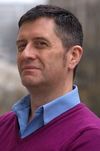 "The Geneva Option is very good indeed. LeBor writes fiction with the scrupulous focus of the journalist, the foreign correspondent, so the world he creates is driven by the sharp edge of reality—by the raw, brutal politics, by the monsters and desperate heroes—of a war that seems to go on forever."— Alan Furst, New York Read More...
* * *

Julie Anne Long's acclaimed and bestselling Pennyroyal Green historical romance series is on sale for $1.99 at all major e-book retailers! This includes WHAT I DID FOR A DUKE (an Amazon Best Book of the Year for 2011), Read More...
* * *

The romance between Chase and Harper is not easy, but intense emotions make it impossible for them to stay apart. In Taking Chances, readers get the story from Harper's point of view, but what was Chase going through during the beginning of this tumultuous relationship? We will get to find out soon when companion novella Read More...
* * *

I remember this one time, when the first Harry Potter film came out. It was a midnight showing and I'd spent weeks practically building a witch's hat. It was wonky, crooked, and black like the ones I'd seen in images released early of the film. And after all that work and passion I poured into that hat, I still feared that people would point and laugh at me at the theater. But Read More...
* * *
Two of my great loves are sweeping historical romances and martial arts adventures like "Crouching Tiger, Hidden Dragon." My current release, THE SWORD DANCER, is a mash-up between the two. A story featuring a famous thief-catcher chasing a sword dancer across ancient China might seem like quite a departure from your standard romance, but at the core of it are some beloved tropes Read More...
* * *

I've never actually been to a Kissing Booth, I've just written about one in my new sweet and sexy romance, KISSING THE MAID OF HONOR. I mean what better place for a romance to start than with a kiss on a high school baseball field with one of the star players? Five bucks well spent, right? Uh, not when the boy humiliates the Read More...
* * *

Join BookTrib to chat live with New York Times bestselling author, Andrew Gross to discuss his new book, NO WAY BACK on 5/22 at 7:30 p.m. ET and you can win a brand new Kindle Fire loaded with a selection of Andrew's books! One woman Read More...
* * *

A MAGIC KING by Jade Lee A prophetess hath no honor in her own time... or any other, as Jane Deerfield is finding out. Sucked forward in time during a World-War III explosion that obliterates much of planet Earth, Jane wants to keep the survivors she finds in the new world from repeating the same mistakes. Falling in love with the Magic King who could plunge them Read More...
* * *

Julia Justiss is pleased to announce that her March Regency historical, THE RAKE TO RUIN HER, will by offered by Amazon for Kindle at the special price of $1.99 from May 11 - May 26 Read More...
* * *

You might have seen on Cora's Facebook page or Twitter that she has rewritten pivotal scenes from her instant New York Times bestseller LOSING IT from Garrick's point of view. She plans to release four different scenes once her pre–orders hit certain number thresholds. These scenes include: · The One Where They Meet · The One Where They Meet...Again Read More...
* * *

Publisher and Author Urge Readers to Pre–Order the Book They Begged McAdams to Write: With Velocity, Book May Release Two Weeks Early! Bestselling New Adult author Molly McAdams is partnering with publisher William Morrow and sister imprint Avon Impulse (which releases digital–first publications) and launching an exciting new pre–order campaign! After the stunning success of McAdams' breakout New Adult novel, Read More...
* * *

Summer is just around the corner and if you are looking for a great book to read on the beach or sitting in your favorite vacation spot, then you are in for a treat. There are several Lucy Monroe books being released this summer and it all starts in June with the release of Scorsolini Baby Scandal just in time to help the Royal Read More...
* * *

BookTrib invites you to a spellbinding event on May 8 at 3:30 p.m. ET for our Live Chat with international bestselling author, M.J. Rose to chat about her latest novel, SEDUCTION. A gothic tale about Victor Hugo's long–buried secrets and the power of a love Read More...
* * *

To celebrate the publication of Lian Dolan's new novel, Elizabeth the First Wife, we're having a boffo sweepstakes: Summer with Shakespeare. In the book, protagonist Elizabeth Lancaster, an English professor at Pasadena City College, gets an offer from her movie star ex-husband that she just can't refuse Read More...
* * *

This May, Fresh Fiction is pleased to support Penguin Group (USA)'s Read Humane® 2013 campaign to fight animal cruelty.  We would like to welcome spokesperson and bestselling author Jill Shalvis to our blog today, where she is sharing with us her family's animal rescue story discusses her Animal Magnetism series with a piece entitled "Why Dogs Make Great Sidekicks!"     Read Humane® is an initiative created by Penguin Group (USA Read More...
* * *

USA Today Best Seller, Ann Lawrence, is happy to announce her historical romance, LORD OF THE MIST, will be rereleased in digital form at Ellora's Cave on April 25th and on Amazon Kindle and B&N Nook (ISBN: 9781419946103) on May 2, Ann's birthday! What a great gift! Read More...
* * *

**On Sale April 30, 2013** For readers of The New York Times bestselling FIFTY SHADES OF GREY trilogy and BARED TO YOU comes this intoxicating novel of passion and ultimate surrender... "If The Bridges of Madison County had a dark, erotic side, this book would be it. A stunning debut!" –– Sidney Sheldon "Intense...erotic...compelling...genuine electricity...the Read More...
* * *

(Avon Impulse| On Sale: 4/30/2013| E-Book ISBN 9780062271341 | $1.99) Jennifer Ryan returns with the third book of her popular Hunted Series, The Right Bride. Filled with red–hot romance, a captivating love triangle, and a handsome hero just looking to do the right thing for his family, this sexy and suspenseful e Read More...
* * *
(Avon Impulse| On Sale: 4/30/2013| e-Book ISBN: 9780062226334 | $3.99) Acclaimed historical–romance authorKathleen Harrington is back with another tale of love, adventure, and piracy in the Scottish Highlands! Kathleen Harrington is back—and that means the return of the reigning Queen of Scottish romance! On Tuesday, 4/30, Harrington returns to her Highland Read More...
* * *

"A sparklingly mischievous debut. . . . Aldrich's narrative tidily and fondly bears witness to the inexorable unraveling of a storied genealogy." —Publishers Weekly (starred review) "It's a trick to tell a story this rich and complicated through the eyes of a child without losing the subtleties of character and nuances of history, but Aldrich pulls it off with aplomb. Vividly gothic family romance." — Kirkus (starred review) "It's the highest of Read More...
* * *

(Avon Impulse | On Sale: 4/23/2013| ISBN: 9780062276360 | $0.99) Welcome to the Rock'n'Rolla Hotel– This laugh–out–loud, steamy, sweet romance is no heartbreak hotel! Cheryl Harper's fantastic new series is all about finding love in the most unlikely of places: an Elvis–themed hotel in Memphis! Read More...
* * *
Several of our registered users have received a phishing email that emails and passwords have been published on hacker sites. We are not aware of any actual hacking of FreshFiction.com but to be safe we advise you change your password. It's always better to be safe Read More...
* * *
(Avon | On Sale: 5/28/2013| ISBN: 9780062202451 | $7.99 | e-ISBN: 9780062202468 | $7.99) Let me introduce you to Lady Julia Leighton: international woman of mystery and the subject of historical romance star Lecia Cornwall's newest novel. Intelligent, charming, and stunningly beautiful, Julia Leighton is a woman cloaked in feminine mystique—and scandal!She's been engaged to a Duke, loved by jewel thief, tutored by an infamous diplomat (her Read More...
* * *

Great article on Laura Kaye published in Huffington Post By Lori Weiss When Laura Kaye and her family set out for a July 4th holiday, she expected to see fireworks. But she had no idea that their summer vacation would begin with a bang that would change the course of her life. "We were at our beach house," Laura recalled, "and the girls were eating lunch. I was unloading the Read More...
* * *
1 - 24 of 869 ( First | more Fresh Buzz )