Latest Buzz
In my new southern contemporary romance, FACING THE MUSIC, my heroine Ivy Hudson has to face a very scary eventuality – returning to her hometown after six years away. After landing a record deal and running off to California, Ivy has toured the world, played Madison Square Gardens...but she hasn't had to face the people she left behind, including her ex, Blake. At the Read More...
* * *

Architects are special creatures. They are cut from a cloth that's all their own, and lumping them in with businessmen, doctors, or lawyers is to miss the nuances that make architects so fascinating. In all things, they balance art and science, instinct and creativity. They tend to be highly articulate and attend to fine details, and bring deliberate thought to all of their decisions, and those are delightful quirks. Here are a few more Read More...
* * *

Have you ever lived somewhere that seriously influenced your life? A place that gave you a different perspective on the world as you know it? What I've found is that each place I've lived has somehow changed my world view. I grew up in Iowa. We didn't live in the largest city in the state, but I grew up believing we were the most cosmopolitan utopia ever. I was rudely divested of Read More...
* * *
Ever since I was given the amazing opportunity to write a Pride & Prejudice modern respin (DEFINITELY, MAYBE IN LOVE), I've been jumping at the chance to respin another Jane Austen. Though nothing can touch P&P, I've always had a major soft spot for Persuasion. I love a good "second chances" story, and there isn Read More...
* * *

This month we've all seen—and possibly worn—pink ribbons. Pink ribbons that announce we support the many people who've been affected by breast cancer. Because awareness, money, research and preventative care are the ways we fight a disease that impacts the 220,000 women and 2150 men diagnosed with breast cancer each year (according to the National Breast Cancer Foundation). While writing Read More...
* * *

Ever heard the phrase "I'm having a bad hair day?" Of course you have. And we all know exactly what it means! But if you happen to have the supernatural gift of prehensile hair (the ability to manipulate, quickly grow, and attack with your hair), that phrase can take on a whole new meaning. Personally I'd rather not have a coiffeur that might kill my husband if he mentions my mane needs a Read More...
* * *

Because I like to analyze and title just about everything (neurotic reader/writer that I am), I've analyzed and labeled each of the various, yummy types of men that make us swoon, giggle, and want to leap through the page, punch out the heroine, and take her place. As an alpha-loving girl, you'll find my favorite leading men tend to lean toward the aggressive type. Sorry, beta girls. Still, I think there Read More...
* * *

My wardrobe doesn't get a lot of attention. Being a writer barely requires me to wear clothes at all, much less nice ones, but I have fun dressing my characters. An item of clothing or an accessory can speak volumes about the person wearing it. My friend C, on the other hand, is very fashionable. Her enthusiasm reaches a pinnacle when it comes to purses. She's the proud owner of a number of Read More...
* * *

The Duke and Duchess of Bucklynde have gone to the party as their former selves. No longer the ton's elite, they've become a simple seaman and his seamstress wife. Though Radley's added an eyepatch and pirate scowl for good measure! Wendy Drew has dressed up as a seamstress complete with pins in her skirt and ribbons dangling everywhere. The dress is a mess. It's one she stitched at the height of Read More...
* * *

OFF KILTER is the first book in the Highlands Mystery Series. It was great fun to write. I especially loved my research in the Highlands. All that local color – men in kilts, that wonderful lilting Scottish accent, the quick wit and infectious sense of humor displayed by the Scots. Did I mention men in kilts? And the setting was spectacular! Munros Read More...
* * *

People think I'm crazy because I write three cozy mystery series. Yes, one book per year for each series (for as long as my publisher lets me!). And there are other books I've published through a small independent publisher. Can you guess that I like to write? The first question most people ask is, "How do you keep them all straight?" The simplest answer is that they all are based in real places Read More...
* * *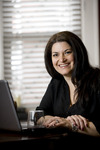 The first time I glimpsed Los Angeles from a plane window, I wasn't impressed. The view through a taxi window on my way to Studio City wasn't much better. The palm trees were too tall and thin. The roads were too tight and travelled. The people looked tired and troubled. Where was the gold and glitter I'd spent the last twenty-five years dreaming of? This should've been my first clue Read More...
* * *

Welcome again to Fresh Fiction's Halloween Boo-k Spectacular Costume Party! Some of your favorite authors are sending their characters to this virtual party in style. Enter and be charmed by Will Ransleigh, hero of Julia Justiss's THE RAKE TO REDEEM HER. *** What better costume party guest than a charming rogue who's Read More...
* * *

Welcome again to Fresh Fiction's Halloween Boo-k Spectacular Costume Party! Things are heating up as more characters from your favorite books arrive. Come and see what the pair from Amanda McIntyre's THE DARK SEDUCTION OF MISS JANE have gotten into this fabulous eve. *** Welcome to the time of Read More...
* * *

Can't attend any of Cora's events? That doesn't mean you can't get a signed, personalized copy of ALL BROKE DOWN! If you order a print copy from indie bookstore WORD by Friday, 10/17 (tomorrow!!), Cora will sign and personalize it, and you'll have it by Read More...
* * *

Oh, those sexy Marked Men! We can't stop staring at Jay's covers. And if you can't, either, pre-order ROWDY by 10/21, enter your pre-order information into this Facebook form, and we'll send you a limited edition poster of Read More...
* * *

Romance novels are all about strong women, but in my latest novel, HE'S SO FINE, Olivia goes above and beyond trying to save our hero, Cole, from drowning. She jumps off the dock before realizing a) he doesn't really need any help and b) she can't really swim. In honor of her somewhat Read More...
* * *

I LOVE Christmas and decorating, and for werewolves it's the same. The only difference might be that they LOVE decorating with live plants as it reminds them of their trips to the woods. Evergreen garlands. Mistletoe. Poinsettias. But even better, the Highland wolves in A Highland Wolf Christmas are starting a brand new tradition! A living tree! Shelly is the botanist in the family, and this is her dream. Not only will the pack Read More...
* * *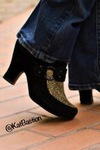 We are excited to announce the release of TWO BAR MITZVAHS. As a pre-order and release-day promotion, digital copies purchased on all platforms will be $0.99 (from $3.99 full price) and signed. About TWO BAR MITZVAHS The stakes climb higher in this second book in the No Weddings Series for Hannah Martin, a woman restrained by Read More...
* * *

Welcome again to Fresh Fiction's Halloween Boo-k Spectacular Costume Party! Some of your favorite authors are sending their characters to this virtual party in style. Come on in and mingle with the newest arrival: Cynthia Eden's hot bounty hunter, Zane Wynter. *** Costume party time! Zane Wynter, hybrid demon and all around bad-ass bounty hunter, will be the one dressing Read More...
* * *

Fresh Fiction is pleased to present this special excerpt from USA Today bestselling author Christi Caldwell's latest historical romance, FOR LOVE OF THE DUKE! Excerpt He settled his large hand over hers. Katherine jumped. "I suggest unless you merely want to trade death Read More...
* * *

When I landed my first historical contract, most of the historical romance books with which I was familiar would be classified as belonging to one of the genre juggernauts, which are of course Regency and Highlander. I knew other time periods had to be out there, but the last time one crossed my path was way back in high school when colonial American fiction was part of the curriculum. Which. Is. Just. Sad. I say Read More...
* * *
Oct 15th: Maya Banks, 7 p.m. ET, on her Facebook page to talk about her recently-released Avon debut, KEEP ME SAFE Read More...
* * *

My aunt owns a cabin in the Sierra Nevada woods. Every summer my family goes up for few days. We bring our hiking boots, bikes, bathing suits and floatation devices. Sometimes we float on the river for hours, yelling for the kids to come rescue us when our river rafts go too far down stream--why paddle when you have children for that? There's a place called the Frosty that we go to get Read More...
* * *
1 - 24 of 1150 ( First | more Fresh Buzz )