Lynne Marshall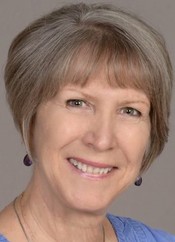 Blogging at Fresh Fiction
Lynne Marshall | What's New, Plus a Giveaway!
July 2, 2014
I have a friend who used to cut right to the chase whenever we saw each other after a long absence. "New?" she'd say Read More...
Lynne Marshall | Warm Bodies - A Metaphor for our times?
July 8, 2013
My daughter encouraged me to see the recent zombie movie Warm Bodies Read More...
Lynne Marshall | Hand Me That Gun, Please?
December 5, 2012
No this isn't a story about Christmas shopping gone horribly wrong. This blog is about research and the writer. Never in my life did Read More...
Lynne Marshall | A Hot Air Balloon Experience
February 21, 2012
One of the challenging parts of writing a book is the research you unwittingly thrust upon yourself.  When I began writing Read More...
Lynne Marshall entered the world of writing after being an RN for twenty-six years. She has written fifteen Medical Romances for Mills & Boon, and five contemporary romances for Harlequin Special Edition. She is a Southern California native, has been married for a long time, and has two adult children of whom she is super proud. She is a new grandmother, a dog lover, a cat admirer, a meandering walker, a curious traveler, and fellow participant on this wild journey called life. She also believes in hope and the concept of happily-ever-after.
Series
Whispering Oaks | Home in Heartlandia
Books:
Their Christmas Miracle, November 2017
e-Book
Falling for the Mom-to-Be, May 2015
Home in Heartlandia #3
Mass Market Paperback
Her Perfect Proposal, February 2015
Home in Heartlandia #2
Mass Market Paperback
A Doctor for Keeps, July 2014
Home in Heartlandia #1
Paperback
American Surgeon in London, May 2014
200 Harley Street book #4
Paperback
One for the Road, August 2013
e-Book (reprint)
The Medic's Homecoming, July 2013
Whispering Oaks #2
Mass Market Paperback
Making the Surgeon Smile, June 2013
NYC Angels #7
e-Book
Too Close For Comfort, October 2012
Paperback
Courting His Favorite Nurse, February 2012
Whispering Oaks #1
Mass Market Paperback
One For The Road, July 2011
Paperback
The Christmas Baby Bump, December 2010
e-Book
Her L.A. Knight, May 2007
Paperback