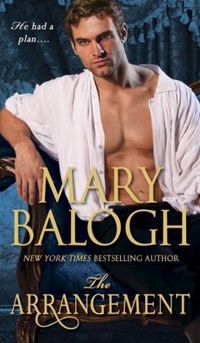 Purchase

A story of misfortune and compassion
He had a plan...
Survivor's Club #2
Dell
September 2013
On Sale: August 27, 2013
Featuring: Sophia Fry; Vincent Hunt, Viscount Darleigh
336 pages
ISBN: 0345535871
EAN: 9780345535870
Kindle: B00985DYEC
Paperback / e-Book
$7.99
Add to Wish List

A mesmerizing story of passionate awakening and redemption, Mary Balogh's new novel unites a war hero consigned to darkness with a remarkable woman who finds her own salvation by showing him the light of love.
 
Desperate to escape his mother's matchmaking, Vincent Hunt, Viscount Darleigh, flees to a remote country village. But even there, another marital trap is sprung. So when Miss Sophia Fry's intervention on his behalf finds her unceremoniously booted from her guardian's home, Vincent is compelled to act. He may have been blinded in battle, but he can see a solution to both their problems: marriage.
 
At first, quiet, unassuming Sophia rejects Vincent's proposal. But when such a gloriously handsome man persuades her that he needs a wife of his own choosing as much as she needs protection from destitution, she agrees. Her alternative is too dreadful to contemplate. But how can an all-consuming fire burn from such a cold arrangement? As friendship and camaraderie lead to sweet seduction and erotic pleasure, dare they believe a bargain born of desperation might lead them both to a love destined to be?
Comments
107 comments posted.
Re: The Arrangement

This looks SO amazing. I can't get enough of your books!
(Jackie R 6:38pm August 23, 2013)
Two mary balogh books on one giveaway. Yahoo!! ;-)
Love Mary and her stories.....Thanks for the giveaway.
(Lisa Hutson 12:29pm August 24)
I like to be in a quiet place when reading your novels-I get so drawn into them - thank you for the chance to win
(Jennifer Essad 12:42pm August 24)
I love to read at night when everyone else is asleep at night
or in the bedroom when my family is settled in bed very quiet
and then im able to sit back and enjoy the book more
(Denise Smith 1:03am August 24)
You have written SO many books, and yet I haven't had the pleasure of reading even ONE of them!! As the old saying goes - there's a person out there for everyone, and your books tend to make that saying come alive!! I would have to add that your books give hope to those who have none, since your stories show that those with a disability of sorts are able to find love in their lives, even when they feel they have no hope and no rosy future ahead of them. I'm sure after reading one of your books, even the most depressed person will find a sliver of hope to cling to. It's truly amazing that you can find that many story lines to write about, but I suggest that you keep them coming!! As I said, I haven't read one of your books yet, but I am looking forward to reading my very first one. It sounds like I am going to be transported on a very emotional rollercoaster of a ride, but one that I'll be glad I took!! I love the era written about, and who doesn't love a good Romance story?? Thank you for writing about a most difficult topic!!
(Peggy Roberson 7:18am August 24)
I am sorry to write that your books are new to me.. Sounds like I would
enjoy reading them. Thank you for the give away.
(Charlotte Wills 9:47am August 24)
There's nothing so annoying as someone trying to matchmake! I think this sounds like it's going to be a goodie...but then again, I'd expect nothing less from Mary Balogh. Thank you so much for so many entertaining books.
(Vennie Martinisi 10:04am August 24)

(Vennie Martinisi 10:04am August 24)
OH Mary I LOVE your books and I look forward to reading this one too. THANKS!
(Bonnie Capuano 10:07am August 24)
Your books have brought me many hours of pleasure and
enjoyment. Thanks for your beautiful stories and wonderful
writing.
(Sharon Berger 10:15am August 24)
I enjoy your books, Mary. Thanks for the post and giveaway.
(G S Moch 10:41am August 24)
I love to read about tortured characters & their reactions.
Thanks for the drama!
(Beth Elder 10:54am August 24)
I love your wounded heroes! They add a depth to the
character that just is not quite there in the able bodied
characters. The way each one views themselves, vs how other
people see them is what makes them so real.

The fact they can laugh at their handicaps makes them even
better.
(Heather Nieves 10:55am August 24)
I look forward to each new book of yours, Ms Balogh,and I know
that I will be up late until I finish it. Thank you for all
the hours of reading pleasure you've given me!
(Vicki Thorne 11:00am August 24)
Syndam was the first truly physically disabled hero I had read about and the love story was absolutely real to me as I read. I had enjoyed Flowers From The Storm and had thought the Duke the most wonderful of "wounded heros" but Syndam moved to first in my heart instantly. Such obstacles to overcome, Lord love him.
(Anne Hoile 11:01am August 24)
Love truly does conquer all. I would really enjoy reading The Proposal and your newly published book, The Arrangement! Thank you.
(Linda Leonard 11:04am August 24)
I love your books Iwould love town these books.thank you for the great
stories
(Audra Holtwick 11:07am August 24)
your books allow me to escape
(Barb Watkins 11:10am August 24)
Simply Love is one of my favorite books of all-time. It is on my "keeper shelf."
(Cheryl Castings 11:24am August 24)
I read everything you write! I, too, am especially fond of
wounded heroes. They provide such challenges for their heroines
and make intriguing reading.
(Edea Baldwin 11:25am August 24)
I haven't read your books yet but they sound great. And it is good to know from the other commenters that they like your books.
(Pam Howell 11:28am August 24)
This series is so relevant in light of our returning military m
(Kathy Taylor 11:31am August 24)
I adore your books. Thanks for writing a blog and having a giveaway.
(Jamie Fortney 11:37am August 24)
I love your books and I am excited for the next ones. These
sound very intense in a good way.
Thank you for sharing your talent and your fun personality
with us on Facebook!
(Cyndee Martin 11:42am August 24)
Have many of your books and love them all! Appreciate the awesome talent!
(Kathie R 11:44am August 24)
I love everything you have written. I have a war hero in my youngest son
and thank god he is happy and healthy
(Diane Newcomb 11:48am August 24)
I LOVED Simply Love. It is my go to book when I am looking for a good love story. I have reread it over and over again.
(Ashlyn Thompson 11:51am August 24)
I cried while reading about your wounded heroes. Simply Love is an
amazing story. I enjoyed all the Simply books. Being married to a military
man for 32 years, I sometimes worried about his being killed, or wounded.
As long as he returned, that was all that mattered. Did you ever consult
with actual victims, or there families?
(Mj Schaddelee 11:53am August 24)
Love your books Mary and I am very thrilled that I was able to meet you and get them signed. Looking forward to reading The Arrangement and The Proposal
(Pat Walker 11:54am August 24)
Dang, "their" not "there!"
(Mj Schaddelee 11:55am August 24)
I have read so many of your books and loved every one of them. I very much enjoyed The Proposal and am looking forward to reading Vincent Hunt's story especially after reading The Suitor. I love all your characters, but I have to say that my favorite is Wulfric Bedwyn, Duke of Bewcastle. I just simply fell in love with him from the very first book of the Bedwyn series and was so glad to see him find his "love" in Slightly Dangerous.
(Patricia Hatten 11:56am August 24)
I love your books. You were the first romance author that after reading my first book of yours I couldn't get enough. Your wounded heroes always touched me. I would be honored to win.
(Dawn Vanderhyde 11:58am August 24)
Love your books, spent many night reading just one more chapter.
(Leisa Meusy 12:04pm August 24)
A Mary Balogh book is to be savored, and kept to be read and re-read.
Anxiously awaiting more in The Survivors series.
(Deb Johnson 12:15pm August 24)
Sydnam is one of my favorite characters. His wounds would be
hard for any man, but he has the added wound of not being
able to paint without a right hand. Pairing him with Anne
who has been wounded in rape and fears intimacy was
brilliant. Hartley in Lord Carew's Bride had to overcome his
handicap, trust that he can be loved and avenge himself
against a cruel man. Many of your characters also have
emotional scars like Elliot in First Comes Marriage, and
Lucas in Heartless. The emotional scars are also
handicapping and need to be overcome in order to live whole
lives. You do their stories in very believable ways.
Although we KNOW there will be a HEA, you still build up
nicely to the end.
(Catherine Stout 12:16pm August 24)
Ms Balogh, You are such a talented writer that the characters you create are real people in many ways. The fact that you have been dealing with people damaged by war, can certainly speak to anyone who is here in the world today.

Thank you for creating so many wonderful people, both men and women for your readers.
(Annette Naish 12:17pm August 24)
Wounds, internal and external, are part of living. Mary, you in your writing, paint a word picture of strength, hope, and possibility and all that is the best and sometimes the worst of being human. I look forward to your new books, savor them, and re read your older ones often.
(Anita Goldbaum 12:21pm August 24)
Mary as an avid Historical Romance Reader, I can clearly remember stumbling upon one of your books at the library ages ago, before e-readers existed. It was "One Night for Love!" A book I will warmly remember and never forget. The story of Lily Doyle and Neville Wyatt. My heart fell in love with both hero and heroine and their story of a love lost and found. After reading it twice I was so enamored with your beautiful story telling abilities that I became an avid fan of your books. I read almost every one of them voraciously. This latest "Wounded Hero" series will prove to be just one more notch in that infinite belt of wonderful accomplishments!!! I cannot thank you enough Mary for the endless hours of pleasure you've given myself and all your devoted readers. We are forever grateful!!
(Karen Flanagan 12:23pm August 24)
I like your wounded hero stories not only because your books are always great romance and wonderful to read. It is nice to have stories that are about people that are not perfect but more realistic and see beyond just the outside appearance. Thank you for sharing your gift of writing with us all.
(Linda Kau 12:24pm August 24)
I loved reading this blog almost as much as reading your books! Your
heroes are engaging and "real", and the love stories never fail to warm my
heart. I am so glad you are a "prolific writer," because I always look
forward to your next book - it would cause terrible suffering if I had to wait
too long!
(Aimee Hunziker 12:30pm August 24)
I would love to be entered in the contest. This is one of my favorite series
for the very reason that the heroes aren't perfect and they have challenges.
Perfection can be boring.
(Kristin Hubbard 12:32pm August 24)
I've read most of your books and must say that you do a
marvelous job at making the characters come alive and
conquer whatever comes their way. I love the idea of this
new series and am looking forward to seeing how these
wounded heroes heal.
(Claire Gilless 12:49pm August 24)
I just love your books! They never fail to keep me enthralled & transport
me to a different place & time... Can't wait to read these soon to be
published stories! You are a fantastic author!
(Tammie Lynd 12:53pm August 24)
I love all your heroes because you make them so believable. The flaws and trials
make them deep & rich.
(Alicia Murphy 12:55pm August 24)
Ah Mary Balogh, you make me happy. The good news, for me, is I
am able to say that to you with each new book as well as each
reread. I find that simply wonderful, I may be slightly
fanatical, but you give summers to remember and heroes, those
heroes and heroines I have sobbed out loud for just Ah, Mary
Balogh remarkable.
(Peggy Wright 12:56pm August 24)
I love your books. My favorite was about the young man who married the prostitute. I loved how you redeemed his stepmother in a later book.
(Jeanette Harris 12:58pm August 24)
Lord Carew is by far my favorite of your wounded heroes, although I think you do them as well or better than anyone!
(Judith Villarreal 12:59pm August 24)
Thank you for your books. I love reading them.
(Lena Lee 1:07pm August 24)
I love that you have imperfect characters. Not everyone can be the belle of the season or the Adonis of the ton.
(Debra Thompson 1:08pm August 24)
love wounded heroes and heroines. I love when people fall in
love despite imperfections
(Alisha Woods 1:20pm August 24)
I love your books and characters... thanks for sharing!
(Colleen Conklin 1:21pm August 24)
Haven't read anything from Balough that I haven't fallen in love with characters and their lives!
(Cate Sparks 1:36pm August 24)
I have your books for years, now only on my Kindle bcuz I have ALS & can't hold a real book anymore. ILYBVM!
(Dianna Wiersema 1:40pm August 24)
I love heroes who beat the odds and overcome obstacles!
(Kathy Sullivan 1:41pm August 24)
Whether they are leading ladies and gentlemen or supporting roles, all of
your characters are endearing and unforgettable.
(Brenda Soules 1:44pm August 24)
I've enjoyed your books for years. I particularly like that with books in series, characters return. With those facing the kind of challenges that they often do in your books, it is nice to see how they are developing. Thank you for years of great reads.
(Helen Vreugdenhil 1:45pm August 24)
My favorite one of your wounded heros is Kit Butler. Not a
physical wound, but certainly emotionally wounded. I have
long thought that he is one of the best written, most
emotionally complex characters that I have ever read.
(Susan Deahl 1:47pm August 24)
Love me some wounded heroes! Some author fooled me once & in a
sequel had the wounded hero turn out to be the villian
I adjusted reluctantly because he was so devious.
(Bonnie Atkins 1:56pm August 24)
Love wounded heroes, especially yours, Mary. You have a way of bringing out the worst and the best in them, especially when they meet the heroine that doesn't give in to their disabilities and makes them realize they are still a man who has a lot to give! Can't wait for The Arrangement!
(Sharon Fournier 2:04pm August 24)
Mary, I love all of your books and cannot wait for the next one
to be released! I have had it on preorder forever! Your
characters are all so unique but have that "something" that
make them loveable.
(Lucinda Schafer 2:29pm August 24)
I loved your book "Simply Love". Everyone is wounded in some way in life and it is beautiful how your various heroes and heroines learn to face and work through their trials and find a healing and connecting love. They bring joy and hope to the lives of your readers too!
(C Moore 2:30pm August 24)
I love to read about wounded heroes also. Along with Simply Love, a couple of my favorites are England's Perfect Hero by Suzanne Enoch, and The Madness of Lord Ian MacKenzie by Jennifer Ashley.
(Bonnie r 2:32pm August 24)
I can't wait for the next book in the Survivors
series. I am very interested to see where each
character's story will go!
(Sarah Hillier 2:33pm August 24)
Wounded heroes are my very favorite, and no one can write them
like you do. Thank you for so many years of wonderful reading
you have given us with the promise of many more to come.
(Valerie LaMont 2:41pm August 24)
I love reading a wounded hero story, makes me cry every time.
Love!
(Rhiannon Rowland 2:51pm August 24)
Mary, I am currently rereading Beyond the Sunrise and how timely it is that
you are discussing wounded heroes! You have put all other modern authors
at a disadvantage because I compare them all to you. All of your characters
are believable to me and the conversation, especially, is superb. I just can't
abide trite or unbelievable dialog between characters. I immediately lose
interest. Thank you so much for writing these wonderful stories for us to lose
ourselves in. God bless you!
(Deborah Germano 3:03pm August 24)
I love books that follow each other. You can catch up on the characters you fell in love with in the earlier books. I also love "wounded warriors". Romance and a happy ending for the warrior.
(Cindy Austria 3:07pm August 24)
I have loved your flawed heroes!
(Mercy Boujarwah 3:17pm August 24)
Mary you introduced me to the Regency genre and for many years have been my top "go to" author when I'm looking for something new to read. With any luck I may have read at least one fourth of your books though I haven't kept track. I would be absolutely thrilled to win these two books and even if I don't I'll eventually buy and read them. I think a wounded hero and or heroine is my favorite. Thanks so much for being such an excellent author.
(Molly Moody 3:18pm August 24)
Mary, I really enjoy all of your books and am looking forward to The Arrangement. The Proposal was very, very good.
(Ellen Solensky 3:30pm August 24)
Looking forward to reading The Arrangement and the Proposal.
Historical romance has always been a favorite and I especially
love your books. Thanks, Mary.
(Connie Tufte 3:44pm August 24)
A very beautiful and moving post on wounds, love, and love's healing ability. As
Molly Moody before me said, you were my first author in Regency fiction, and
you've set the bar so incredibly high that very, very few others can achieve it.
(Donna R. 3:56pm August 24)
Life's challenges are hard whether physical or mental. The the stories behind these challenges are always great ones.
Thank you!
(Melanie Backus 4:59pm August 24)
Hi Mary, love all your books hope to win The Arrangement and the Proposal Thank You....
(Judy Jeanes 5:03pm August 24)
I think that you develope character so well.....and Sydenham is one of my
favorites as well. I like that you place these characters in families who also need
to grow and change. Love isn't just about love of a man & Woman.
(Lesley FEnton 5:10pm August 24)
Yes please. I do enjoy reading a love story with a wounded hero.
(Ann L Dahl 5:12pm August 24)
I love your books! Congrats on the new release!
(Xoun J. Phetchamphone 5:48pm August 24)
I can't wait to start reading Mary Balogh's fascinating heroes and heroines!
(Britney Adams 6:09pm August 24)
I think readers who have suffered a broken heart themselves can relate to some of your wounded heroes. Great work!
(Deb McArthur 6:59pm August 24)
Reading is my great escape. Thank you for writing.
(Grace Irelan 8:06pm August 24)
It is wonderful to read about characters finding love and happiness.
(Maureen Emmons 8:23pm August 24)
Mary, I enjoyed reading your blog.
I love your books. Your characters are not the usual found in romance novels. They are more human to me. Can't wait to read "The Arrangement".
(Kathy Campbell 8:25pm August 24)
Wow, Congrats on your new books: THE PROPOSAL and THE
ARRANGEMENT. Also, Congrats on having over 100 novels. God
has truly blessed You for sure. I really love the sexy
handsome man on the cover of THE ARRANGEMENT too! What a
Hunk!!! Your books sound like fantastic reading and I would
love to win and read them this summer. Thank You very much.
Cecilia CECE
(Cecilia Dunbar Hernandez 8:27pm August 24)
There is quite a collection of your books on the shelf of the library in a senior's
home where I volunteer; now that's a recommendation in itself! But I've been a
follower since the Slightly series. Congrats!
(Melinda Palmer 9:39pm August 24)
I love your books, and Simply Love was the first book of yours I ever read and I have been in love with your writing ever since.
(Lilian Bobadilla 9:47pm August 24)
Too many favorite books from you. :) Looking forward to your new one!
(May Pau 9:49pm August 24)
I have enjpyed reading many of your books. I cannot say all
off them althought I have read many of them. I especially love
the way your characters move through the books changing and
growing and realizing their mistakes. They all grow so much in
the course of the story! I love them!
(Mary Tapia 9:50pm August 24)
Books with wounded heroes are very popular at the nursing home where I do my volunteer reading sessions... possibly because there a lots of guys in my sessions. You'd be surprised how many senior men enjoy a good romance book.
(Donna Holmberg 9:51pm August 24)
I have enjoyed every one of your books and am looking forward
to reading The Survivors Club series. I love reading about
wounded heroes as they have some of the best stories. It's
great to follow along as they heal mentally, emotionally and
physically with the help of their friends and loved ones.
(Lisa White 10:12pm August 24)
I love characters that are wounded emotionally and/or physically. It just gives such depth to their stories and makes me admire them even more. I loved Sydnam from Simply Love and The Survivors Club series sounds fantastic!
(Marcy Shuler 10:41pm August 24)
I don't think I've ever read a book with the premise you set up here. I think I will thoroughly enjoy it. The Survivors Club Series look incredible. I can't wait to start reading them.
(Amy Kincade 11:32pm August 24)
Hi Mary!
I've been reading your stories in this series as they've been released and love them. My husband not only served during Vietnam but also was in the Navy Reserves as a "week-end" warrior until he retired. I love that your addressing the issue how men and women are affected by the either being in a war themselves but how it also affects those around them.

You may write historical romance but your stories help us understand what so many of our men and women who are serving their country are going thru today as well.

Thank you from all of us who have been affected by the ravishes of war whether in the past or currently. Not only are the books in this series wonderful to read they help educate us all to stop and think how war affects not only those who served but all of us.
(Jeanne Miro 12:18pm August 25)
I love reading about wounded heroes. Going through or living through a traumatic events, can alter one's perception on life. Most of the wounded heroes go through an emotion and mental state of minds trying to understand what they have went through. For most part, it is the emotion that is catching up with them to deal with the aftermath of what they went through.
(Kai Wong 1:04am August 25)
Love your Books-I hope you write forever.This is a wonderful Article by the way.
Marilyn
(Marilyn Watson 6:34am August 25)
Wounded hero? No, human hero! As a teacher, I would tell my students,
that every one of us has some sort of disability. Some small, some larger, It
is our job to learn how to work around and achieve despite that disability.
Mary, you make us love your wounded heros.
(Rita Selesner 6:44am August 25)
I absolutely love your books! The Arrangement was wonderful. I received an unsigned ARC at RWA13 and started reading it immediately. I tend to like either a wounded/tortured soul or a warrior in my stories. Simply Love is one of my favorite of your books, but every time I read one, it becomes my favorite. Thanks for being so prolific!
(Vikki McCombie 8:32am August 25)
People do not need to be physically perfect in order to be heroes----not emotionally perfect either---thanks for letting them be real.
(Sue Farrell 12:34pm August 25)
I Loved The Proposal - really looking forward to reading The
Arrangement and the rest of the series!
(Diane Sallans 5:24pm August 25)
I loved the Proposal and I'm eagerly awaiting the Arrangement!
(Robin Greene 6:15pm August 25)
I can't wait for more of your books. They're always a good read!
(Laura Gullickson 7:22pm August 25)
I haven't read any of your books, but from what's written here I've been missing out on great reads. Would love t win these books.
(Carol Woodruff 7:30pm August 25)
So many great books. I need to catch up - somehow.
(Mary Preston 5:34am August 26)
Your heroes sound like true individuals and I hope they enjoy happy outcomes.
(Clare O'Beara 9:32am August 26)
The Survivors' Club series sounds fascinating. I love your historical romances and would love to win these two books to add to my Mary Balogh collection. Thanks for writing wonderful romances that bring enjoyment to so many readers
(Bonnie Hometchko 3:24pm August 26)
I've got most of your novels, though I haven't yet read all of them. After several moves, they are currently still in storage. So I'm suffering from Balogh-withdrawal. I love your heroes, wounded or not, but especially the wounded. After all, who of us is totally whole? Many of your heroines are equally wounded, and I think it's this woundedness and brokenness that makes your stories so much more realistic. Thanks so much for all of them.
(Sigrun Schulz 1:27am August 27)
love your novels have not read these
(Lilian Gamble 11:27pm August 27)
I love wounded heros! But, Mary, you heros never seem lacking for bring
wounded- they are all so fully formed and not defined by bring wounded.
Clara in daning with Clarabhasbaoways been one of my favorites!
(Diane Cole 4:14pm August 28)
Registered users may leave comments.
Log in or register now!