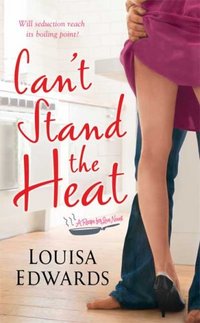 Purchase
Recipe for Love #1
St. Martin's Press
September 2009
On Sale: September 1, 2009
Featuring: Adam Temple; Miranda Wake
368 pages
ISBN: 0312356498
EAN: 9780312356491
Mass Market Paperback
$6.99
Add to Wish List

For sharp-tongued food critic Miranda Wake, the chance to spend a month in Adam Temple's kitchen to write an exposé is a journalistic dream come true. Surely Miranda can find a way to cut the hotshot chef down to size once she learns what really goes on at his trendy Manhattan restaurant. Trouble is, she never expected Adam to uncover her most embarrassing secret: she has no idea how to cook.
As for Adam, well, he's not about to have his reputation burned by a critic who doesn't even know the difference between poaching and paring. He'll just have to give the tempting redhead a few private lessons of his own . . . teaching her what it means to cook with passion.
Comments
33 comments posted.
This is near the top of my TBR list. Can't
wait to get hold of a copy!!!
(Mary Hundley 11:31am October 5, 2009)
Sounds awesome. I'd love to win a signed copy for my home library. Thanks.
Lorraine
moml1@cox.net
(Lorraine Larose 11:44am October 5, 2009)
Louisa Edwards: Thank you for your post.

Like you, I'd like to see more romantic heroes of the non-brooding kind. A load of emotional baggage, a destructive bent, and a bad attitude are NOT sexy! Emotional maturity, a constructive motivation, and an upbeat attitude are.

Alas, it's much easier to generate stories out of the first kind than the second. But I for one would much rather read the latter.

I suspect that authors get their inspiration for characters from many sources. Real people they know. Real people they've heard of or read about. People who aren't real at all, but the author wishes they were. Other authors' characters. Archetypal figures. Embodiments of traits that deeply concern the author.

And of course, there are characters who seem to come out of the blue, with no discernible origins. Which of course they have, but they arise from deep in the subconscious of the author and/or the collective unconscious of the culture that produced the author.

I also suspect that many characters, especially powerful, memorable ones, are really composites. They derive from more than one source, perhaps all of the above.

Which type of character is best? Whichever one works best with the readers.

And as for your idea of writing a short story about Adam Temple, please do so! And he'd be a great source for other heroes in other novels. No reason why he can't have a bunch of brothers!
(Mary Anne Landers 2:08am October 6, 2009)
I think you should definitely write a short story from Adam's perspective. Most of the time romances are from the heroine's perspective so this could be a fun read. Congrats on Can't Stand the Heat! Though I have not read it yet the more I hear about it the more I want too :)
(Carrie Divine 7:34am October 6, 2009)
I can't wait to read. love this type of book. Thanks for the interview! Best wishes!
(JoAnn White 10:02am October 6, 2009)
That sounds like a GREAT idea! I'm wanting to read Can't Stand The Heath and that would make a great add in. You have made me want to read it even more by saying he's a happy alpha! I love alpha males! This will be a fun read!!
(Kelli Jo Calvert 11:02am October 6, 2009)
Three cheers for the nice hero! I like a 'em a little dark, but completely sweet on the inside. Like a dark chocolate caramello! Loved CANT STAND THE HEAD and am begging for free reads! Do it!
(Roxanne St. Claire 11:08am October 6, 2009)
Mary Anne - interesting thoughts on where characters come from. I have to say, mine are definitely a mixed bunch!

Carrie - Here's hoping the book lives up to the hype if you ever do read it. LOL

Jo - Yay! I always love to hear a reader say they enjoy contemporaries.

Kelli Jo - If you want some other fun add-ins, check out my website at www.louisaedwards.com -- there's an excerpt, a deleted scene, and a free read prequel (of sorts.)

Roxanne - YOU are the mistress of the dark chocolate caramello hero; I wouldn't dream of poaching on your turf! : )
(Louisa Edwards 11:30am October 6, 2009)
I would love to read more about Adam. Great Idea!
(Theresa Buckholtz 11:42am October 6, 2009)
Post it! Your readers demand it. ;o)
(Kristen Painter 12:11pm October 6, 2009)
Yes, it would be FUN to read a short story from Adam's viewpoint!
(Cheryl Castings 12:40pm October 6, 2009)
Adam + sticky toffee pudding = best Christmas, ever.
(Meg Blocker 1:14pm October 6, 2009)
I would love to read more about Adam at Christmas time, or any time.
(Robin McKay 1:34pm October 6, 2009)
Wow! This is a great giveaway! I love to win!
(Jenni Cavallaro 2:00pm October 6, 2009)
For the holidays, how about recipes?

So pleased for you that you're getting rave reviews and press!
(Marilyn Shoemaker 2:01pm October 6, 2009)
I too like to read about upbeat heroes--not all the time, but to take a break from alpha male broodiness. And Adam definitely seems to fit the bill. As to your website, I love excerpts and for this book recipes are a great idea.
(Jody Faltys 2:06pm October 6, 2009)
Theresa - Glad you want more Adam! So do I. : P

Kristen - I always like to obey my readers!

Cheryl - Adam's POV is a ton of fun to write...

Meg - Oooh, talk dirty to me, baby!

Sara - Adam would make a great stocking stuffer, too, I think.

Robin - How right you are--doesn't have to necessarily be a holiday thing!

Jenni - Good luck!

Marilyn - I think there will definitely be a recipe or two in my newsletter. : )

Jody - There are recipes in the backs of each of my books, and usually one per newsletter. Sign up to get them all! LOL
(Louisa Edwards 2:10pm October 6, 2009)
I love finding out what happened to the characters after the story. So go for it! I would love to read more Adam:)
(Maria Geraci 2:18pm October 6, 2009)
Yes, you should post a free read for the holiday. Spread the seasonal cheer.
(Vikki Parman 4:01pm October 6, 2009)
Maria - I agree! I love the feelings that the characters don't end when the book does. It's part of what makes connected books so satisfying.

Vikki - That is my exact idea!
(Louisa Edwards 4:03pm October 6, 2009)
Yes, that would be a great Christmas present!
(Marsha Saenz-Jones 4:11pm October 6, 2009)
Your book is delightful and unique, Louisa. Knowing more about Adam would be great. Including recipes is a lovely idea. Thanks for your delightful post today.
(Sharon Berger 4:23pm October 6, 2009)
Hi Louisa,
Congrats on your debut release. I love watching Bourdain's No Reservations. He's kind of a smart ass, but very funny.
(Jane Cheung 4:45pm October 6, 2009)
I really enjoyed your book and would love a story from Adam's perspective. I must tell you that the relationship between Frankie and Jess was so sweet and well written that it touched me. I kept wanting to find out more about them.

I'm looking forward to "On the Steamy Side".
(Jill Hayden 6:33pm October 6, 2009)
I love to read about these types of heros and to get one in the kitchen, would be so awesome! I haven't read your book but would love to!
(Gail Hurt 6:40pm October 6, 2009)
A short story would be very nice.
(Diane Sadler 7:39pm October 6, 2009)
Marsha - I'm told a copy of my book makes a nice stocking stuffer, as well. ;)

Sharon - Ooh, 'delightful' is one of my favorite things to be called! Thank you so much.

Jane - Ah, Tony. So bad, so naughty, so irresistible...

Jill - Thank you for posting about Jess and Frankie! I love them too--so much that I'm continuing their story through the next two books! Stay tuned...

Gail - Hot guy in the kitchen. What could be sexier?

Diane - I think I'm convinced!
(Louisa Edwards 10:23pm October 6, 2009)
A Christmas short story with Adam sounds like a wonderful way to put a little joy into the season.
(Patricia Barraclough 10:24pm October 6, 2009)
I think it would be great for you to put a short free story on your page. that would be sweet for the holidays.
sasluvbooks@yahoo.com
(Stacey Smith 3:25am October 7, 2009)
I would love to read a short story for the holiday. I say post it!!!!
(Mitzi Hinkey 5:56pm October 7, 2009)
Big Congrats on your debut novel and it sounds very good. Plus you gget recipes, woo-hoo! Knowing more about the characters is always a big bonus and by having a free story on your site it gives potential readers a look into your writing style and gets them hooked! So I say post it!
(Chris Jones 2:04am October 8, 2009)
Patricia - It would definitely put a little joy into me. :)

Stacey - I've got a free read up now, and I want to continue to do them. It's fun to write something short and sweet for a change!

Mitzi - I'll do it!

Chris - Check out my site--I've got a free read up now, plus excerpts and deleted scenes. But more would be better!
(Louisa Edwards 11:28am October 8, 2009)
Congrats on your debut book!
(Kim Atchue-Cusella 7:35pm October 10, 2009)
Registered users may leave comments.
Log in or register now!