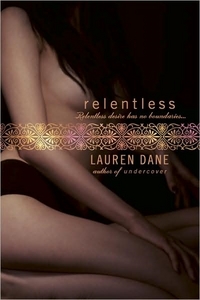 Purchase
Relentless desire has no boundaries
Berkley
May 2009
On Sale: May 5, 2009
Featuring: Roman Lyons; Abbie Haws
352 pages
ISBN: 042522760X
EAN: 9780425227602
Paperback
$15.00
Add to Wish List

Paranormal | Erotica Paranormal
In the erotic universe created by hot new talent Lauren Dane, passion knows no rank...

Fifteen Families rule the Federated Universes—and Abbie Haws has spent her life battling the system. She's always been too driven to pay much attention to love. But when she meets Roman Lyons, Head of House Lyons, who stands for everything she hates, Abbie's attraction catches her off-guard...

Their world, Ravena, revolves around born leader Roman, who dreads meeting this defiant— if stunning—rabble-rouser. But sometimes headstrong personalities that collide in public become hot-and-heavy, guilty trysts in private.
Videos
Comments
30 comments posted.
Re: Relentless

I think that "What Happens in Vegas...After Dark" is one of best titles I heard in a while. You think its going to be the usual phrase, then it goes in a totally different and suggestive direction.
(Caroline Kolb 2:24pm May 3, 2009)
Great title, great story!
(LuAnn Morgan 3:38am May 4, 2009)
I really love the authors in this. Each one has a mind blowing way of telling a story
(Tabatha Basham 4:45am May 4, 2009)
The books that I usually like the most are the ones where the hero must overcome some setback, prove he is worthy of the woman he loves, and eventually has some kind of HEA
(Carrie Divine 7:36am May 4, 2009)
I like books that have the main characters hating each other, then have to work together, then fall in love with each other. Sounds good to me!!
(JoAnn White 9:56am May 4, 2009)
I look forward to reading Relentless. I have not yet read one of your futuristic books and this one sounds interesting.
(Robin McKay 10:22am May 4, 2009)
I usually don't read futuristic, but this one sounds very interesting. I generally go for the alpha males and the strong women who put up with them.
(Kelli Jo Calvert 10:24am May 4, 2009)
I like themes where you follow a family or a group of friends
(Christine Panaro 10:40am May 4, 2009)
I like reading about women who find
themselves through trial and error
(Bridget Hopper 11:41am May 4, 2009)
I like books where the hero/heroine are not conventionally good looking. The characters fall in love not because of the outer shell, but what's inside.
(Jody Faltys 11:46am May 4, 2009)
I love a variety of themes.. but the characters must be well developed, the kind that I interact with.
(Rachel Flesher 12:16pm May 4, 2009)
I love to read everything but I have to like the characters or it doesn't matter what the theme of the book is. I love Alpha males they tend to be very sexy.
(Larena Hubble 12:44pm May 4, 2009)
I am going to add Relentless to my reading list! Sounds great!
(Susan Galley 1:45pm May 4, 2009)
Love alllll your stuff Lauren!
Heather
(Heather Rosman 2:00pm May 4, 2009)
Futuristic romance - sounds interesting.
(Vikki Parman 3:11pm May 4, 2009)
ooh futuristic bring it on. Love them and scifi and anything paranormal. I don't read a whole lot of contemps but do read some. And I read maybe one strictly historical book every year. Not real fond of them.
(Pam Kinsey 4:08pm May 4, 2009)
I've just started reading paranormals but before tended to lean toward traditional themes such as cowboys. I'm starting to branch out. Your book sounds interesting. Have a great day.
(Roberta Harwell 5:07pm May 4, 2009)
I'm putting this on my "must read list"
(Linda Calvert 5:08pm May 4, 2009)
I am looking forward to reading Relentless. Teresa
(Teresa Ward 7:25pm May 4, 2009)
Relentless sounds great! I like all kinds of themes.
(Amy Smith 10:05pm May 4, 2009)
I'll read anything as long as I feel a
connection with the characters and the
story is built around the characters.
(Sue Ahn 11:16pm May 4, 2009)
The book sounds great. Will look for it.
(Patricia Barraclough 11:20pm May 4, 2009)
Relentless sounds like an interesting
book. I don't usually read futuristic
books, but if the story is good and well
written the location/time frame don't
matter.
(Patricia Barraclough 11:22pm May 4, 2009)
Hi Lauren. I so love a variety! I love to be surprised when I'm reading too! (I just don't read outside of romance except for Urban Fantasy and Historical Mysteries) otherwise I stick with romance. I discovered Fantasy romance with reading ebooks and so glad I did! So for me, I really love trying something new with themes and genres in romance!
(Cathie Morton 11:32pm May 4, 2009)
I want to read anything that 'happens in Vegas'
(Sandy Miresse 1:32pm May 5, 2009)
Not my normal genre but I like reading new things. Sounds good!
(Josie Roetemeyer 1:40pm May 5, 2009)
Can't wait to read What happens in Vegas... After Dark
(Teresa Ward 6:40pm May 5, 2009)
hi lauren great to have u here. love undercover and the first vegas. congrats n teh second and you new release
(Kim h 2:53am May 6, 2009)
Hi Lauren,
I love when books contain two strong alpha characters. I can't wait to read relentless.
(Ann Marie Brown 4:45pm May 12, 2009)
I would love to read your books.
(Patsy Hagen 2:59pm May 19, 2009)
Registered users may leave comments.
Log in or register now!