Jenn McKinlay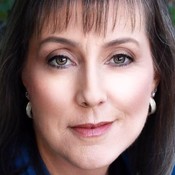 Pseudonym for Josie Belle.
Pseudonym: Lucy Lawrence.

Lucy Lawrence (a pseudonym for Jenn McKinlay) took her first decoupage class when she was twelve years old. Since then, cutting and pasting have become a way of life. With two small children at home, she finds decoupage a fun craft as well as a very handy tool, especially when used to cover up doodles made in permanent marker on otherwise lovely furniture. And yes, they know her by name at her local Michael's Craft Store. She is the author of three previous novels under the name Jennifer McKinlay and lives in Scottsdale, Arizona with her musician husband Chris, their two sons, two cats, one dog and one fish.
Books:
Death of a Mad Hatter, May 2014
Hat Shop Mystery #2
Paperback
Sugar and Iced, April 2014
A Cupcake Bakery Mystery
Paperback
Read It And Weep, November 2013
Library Lovers #4
Paperback
Cloche And Dagger, August 2013
Hat Shop #1
Paperback
Going, Going, Ganache, April 2013
A Cupcake Bakery Mystery
Paperback
Book, Line And Sinker, December 2012
Library Lover's Mystery #3
Paperback
Red Velvet Revenge, July 2012
Cupcake Bakery Mystery
Paperback
Due Or Die, March 2012
Library Lover's Mystery #2
Paperback
Death By The Dozen, October 2011
A Cupcake Bakery Mystery #3
Paperback
Books Can Be Deceiving, July 2011
Library Lovers #1
Paperback
Buttercream Bump Off, January 2011
Cupcake Bakery #2
Mass Market Paperback
Sprinkle With Murder, March 2010
Cupcake Bakery Mystery #1
Paperback