Mary Alice Monroe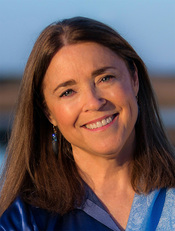 Photo Credit: Barbara J. Bergwerf

Pseudonym: Mary Alice Kruesi.

New York Times bestselling author Mary Alice Monroe found her true calling in environmental fiction when she moved to coastal South Carolina.
Already a successful author, she was captivated by the beauty—and fragility—of her new home. Her experiences living in the midst of a habitat that was quickly changing gave her a strong and important focus for her books.
Since then, she has explored the problems of endangered sea turtles (The Beach House), raptors (Skyward) and the indigenous grass and endangered ecosystem (Sweetgrass). In Swimming Lessons, her new novel and a sequel to The Beach House, Mary Alice returns to the southeastern coast to explore the rehabilitation of injured and sick sea turtles.
Monroe continues to write richly textured books that delve into the complexities of the human psyche and the parallels between the land and life. Mary Alice is an active conservationist. She is a dedicated member of the Isle of Palms/Sullivan's Island Turtle Team, a volunteer at the South Carolina Center for Birds of Prey, and serves on the Board of the South Carolina Aquarium. A source of pride for Mary Alice is the fact that thousands of dollars have been raised to support environmental causes, specifically through her books.
Mary Alice Monroe's ten novels are published worldwide and have won acclaim and awards. She has also published her first children's book. Mary Alice is a frequent speaker at conferences and private events. She lives with her family on a barrier island off South Carolina.
Series
Lowcountry Summer
Books:
A Lowcountry Christmas, November 2016
Lowcountry
Hardcover
The Beach House, June 2016
Trade Size (reprint)
A Lowcountry Wedding, May 2016
Lowcountry Summer #4
Paperback
The Summer's End, May 2015
Lowcountry Summer, #3
Paperback
The Summer Wind, June 2014
Lowcountry Summer #2
Hardcover
The Summer Girls, July 2013
Lowcountry Summer #1
Paperback
Skyward, June 2011
Paperback
The Butterfly's Daughter, May 2011
Hardcover
The Long Road Home, November 2010
Trade Size (reprint)
Sweetgrass, May 2010
Paperback (reprint)
The Four Seasons, August 2009
Paperback
Last Light Over Carolina, July 2009
Hardcover
The Book Club, May 2008
Trade Size
Swimming Lessons, April 2008
Trade Size
Swimming Lessons, April 2007
The Sequel to The Beach House
Hardcover
Turtle Summer, April 2007
Hardcover
Sweetgrass, June 2006
Paperback (reprint)
The Beach House, May 2006
Trade Size (reprint)
Sweetgrass, July 2005
Hardcover
Skyward, June 2005
Trade Size (reprint)
Girl in the Mirror, July 2004
Paperback (reprint)
The Four Seasons, February 2004
Trade Size
The Book Club, June 2003
Trade Size (reprint)
The Beach House, May 2002
Paperback