N.J. Nielsen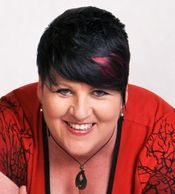 Blogging at Fresh Fiction
N.J. Nielsen | The Whys and Whos of Wardens of the Guild
June 2, 2017
First off, thank you for having me as a guest to talk about my book… Read More...
NJ needs to write like she needs to breathe. It's an addiction she never intends to find a cure for. When you don't find NJ arguing with Vlad, her muse, or writing about the wonderful men in her stories, you'll find her reading work by other authors she greatly admires. NJ lives on five acres situated in the SE of Qld, Australia with her family who all encourage her writing career (even if she does occasionally call them by her character's names), and her variety of pets. NJ thinks anyone who takes the time to read her stuff is totally awesome, and wants to thank you all.
Series
Wardens of the Guild
Books:
All That Shimmers, June 2017
Wardens of the Guild
e-Book
The Real You, October 2016
Wardens of the Guild
e-Book