Cathy Skendrovich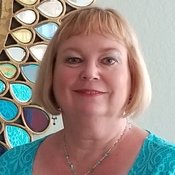 Blogging at Fresh Fiction
Cathy Skendrovich | Write What You Know
April 25, 2018
Writers are like magpies. They gather their own experiences, couple them with tons and tons of research, and come up with a distinctive realm that Read More...
Cathy Skendrovich has always loved a good story, and spent her formative years scribbling what is now called Fan Fiction. The current heartthrob of the time featured heavily in all her stories. Unfortunately, once she went to college, her writing took the form of term papers, written on typewriters instead of computer keyboards.
Upon graduation, Cathy took a job as an English teacher in a middle school. Along the way, she married her husband of now thirty-three years, had two sons, and moved to southern Orange County, California. She chose to work part-time in the school system there.
Now she has returned to writing. Prisoner of Love is her first published novel, followed closely by The Pirate's Bride. The sequel to The Pirate's Bride, The Pirate Bride's Holiday Masquerade, came out Oct. 1, 2017. Her next contemporary romantic suspense, entitled Undercover with the Nanny, is due out on April 23, 2018.
She likes writing romance because she feels it's lacking in today's technological world. While she enjoys writing contemporary stories, creating romance in bygone times fascinates her. She hopes her ability to write in both genres will be the beginning of a long and satisfying writing career.
Series
Books:
Undercover with the Nanny, May 2018
e-Book
Prisoner of Love, October 2015
Hardcover