Shelly Bell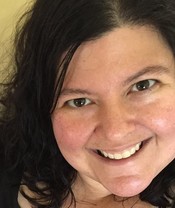 Blogging at Fresh Fiction
Shelly Bell | Enemies to Lovers
October 18, 2015
One of my favorite romance tropes is enemies to lovers. In BLUE BLOODED Read More...
Shelly Bell | Who Wants Reality in Romance?
March 24, 2015
When I read a romance, I expect to be swept away from real life into a world where good conquers evil and the hero and Read More...
A sucker for a happy ending, Shelly Bell writes sensual romance often with a bit of kink and action-filled erotic thrillers with high-emotional stakes for her alpha heroes and kick-ass heroines. She began writing upon the insistence of her husband who dragged her to the store and bought her a laptop. When she's not working her day job, taking care of her family, or writing, you'll find her reading the latest smutty romance.
Shelly currently writes for Avon Red Impulse and is a member of Romance of America, Sisters In Crime, and International Thriller Writers.
Series
White Collared | Benediction | Forbidden Lovers
Books:
His to Claim, April 2018
Forbidden Lovers #2
Paperback
At His Mercy, June 2017
Forbidden Lovers #1
Paperback
Black Listed, March 2016
Benediction #3
e-Book
Blue Blooded, October 2015
Benediction #2
e-Book
Falling Hard, June 2015
Paperback
Red Handed, March 2015
Benediction #1
e-Book
White Collared: Passion, August 2014
White Collared Part #4
Mass Market Paperback
White Collared: Greed, July 2014
White Collared Part #2
Mass Market Paperback
White Collared: Revenge, July 2014
White Collared Part #3
Mass Market Paperback
White Collared: Mercy, June 2014
White Collared Serial #1
Mass Market Paperback
Tornado Allie, January 2014
e-Book
Sway With Me, January 2014
e-Book
A Year to Remember, February 2012
e-Book