Pam Hillman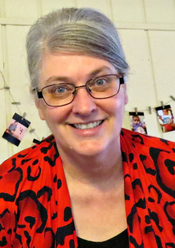 Blogging at Fresh Fiction
Pam Hillman | Is It Nature or Nurture?
August 11, 2017
What makes us as readers gravitate to a particular genre when we start reading? What makes one child fall in love with cowboys and Indians Read More...
CBA Bestselling author Pam Hillman writes inspirational fiction set in the turbulent times of the American West and the Gilded Age.
Born east of the Mississippi and a hundred years too late, Pam still boasts of wrangling calves, milking cows and putting up hay, first as a child, and later with her own personal hero, Iran, on their family farm in Mississippi.
A voracious reader as a child, Pam especially enjoyed stories involving the great Westward expansion, and television shows such as Bonanza, Little House on the Prairie, and Gunsmoke. The western writer, Louis LíAmour, kept Pam mesmerized with his tales of cowboys and Indians, mountain men and outlaws, prim schoolteachers, hot dry deserts, and boom towns.
Pamís life in the country and her love of the old west bring authenticity to her work and depth to her characters, something that has been recognized many times in the industry through writerís awards.
Her work has placed in dozens of writerís contests, including being a four-time finalist in Romance Writers of Americaís prestigious Golden Heart contest for unpublished novelists with Claiming Mariah, her second novel, winning the coveted Golden Heart.
As a published novelist, Pamís books have been recognized by judges of the Inspirational Readers Choice Awards, International Digital Awards, and the EPIC eBook Awards. Claiming Mariah, her second novel, most recently hit the CBA Bestseller lists for November and January. Pam lives in Mississippi with her husband and family.
Series
12 Brides of Christmas | Seeker Collection | Natchez Trace
Books:
The Road to Magnolia Glen, June 2018
Natchez Trace #2
Trade Size
The Promise of Breeze Hill, August 2017
Natchez Trace #1
Trade Size
The 12 Brides of Summer Collection, June 2016
Paperback
Home for Christmas, October 2015
Seeker Collection #8
e-Book
Stealing Jake, August 2015
Paperback
With This Kiss Historical Collection, April 2015
e-Book
The Evergreen Bride, October 2014
The 12 Brides of Christmas #3
e-Book
Claiming Mariah, February 2014
Hardcover