Christi Barth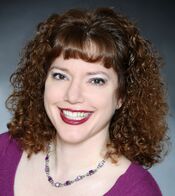 Blogging at Fresh Fiction
Christi Barth | How A Wine-Soaked Idea Became A Sexy Book
August 10, 2016
Did you ever wonder how a writerís mind works? Because Ė spoiler Ė it isnít pretty. But Iíll give you a peek. Hereís Read More...
Christi Barth | Why You Should Always Skip The First Date
June 24, 2014
Who here likes the idea of a first date? A hot guy choosing you, the thrill of maybe a new outfit, flutters of Read More...
Christi Barth earned a Masters degree in vocal performance and embarked upon a career on the stage.
A love of romance then drew her to wedding planning. Ultimately she succumbed to her lifelong love of books and now writes contemporary romance.
Christi lives in Maryland with her husband.
Series
Aisle Bound | Shore Secrets | Bad Decisions | Naked Men | Bad Boys Gone Good
Books:
Never Been Good, April 2018
Bad Boys Gone Good #2
e-Book
Bad for Her, October 2017
Bad Boys Gone Good
e-Book
Destination: Love, August 2017
e-Book
Wanting It All, August 2016
Naked Men #2
e-Book
Risking It All, March 2016
Naked Men #1
e-Book
The Opposite of Right, November 2015
Bad Decisions #1
e-Book
All for You, February 2015
Shore Secrets #2
e-Book
Love on the Boardwalk, October 2014
e-Book
Up to Me, June 2014
Shore Secrets #1
e-Book
A Matchless Romance, February 2014
Aisle Bound #4
e-Book
All I'm Asking For, December 2013
e-Book
Friends to Lovers, October 2013
Aisle Bound #3
e-Book
Love at High Tide, July 2013
e-Book
A Fine Romance, May 2013
Aisle Bound #2
e-Book
Ask Her At Christmas, December 2012
e-Book
Planning for Love, August 2012
Aisle Bound #1
e-Book
Cruising Toward Love, November 2011
Trade Size
Act Like We're In Love, October 2010
Paperback
Carolina Heat, December 2009
e-Book