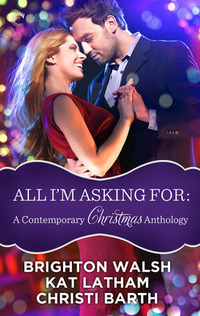 Purchase
Carina Press
December 2013
On Sale: December 5, 2013
ISBN: 1426897588
EAN: 9781426897580
Kindle: B00F942W6M
e-Book
Add to Wish List

Romance Contemporary | Holiday | Romance Anthology
Put love on your wish list
This Christmas, the producer of a small-town holiday spectacular is swept away by a handsome Hollywood director. Being stranded in a snowstorm offers a couple a second chance at a future together. And an American in London helps a brooding Brit put the ghosts of Christmas past behind him. Wherever you are, however you celebrate, this collection of three festive novellas will bring warmth to your holiday season.
Edited by Angela James, this anthology includes:
Tinsel My Heart by Christi Barth
Becca Huntley's produced the Lyndale Park Players' over-the-top Christmas show for ten years. It's a beloved Minneapolis tradition, and the theater's main fundraiser. But this year's production is in danger of being canceled when their director disappears into rehab. Good thing his directing partner steps in to save the day. Except for the minor fact that he hates everything about Christmas.
Jack Whittaker wiped this town off his shoe with his graduation tassel and never looked back. But duty compels him to fulfill Tyler's promise to direct the show. Even though it means working with Becca, the girl he always wanted, lost to Ty, but never forgot.
It'll take more than a few handfuls of tinsel to soften Jack's heart toward Becca's favorite holiday. Steamy kisses that melt the snow right off his boots are a step in the right direction. They'll both discover that Christmas is about making each other's dreams come true. But will it require sacrificing their chance at a happily-ever-after together?
Season of Second Chances by Brighton Walsh
When a storm strands Claire Hanlin in Chicago on Christmas Eve, the last person she expects to come to her rescue is Logan Dawes, the man she almost married two years ago. The chemistry between them is dangerously potent, but with nowhere else to go, Claire accepts Logan's offer to stay with him for the night.
Back in the home they shared, surrounded by reminders of Logan and his young daughter, Claire begins to realize how much she misses the family she almost had. And after a few cups of Christmas cheer, she falls right back into her ex's arms—even though she knows it means setting herself up for heartbreak all over again.
The magic of the season has thrown him together with the woman he's never stopped loving, and Logan's not about to pass up this gift. He's not the workaholic he was two years ago—his family comes first. Now all he has to do is prove it to Claire, before the snow stops and she flies out of his life for good.
Mine Under the Mistletoe by Kat Latham
Thanks to a transatlantic house swap, California girl Ashley Turner is finally going to fulfill her lifelong dream of a proper English Christmas. Her holiday plans did not include a sexy stranger climbing into her borrowed bed in the middle of the night. But in the light of day, Ashley can't help but wonder if Santa has delivered early…
Game designer Oliver Stansfeld can't wait to leave dreary London—and all its difficult holiday memories—for sunny San Diego. But a freak ice storm and a grounded plane have forced him back to his already-occupied flat. To make up for the mix-up, the least he can do is show his pretty houseguest where to get the perfect Christmas tree before he leaves.
The more time they spend together, the more their attraction grows, and soon Ashley is tempting Oliver to give in to the spirit of the season and snuggle up for the rest of the winter. As the ice melts and flights start taking off again, he must choose between giving in to the past or risking his heart on a chance at love.
Comments
No comments posted.

Registered users may leave comments.
Log in or register now!