Jordan Dane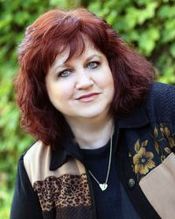 Blogging at Fresh Fiction
Jordan Dane | Where My Inspiration Comes From
September 25, 2010
Unfortunately for the whole of humanity, I get most of my inspiration for plots from the headlines and real crime stories. And to make up Read More...
Jordan Dane | The News Through Jordan Dane's Rose Colored Glasses
November 4, 2009
Being an author of fiction, I suppose some people might find it hard to believe what I tell them at times. After all, I get Read More...
Jordan Dane | Sweet Justice Is Coming
January 29, 2009
Imagine the horror of going to your teenager's bedroom one morning only to find her missing. Her bed hadn't been slept in and Read More...
Avon/Harpercollins launched Jordan Dane's debut suspense novels in a back to back publishing event in Spring 2008 after the 3-book series sold in auction. Ripped from the headlines, Jordan's gritty plots weave a tapestry of vivid settings, intrigue, and dark humor. Publishers Weekly compared her intense pacing to Lisa Jackson, Lisa Gardner, and Tami Hoag—romantic suspense that "crosses over into plain thriller country". Pursuing publication since 2003, this national best selling and critically acclaimed author received awards in 33 national writing competitions. And recently, her debut novel NO ONE HEARD HER SCREAM was named Publishers Weekly Best Book of 2008 and Romantic Times Magazine nominated NO ONE LIVES FOREVER as Best Intrigue Novel of 2008. Formerly an energy sales manager in the oil and gas industry, she now is following her passion to write full time. Jordan and her husband share their residence with two cats of highborn lineage and the sweet memory of an impossible to forget canine.
Series
Books:
Reckoning For The Dead, October 2011
Paperback
In the Arms of Stone Angels, April 2011
Paperback
The Echo of Violence, September 2010
Sweet Justice #3
Paperback
The Wrong Side of Dead, November 2009
Sweet Justice #2
Paperback
Evil Without A Face, February 2009
Sweet Justice #1
Mass Market Paperback
No One Lives Forever, June 2008
Paperback
No One Left To Tell, May 2008
Paperback
No One Heard Her Scream, April 2008
Paperback

Videos