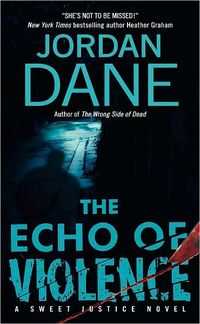 Purchase
A man she would trust with her heart can sabotage everything...
Sweet Justice #3
Avon
September 2010
On Sale: August 31, 2010
Featuring: Jackson Kinkaid; Alexa Marlowe
384 pages
ISBN: 0061474142
EAN: 9780061474149
Paperback
Add to Wish List

Thriller | Suspense Psychological
Terrorists attack a Haitian missionary school fundraiser to abduct partygoers for ransom. But when the hostages are brutally killed one by one-with videos of the senseless murders posted online-time is running out. Sentinels' agent Alexa Marlowe is forced into an unlikely alliance with a relentless mercenary-but he's no stranger.
Jackson Kinkaid is the only witness to the raid who can track the killers into their stronghold in the mountains of communist Cuba, but he's not the same man Alexa once knew. Guarding a dark secret, he's linked to drug cartels and rumored to sell his services to the highest bidder. But when Alexa must take the terrorist leader alive for questioning-to thwart an atrocity on U.S. soil-will Kinkaid sabotage her mission to save one life?
Kinkaid has good reason to question the motives of the covert vigilantes Alexa works for. He knows all too well innocent lives can become collateral damage when weighed against a worse scenario. Can he trust Alexa to rescue his good friend, a Catholic nun who got him through the worst nightmare of his life?
Videos
Comments
11 comments posted.
I love books like this. Mystery/suspense/romance. I envy all the authors that can come up with ideas for books with these plots. Wonderful reading. Thank You
(JoAnn White 12:24pm September 25, 2010)
It is sad that recent events provide so
much material for suspense novels.
The world has always been a
dangerous place, but not on the scale
it seems to be now. Sadly, it is even
becoming harder to tell who the good
guys are.
(Patricia Barraclough 1:22pm September 25, 2010)
i agree that ideas are everywhere and as my writers group says "Torn from the headlines," is the place to mine for current topics. I especially like cold cases where others have tried before to solve a crime and failed.
(Alyson Widen 1:39pm September 25, 2010)
I loved this insight into your work. There
is a lot of terrible stuff that goes on out
there but reading stories that highlight
redemption and HEA remind us that there
is much good in the world, too.
(Virna De Paul 3:16pm September 25, 2010)
Just watching the news or reading headlines I can see a world of possibilities for authors.
(Mary Preston 5:40pm September 25, 2010)
I'm not sure I would read a book based on some of the articles that are in the paper but I do see where you could get ideas.
(Diane Sadler 6:37pm September 25, 2010)
I think creative authors can come up with ideas from all kinds of things from News & papers to stories thay hear and everywhere thay look. And I am in aaah of them but I do enjoy reading there books.
Your book sounds good I'll need to add it to my must read list.
(Vickie Hightower 9:57pm September 25, 2010)
It's a shame that today's stories have to be used for the makings of a book instead of using ones' imagination, but I'm sure it also makes for a good read. There's a good chance that I would read your book, because I often wonder what fuels a person to do such hideous things to another innocent human being -- especially one who is trying to do some good in this world. To me, a person like that makes me physically ill, when I see what they're capable of, and have no remorse for it, usually for the sake of their "god." That's a topic for another time. Good luck with your writing. I'm sure you'll have quite a following.
(Peggy Roberson 11:25pm September 25, 2010)
I love true crime genre. Since you seem to like to write "ripped from the headlines" books, have you thought of just making the leap and writing a true crime book? Just curious.
(Vicki Hancock 4:32pm September 26, 2010)
Thanks to everyone who commented. Inspirations for books come from anything. A word overheard at the next table, or a commercial, or a song lyric. It's how the book is put together, and the author's vision & voice that pulls it together. Marcia Preston wrote Piano Man after she saw a heart transplant commercial in Oklahoma. Loved that book.

And Vicki--It's amazing you asked if I ever thought about writing a true crime book. My husband and I were furniture shopping this last week and happened to meet a sales woman who was the niece of a slain judge. I was familiar with the story behind the story--that involves a celebrity and the drug cartels--but I had never given thought to writing that story until I met her. And even my dad has a connection to that judge since he designed the man's vacation home. Anyway, fate might have led me to her store. Who knows, but I get goose bumps just thinking about all the circumstances that aligned the moon and sun to put me there. So yes, I am seriously considering this story as a book after she invited me to tell her family's tragedy. It's hard to believe no one has written it already.
(Jordan Dane 10:35am September 27, 2010)
And Peggy--Even writing a true crime story takes imagination and story telling ability. And fiction is full of world building and fully understanding your characters, even if it scares you. Every word that goes on the page is a painstaking exercise, finding just the right way to say something or lace the story with twists and turns the reader may not expect.

As you might imagine, an author has to get into the heads of all the characters to conjure what's going on and come up with a plausible motivation. Bad guys and good. It's sometimes a scary place to be. And you really have to get out of your comfort zone to delve into things you'd rather not imagine, but it's part of the creative process. Crime fiction is my comfort read because I like that justice and sometimes redemption generally are part of the equation, even if, in the end, it's a different world than the characters started out with.

And a good story is all about emotion. When an author tells a story, fictional or otherwise, it's only part of a circle. And that circle is only complete when a reader picks up that book and makes the journey with the author. But writing is like opening a vein and letting it bleed onto the pages. It's emotional. It's personal. And it's a passion I would have whether I had sold to a publishing house or not. Writing and telling stories are a must for me. Like breathing, it's something I have to do.
(Jordan Dane 12:13pm September 27, 2010)
Registered users may leave comments.
Log in or register now!