A.J. Jacobs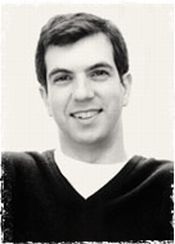 Photo Credit: William Pelkey

A.J. Jacobs is a New York Times bestselling author, Esquire editor and human guinea pig.
Among Jacobs' life experiments:
--The Know-It-All. The bestselling memoir of the year he spent reading the entire Encyclopedia Britannica in a quest to become the smartest person in the world.
--The Year of Living Biblically. The soon-to-be-released book about his life as the ultimate biblical man. He followed every rule of the Bible, from the Ten Commandments down to stoning adulterers.
--"My Outsourced Life". An Esquire article about hiring a team of people in Bangalore, India to live his life for him – answer his emails, call his coworkers, argue with his wife, and read bedtime stories to his son.
--"My Life as a Hot Woman". A quest to find his beautiful nanny a boyfriend. The method? By impersonating her on an online dating site.
--"I Think You're Fat". An immersion into the bizarre, entertaining and terrifying world of Radical Honesty – which means removing the filter between your brain and mouth.

Jacobs is the editor at large at Esquire magazine. He has written for The New York Times, Entertainment Weekly, New York magazine and Dental Economics magazine, one of the top five magazines about the financial side of toothcare.
In 2004, Simon & Schuster plublished the Know-It-All. It subsequently spent eight weeks on the New York Times paperback bestseller list. It was praised by Time magazine, Newsweek, Vanity Fair, USA Today, Janet Maslin in the New York Times and AJ's uncle Henry on Amazon.
Jacobs has appeared on Oprah, The Today Show, Good Morning America and the second-to-last episode of the John McEnroe Show on MSNBC, which also featured Dionne Warwick wearing a fannypack.
Read our blog about stalking A.J.
Check out our photos of A.J.'s signing
Series
Books:
Drop Dead Healthy, April 2012
Hardcover
My Life As An Experiment, July 2010
Paperback (reprint)
The Guinea Pig Diaries, September 2009
Hardcover
The Year of Living Biblically, October 2007
Hardcover
The Know-It-All, October 2005
Trade Size (reprint)