Paula Deen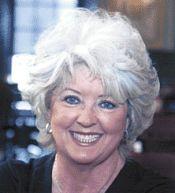 Courage, hard work and a hefty dollop of good luck combined to move Paula Deen from delivering lunches to local businesses to owning Savannah's most famous restaurant, authoring three best selling cookbooks and starring on her own television show, "Paula's Home Cooking."
Hers is the inspiring tale of a woman who, with the support and love of her family, took control of her life and discovered her destiny. It is about a woman who broke through 20 years locked in the nightmare of agoraphobia to find the courage to challenge her fears through actions that have propelled her into the national spotlight.
In 1989, an unhappy Paula Deen with a failing marriage took stock of her life to see how she might provide for herself and her two sons. The only thing she was sure of was that she was a good cook. As a girl reared in the Deep South, Paula had been taught culinary skills by women in her family. Southern cooking was her heritage, and it now became her hope.
With an investment of $200 and with her sons as helpers, on June 19, 1989 she launched a home-based lunch delivery service she called The Bag Lady. Two years later she rented a restaurant space on Savannah's Southside and opened "The Lady" restaurant. In January 1996 she gambled again and moved her business downtown to Savannah's City Market. She named her new place The Lady and Sons and opened her doors to her faithful customers, and to the thousands of tourists who visit Savannah's historic district every year.
Paula's deft hand in the kitchen, combined with her flair for dramatic touches that have set her restaurant apart - like the outdoor ringing of the dinner bell, and the singing waiters and waitresses - together with her determination, hard work and innate southern charm, have done the rest.
Her first self-published cookbook in 1997 was quickly picked up by a major publishing house after a literary agent ate at the restaurant, bought the book and recognized its potential. Name "The Lady And Sons Savannah Country Cookbook," Paula began her road to national recognition in 1998 by promoting its sales on QVC television where it became one of QVC's best selling books. She also promoted her second best selling cookbook, The Lady And Sons, Too!" published in 1999 on QVC, and then her third, "The Lady And Sons Just Desserts," published in 2002.
In May of 1998 Paula appeared on the Good Morning America program and in 1999 USA Today awarded The Lady And Sons Restaurant the "International Meal of the Year." In the summer of 2002 Paula was a guest on the Oprah Winfrey Show, an appearance that triggered hundreds of letters from women who saw her as a potential mentor to improve their own lives.
Paula launched her own show on the Food Network on November 16, 2002. Called "Paula's Home Cooking" it debuted to rave reviews and has been warmly received by the viewing public.
Paula is the star of her success story, but she's the first to offer praise for her strong supporting cast in her sons, Jamie and Bobby, who daily continue to work hard in the restaurant and who support her at every step in her ever expanding life. She has gratitude for her brother, "Bubba" Hiers, who was willing to leave his own business in Albany to relocate to Savannah and work as her comptroller. As she says, she could never have come this far without the advice and support of her Aunt Peggy Ort. Paula also praises the rest of her family, her friends and her wonderful, wonderful staff at every opportunity.
Series
Books:
Paula Deen Cuts the Fat, September 2015
Hardcover
Paula Deen's New Testament, October 2013
Hardcover
Paula Deen's Southern Cooking Bible, October 2011
Hardcover
Paula Deen's Savannah Style, April 2010
Hardcover
Paula Deen's Cookbook For The Lunch-Box Set, October 2009
Paperback
Paula Deen's The Deen Family Cookbook, April 2009
Hardcover
Paula Deen's Kitchen Wisdom And Recipe Journal, November 2008
Paperback
Paula Deen's My First Cookbook, October 2008
Paperback
Christmas with Paula Deen, November 2007
Hardcover
It Ain't All About the Cookin', April 2007
Hardcover
Paula Deen Celebrates!, October 2006
Hardcover
The Lady & Sons Just Desserts, April 2006
Hardcover
Paula Deen and Friends, March 2005
Hardcover