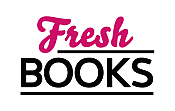 Explore new books in September
Reviews
Fatal Throne
by Candace Fleming, Linda Sue Park, Jennifer Donnelly, Stephanie Hemphill, M.T. Anderson, Lisa Ann Sandell, Deborah Hopkinson
"Death comes to all in this captivating historical drama, in the end..."
Posted June 21, 2018

FATAL THRONE is a collaboration between seven authors. M.T. Anderson fills the role and male voice of Henry VIII. The six female authors; Deborah Hopkinson, Lisa Ann Sandell, Stephanie Hemphill, Jennifer Donnelly, Linda Sue Park, and Candace Fleming; take on a queen a piece. The queens' stories are vastly Read more...



What A Reckless Rogue Needs
by Vicky Dreiling
"And What I Needed to Read, A Captivating Regency Romance"
Posted April 30, 2014

Colin Brockhurst, Earl of Ravenshire, returns home to prevent the sale of his beloved childhood home, Sommerall, where his mother is buried, but his father has other plans. If Colin wants the house then he must marry and give up his rakish ways. As his very last resort, Colin turns Read more...



A Captain For Laura Rose
by Stephanie Grace Whitson
"A Compelling, Inspirational Love Story on the Missouri River"
Posted March 21, 2014

Laura Rose White is more at home on a steamboat than she will ever be on land. She is a gifted steamboat pilot, but she's a woman. In society's view no woman can be a licensed pilot. Author Stephanie Grace Whitson's writing really highlights how aggravating it Read more...



Must Love Dukes
by Elizabeth Michels
"It All Started with a Watch"
Posted March 3, 2014

Our hero and heroine meet under strange circumstances. Devon is stalked by a woman in blue all the way from Bond Street to a seedy tavern where under false names they chat over drinks. They leave after a bar brawl and end up having a romp in the back of Read more...



Downton Tabby
by Chris Kelly
"The Cats Have Taken Over Downton"
Posted February 8, 2014

DOWNTON TABBY by Chris Kelly is a parody of the beloved television series Downton Abbey. DOWNTON TABBY replaces the human cast with various breeds of cats, appropriately chosen based on their personality and status, drawing humorous parallels between gentry and the royals of the animal kingdom. DOWNTON TABBY follows Downton Read more...



One Rogue Too Many
by Samantha Grace
"One Rogue Just Right"
Posted January 3, 2014

Roguish Anthony Keaton, Earl of Ellis, and spirited Lady Gabrielle Forest, sister to the Duke of Foxhaven, have known each other since childhood. Anthony and Gabby were secretly engaged before Anthony left her for four months without a word. When Anthony returns from securing his daughter from his first marriage Read more...



Stowaway Bride
by Adrianne Wood
"The Stowaway and the Man She Railroaded"
Posted November 24, 2013

Emily Highfill Grant is an heiress with a hankering to go west and have an adventure. Emily sneaks onto her grandfather's Pullman train car that is set and ready to go for her mother's journey to San Francisco. At the last minute her mother changes her mind and Read more...



Sup With The Devil
by Barbara Hamilton
"Abigail Adams is on the Case"
Posted October 21, 2013

A young Abigail Adams is reached out to by her younger nephew, Horace Thaxter, after a threat on his life. Abigail travels to Harvard in Cambridge to see him and investigate. It seems that Horace's love for foreign tongues has brought him unfriendly attention. Reading Horace's account as Read more...



The Outcasts
by Kathleen Kent
"Pirate Treasure in the Old West Leads to Nothing but Trouble"
Posted October 16, 2013

Beautiful but unwell Lucinda Carter is escaping from her life as a "Lady of the Night" in Fort Worth, Texas. Lucinda takes coaches, a train, and a boat to become a teacher in the Middle Bayou, which is all part of her lover's plan to find the treasure of Read more...



Marie Antoinette, Serial Killer
by Katie Alender
"Murder and Intrigue in the City of Lights"
Posted October 13, 2013

Sixteen year old Colette Iselin is on a class trip to Paris planning on having the time of her life and maybe looking into her family history. Colette is a typical girl trying to impress her rich spoiled friends, Hannah and Pilar, and wade through her life's new circumstances Read more...



A Most Devilish Rogue
by Ashlyn Macnamara
"Rogue Full of Wit"
Posted September 24, 2013

Already deeply in debt, George Upperton learns that his mistress is with child and she and her aggressive brother want him to pay her a hefty compensation. George flees with his family to his newlywed friend Revelstoke's house party where he hopes to get a loan or hustle the Read more...



Geek Girls Don't Date Dukes
by Gina Lamm
"The Geek's Catch"
Posted September 7, 2013

Lonely Leah's life just isn't going her way. Jilted by her ex-boyfriend Kevin so he could be with his fiancee and feeling abandoned by her best friend, the newly married Jaime, Leah decides to follow Jaime's example and head to the past to find her perfect Read more...



The Lost Kingdom
by Matthew J. Kirby
"Bear-wolves, Indians, and Frenchies, Oh My!"
Posted September 2, 2013

Billy Bartram joins his father John, the Botanist, on an expedition with the secret American Philosophical Society founded by his father and Benjamin Franklin and based in Philadelphia, Pennsylvania. Their mode of transport, a massive flying aeroship baptized the de Terzi. Their destination, the lost Welsh Kingdom of Prince Madoc Read more...



The Lotus Palace
by Jeannie Lin
"Love and Intrigue in the Pleasure District"
Posted August 29, 2013

Yue-ying is the servant of Mingyu, the most sought after courtesan at the Lotus Palace. Yue-ying's face is marred by a bright red birthmark, therefore she cannot be a courtesan as well and before she became Mingyu's servant she suffered life as a prostitute. Bai Huang Read more...



The Dragon Healer
by Bianca D'Arc
"A Healer and Her Two Knights"
Posted August 4, 2013

Silla is an apothecary and healer halfway through her journeyman trial on the way to becoming a Master healer for the High Temple of Our Lady of Light, where she was trained. She is still innocent even though she has had a hard life and has been on the road Read more...



Ambersley
by Rosalie Turner
"The Truth is Always Closer Than it Seems"
Posted July 26, 2013

Tragedy strikes. Ambersley is almost destroyed by fire, the duke and duchess are killed, and their little daughter Amber Johanna Vaughan is lost and traumatized. She is found by the gardener, Tom. He and his wife, Martha, decide to take her in and disguise her as a boy named Johnny Read more...



What A Wicked Earl Wants
by Vicky Dreiling
"...And What A Lady Needs"
Posted July 11, 2013

Andrew Carrington, the Earl of Bellingham, Bell for short, is looking for a new mistress. Innocent widow Laura Davenport, Lady Chesfield, catches his eye at Lady Atherton's ball. Laura wants nothing to do with him until desperate times calls for desperate measures. In an effort to keep her wayward Read more...



The Marrying Season
by Candace Camp
"Meddling St. Dwynwen"
Posted May 9, 2013

After the wedding of her brother, Lord Rawdon, Genevieve Stafford is told the romantic legend of St. Dwynwen. The legend says that when one prays before the statue of St. Dwynwen with a true and earnest heart, love will come to you. Genevieve flippantly prays to the old battered wood Read more...



The Temptation Of Your Touch
by Teresa Medeiros
"Fallng for The Haunting White Lady of Cadgwyck"
Posted April 7, 2013

Jilted Maximillian Burke, the Lord Dravenwood, is running from his old life, his family, society, and all of their expectations. Max ends up in a decrepit manor on the cliffs of Cornwall that had been acquired by his family for next to nothing. The townspeople will not go near the Read more...



The Shadow's Heir
by K. J. Taylor
"Where Griffins take Flight!"
Posted March 25, 2013

THE SHADOW'S HEIR by K. J. Taylor is about a girl trying to find the land where she belongs only to find she may not belong anywhere. Laela Redguard of Sturrick is a half-breed, the child of a Southern woman and a Northern man. Laela has her mother Read more...



Ande Flanagan
I love to read. I love to travel. But nothing is better than being transported to a faraway land by a good book. Also anywhere Disney I am so there...
Features & Posts
No comments posted.