"A title so nice, I read it twice!!"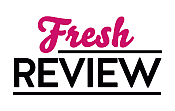 Reviewed by Jessica Grogan
Posted March 19, 2020

Winnifred Humphries refuses to marry for anything but love. She certainly won't marry the man her parents have chosen for her. Asher Holt just wants to be free of his father's debts. When their worlds collide, they embark on a journey that just might lead to true love.
This was one of my most anticipated novels of 2020, and it did not disappoint! Despite his faults, Asher was such a good guy and it was easy to love him. He spent much of his time with Winnie trying to show her what a beautiful woman she is. He also tried to prove that he's not just his father's actions. I loved Winnie, too, and her absolute refusal to settle just to make her parents happy. She had some body image issues, but they didn't override the fun of the story and she was able to come to love her body. As a plus-size woman, I related to this so much.
Speaking of Winnie's parents, I really enjoyed the subplot involving them. So often in historical romances the parents can be nasty pieces of work and we never really find out why. Julian and Imogene weren't nasty by any means but it was still nice to see what motivated them, especially after Winnie disappears in LORD HOLT TAKES A BRIDE.
The absolute best part of this title was all the action that happened. From the moment Winnie jumps into Asher's carriage by mistake until the end, something was always happening. My only problem with this was that it made it so hard to put this title down. I absolutely love historical romances but sometimes it's a pleasure to get out of ballrooms and drawing rooms and read about the hero and heroine going on an adventure.
LORD HOLT TAKES A BRIDEwas such a joy to read and I can't wait for the next title in the series!!
SUMMARY
USA Today bestselling author Vivienne Lorret launches a charming new trilogy about three debutantes who get more than they bargained for when it comes to the mating habits of scoundrels . . .
Heiress Winnifred Humphries refuses to marry the odious man her parents have chosen. She'll marry for love or not at all. But how does a woman know a man truly loves her? Needing answers, she sets out to discover the marriage habits of London's aristocrats. Yet when her friends kidnap a lord for research, Winn knows they've gone too far. Now she's facing a wickedly handsome scoundrel who wants revenge.
Lord Asher Holt has the perfect plan to free himself of his father's debts. But when a trio of foolish debutantes abducts him, their scheme ruins everything! Fuming and tied to a chair, Holt overhears that one of them is an heiress. Perhaps he isn't above a little kidnapping either.
Yet, when the heiress runs away from her own wedding and straight into his waiting carriage, Holt finds himself on an adventure he'll never forget, falling in love with a woman worth more than any treasure. But will Winn ever believe his heart only desires her . . . and not her fortune?
Excerpt
"Winn, this isn't the time to be shy," Asher said from the base of the ladder. "Toss down your dress."
She blushed to the roots of her hair. Unfortunately, even turning crimson wasn't enough to warm her frozen fingers and stop her teeth from chattering.
"I'm n-not b-being shy," she stammered, fumbling with the fastenings. "Y-you've already s-seen me w-without the dress."
"You're quite right. Therefore, there's no reason to stand upon ceremony."
Before she could ask what he meant by that, the top of his head emerged over the edge of the loft. She might have gasped at his audacity, but then the rest of him came into view and her mind whirred to a sudden stop.
Asher Holt was naked.
Well, mostly. His bare, broad shoulders and sinewy arms appeared first, muscles shifting and bunching beneath his skin as he navigated the final rungs—and far more adeptly than she had done. Then he unfolded from a crouch, and stood.
Her greedy eyes skimmed the length of him, taking in every . . . blessed . . . inch.
---
What do you think about this review?
Comments
No comments posted.

Registered users may leave comments.
Log in or register now!