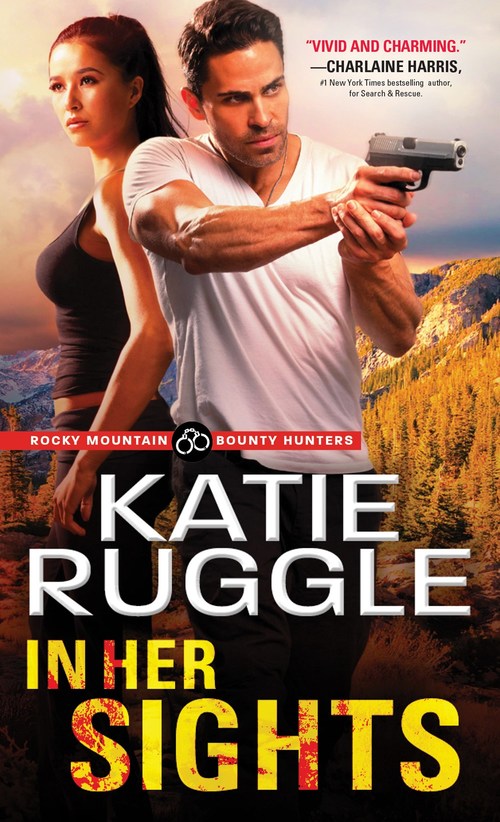 Purchase
Rocky Mountain Bounty Hunters #1
Sourcebooks Casablanca
April 2019
On Sale: March 26, 2019
384 pages
ISBN: 1492662496
EAN: 9781492662495
Kindle: B07HK4KGRG
Mass Market Paperback / e-Book
Add to Wish List

Five bounty-hunting sisters
Deep in the heart of the Rockies
Fighting to save each other
...and the men who steal their hearts
Bounty hunter Molly Pax fought hard for everything she has, turning the bail recovery business she shares with her sisters into an unqualified success. So when their sticky-fingered mother jumps bail and puts the childhood home up as collateral, Molly's horrified. To make matters worse, every two-bit criminal in the Rockies now sees her family's misfortune as their next big break.
She needs help, stat.
Enter rival bounty hunter John Carmondy: six feet of pure trouble, with a cocky grin to match. John's the most cheerfully, annoyingly gorgeous frenemy Molly's ever had the pleasure of defeating...and he may be her only hope of making it out of this mess alive.

Media Buzz
Plano Book Club - May 15, 2019

Rocky Mountain Bounty Hunters
Comments
19 comments posted.
Re: In Her Sights

"In Her Sights" sounds exciting! I would love to win a copy
(Kathy Roope 12:00pm March 25, 2019)
I live Kathy Ruggle's books. I am currently working on the K-9 Unit
series and look forward to this new series. We lived in Colorado for 3
years and she definitely has the feel of the area in her books. It is a
wonderful place and we miss it. She was definitely My best "new
author" find a year or so ago.
(Patricia Barraclough 7:19pm March 25, 2019)
My heart began to beat a little faster while reading about the plot of this book. It sounds really exciting. Thanks for the contest.
(Anna Speed 1:59am March 26, 2019)
Loving the sound of this book!
(Colleen Conklin 1:18pm March 26, 2019)
I love romantic suspense! Sounds like there's a bit of humor
too based on the description 'cheerfully, annoyingly gorgeous
frenemy'.
(Diane Sallans 2:47pm March 26, 2019)
Please enter me in your great contest. I would love to win
your great book and I love the cover too! Thank You very much.
Cecilia CECE
(Cecilia Dunbar Hernandez 2:50pm March 26, 2019)
Katie, your books are so good. I'm looking forward to
reading this!
(Kathleen Bylsma 6:02pm March 26, 2019)
Just reading the excerpt has gotten me so excited! I can't
wait to read this book. Thank you for the chance!
(Angela Sanford 5:12am March 27, 2019)
sounds like a book I would really enjoy reading curled up
on the couch
(Vickie Couturier 8:47am March 27, 2019)
The book sounds great. Thanks for the chance to win. Best of luck with it!
(Nancy Reynolds 9:51am March 27, 2019)
I love a great romantic suspense! Sounds fantastic!
(Candy Voisine 10:12pm March 27, 2019)
I loved the Search and Rescue series. Looking forward to
starting on Bounty Hunters.
(Melanie Rosen 10:25pm March 27, 2019)
I would enjoy reading your book.
(Jackie Wisherd 10:57pm March 27, 2019)
Oh my goodness this is right up my alley Search and Rescue
are so good and them bounty hunter step in oh gosh thank
you for offering a print as my fingers are crippled and can
only do print due to RSD which has taken my entire body. I
would love to read and revuew on 2 sites !
(Peggy Clayton 12:23pm March 28, 2019)
I like enemies to lovers stories.
(Cheryl Castings 5:21pm March 28, 2019)
love the cover. so sexy
(Emily Stemp 9:57pm March 28, 2019)
These books are some of the only ones I can read in print
these days. I listen to audiobooks about 95% of the time,
but I have to know what happens in these books before the
audio is available.
(Karin Anderson 9:54am March 29, 2019)
I'm ready to read more!
(Jana B 8:28pm March 29, 2019)
How does the various products mentioned on the list
compare, and which one can be said to be the best?
https://onlychainsaw.com/best-small-chainsaw/
(Ross Jonnes 4:34am December 3, 2019)
Registered users may leave comments.
Log in or register now!