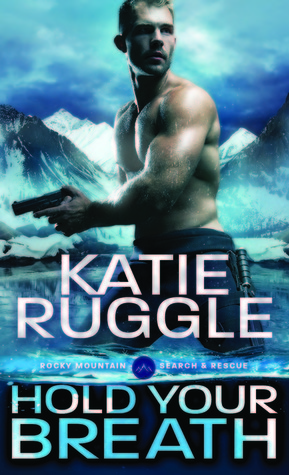 Purchase
Search and Rescue #1
Sourcebooks
April 2016
On Sale: April 5, 2016
Featuring: Louise "Lou" Sparks; Callum Cook
352 pages
ISBN: 1492628174
EAN: 9781492628170
Kindle: B017HX13DA
Paperback / e-Book
Add to Wish List

In the remote Rocky Mountains, lives depend on the Search & Rescue brotherhood. But in a place this far off the map, trust is hard to come by and secrets can be murder...
As the captain of Field County's ice rescue dive team, Callum Cook is driven to perfection. But when he meets new diver Louise "Lou" Sparks, all that hard-won order is obliterated in an instant. Lou is a hurricane. A walking disaster. And with her, he's never felt more alive...even if keeping her safe may just kill him.
Lou's new to the Rockies, intent on escaping her controlling ex, and she's determined to make it on her own terms...no matter how tempting Callum may be. But when a routine training exercise unearths a body, Lou and Callum find themselves thrust into a deadly game of cat and mouse with a killer who will stop at nothing to silence Lou-and prove that not even her new Search and Rescue family can keep her safe forever.
Rocky Mountain Search and Rescue
Comments
35 comments posted.
Re: Hold Your Breath

I think my favorite drink would be a cup to herbal tea!!! It soothes your nerves!! HA
(Bonnie Capuano 9:20am April 20, 2016)
My favorite drink would be chai. Love this soothing drink.
(Sharon Berger 11:17am April 20, 2016)
Love flavored diet sodas...
(Colleen Conklin 12:55pm April 20, 2016)
I would probably stick to my favorite comfort drink--made from scratch hot chocolate!
(Michael Burkhead 4:48pm April 20, 2016)
I'm a BIG coffee drinker . I can drink coffee all day and at night till I go to bed and it doesn't bother me . The coffee pot is always on at my house . I would love to win this book , thanks for the chance .
(Joan Thrasher 10:29am April 21, 2016)
Favorite drink to wake me up - coffee with flavored creamer. My favorite for relaxing is a glass of moscato wine.
(Cheryl Castings 11:00am April 21, 2016)
my favorite drink is an Old Fashioned
(Jean Benedict 12:16pm April 21, 2016)
A bottle of scratch would be just fine, thank you. Better
make that a bottle of scotch, then, which really is my
drink of choice to relax with with a good book.
(Deb Philippon 4:08pm April 21, 2016)
I think I'prefer something a bit on the strong side. Maybe
tequila.
(Judy Gregory 4:29pm April 23, 2016)
It sounds like we have a lot in common. I think that I could endure without
the heavy stuff but I would love some really good Thai tea. That always
makes me happy!
(Laura Sebastian 7:44am April 24, 2016)
Spearmint tea is very relaxing.
(Kelly Powell 3:46pm April 24, 2016)

(Kelly Powell 3:46pm April 24, 2016)
I'm not a big drinker of much of anything, besides water.
Once in a while I'll have a sweet tea, so I guess that would
be my splurge. ;)
(Cindy McCann 6:27pm April 24, 2016)
Either high tea or a Pepsi or Coke made with real sugar.
(Melinda Marks 9:10pm April 24, 2016)
My comfort drink is caramel latte, the caffeine doesn't
bother me at all.
(Maureen Davidson 9:14pm April 24, 2016)
I love Blueberry tea when I read.
(Sharon Extine 1:59am April 25, 2016)
Peach Snapple is my fave. Try to stay away from the hard stuff.
(Beth Elder 8:53am April 25, 2016)
Some drink that has chocolate.
(Leona Olson 9:49am April 25, 2016)
It would have to be Barq's Root Beer and a cup of hot tea with plenty of sugar.
(Anna Speed 12:04pm April 25, 2016)
Iced tea with lemon!
(Denise Austin 6:00pm April 25, 2016)
I would ask where the author gets ideas from and which
comes first - storyline, setting or characters and their
coinciding dilemmas?
(Alyson Widen 11:44am October 4, 2016)
i alway wonder how the covers are made.
(Emily Stemp 12:37pm October 4, 2016)
I would ask who is their favorite author?
(Colleen Conklin 12:46pm October 4, 2016)
besides the five items you mentioned I'd ask how much of
herself are in any of her characters
(Diane Sallans 8:33pm October 4, 2016)
I can readily understand the idea that the characters spring
fully formed in your mind. This happens to me and I'm not an
author! I see somebody, hear something or poof-there he/she
is! Loved your thoughts.
(Kathleen Bylsma 8:44pm October 4, 2016)
Forgot to add that, like Diane above, I'd like to know if part
of you is in your characters! ;)
(Kathleen Bylsma 8:46pm October 4, 2016)
I would ask for three titles on the author's keeper shelf.
(G. Bisbjerg 11:09pm October 4, 2016)
I'd ask an author what type of research do they do for
their books. Have they visited the locations that they
write about?
(Tanja Dancy 3:08am October 6, 2016)
I think we've all covered most of the questions.
(Kathleen Bylsma 4:12pm October 6, 2016)
I would ask the author if she reads aloud her dialogue between characters to see
if it flows and would be understood?
(Joy Isley 4:25pm October 6, 2016)
Good question, Joy!
(Kathleen Bylsma 6:06pm October 7, 2016)
I would like to ask the author if they read other author on their downtime when they are not writing and what is their
inspiration to write?
(Ann Thaxton 10:12am October 8, 2016)
I'm always fascinated by research. So, in the writing of
your stories, who have you interviewed and what places have
you visited to make your stories work?
(Marcia Berbeza 1:41am October 9, 2016)
Do you have that pad of paper and a pen next to your bed so if
you get an idea in the middle of the night, you can write it
down on the paper?
(Leona Olson 7:11am October 11, 2016)
Thanks for choosing me for this book about the Search &
Rescue Brotherhood.
(Alyson Widen 4:54pm November 22, 2016)
Registered users may leave comments.
Log in or register now!