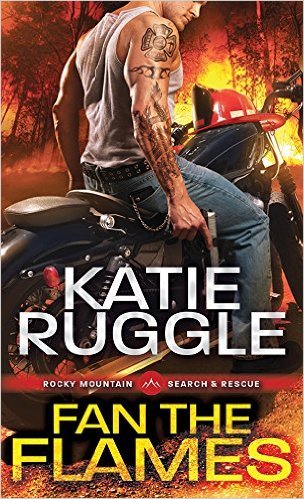 Purchase
Search and Rescue #2
Sourcebooks
June 2016
On Sale: June 1, 2016
Featuring: Ian Walsh; Rory Sorenson
448 pages
ISBN: 1492628204
EAN: 9781492628200
Kindle: B019HQ2LF4
Paperback / e-Book
Add to Wish List

In the remote Rocky Mountains, lives depend on the Search & Rescue brotherhood. But in a place this far off the map, trust is hard to come by and secrets can be murder...
As a Motorcycle Club member and firefighter, Ian Walsh is used to riding the line between the good guys and the bad. He may owe the Club his life, but his heart rests with his fire station brothers...and with the girl he's loved since they were kids, Rory Sorenson. Ian would do anything for Rory. He'd die for her. Kill for her. Defend her to his last breath-and he may just have to.
Every con in the Rockies knows Rory is the go-to girl for less-than-legal firearms, and for the past few years, she's managed to keep the peace between dangerous factions by remaining strictly neutral. But when she defends herself against a brutal attack, Rory finds herself catapulted into the center of a Motorcycle Club war-with only Ian standing between her and a threat greater than either of them could have imagined.
Rocky Mountain Search and Rescue
Comments
19 comments posted.
Re: Fan The Flames

I say"later", say one more day won't hurt, think of something
else to do first, run an errand instead, think I'll read 'just
o be more chapter ;)'
(Kathleen Bylsma 6:19pm June 15, 2016)
I read, walk, visit little ones, help out and clean.
(Sharon Berger 6:25pm June 15, 2016)
The only thing I procrastinate about is cleaning my oven! I HATE it with a passion!! I'm good with the rest! I love this cover and can't wait to read this book!!!
(Bonnie Capuano 6:43pm June 15, 2016)
I will tell myself I will do it another time, go and do something else like read... I really hate cleaning the bathtub...
(Colleen Conklin 7:51pm June 15, 2016)
Read, surf the net, go out and hang out with friends, sleep
and READ again. lol
(Roanne Gappi 1:27pm June 16, 2016)
internet surf to research things that "Of course, I need
to know now"
Cook something, since I should have something in the
fridge people can just pull out and heat if I am not
home/busy.
Catch up on sleep with a short nap.
Go grocery shopping for some absolutely needed ingredient
for a recipe that I am going to try someday.
And like you, read "just a few pages" to relax, with
intent to get right onto the task that actually needs to
be complete.
(G. Bisbjerg 1:27pm June 16, 2016)
surf the internet
read a bit
look at cookbooks-& plan menus I may or may-not ever make
tell myself that a super clean home only shows that you are
a compulsive obsessive person (no danger of that here)
watch tv
(Christine Schultz 2:50pm June 16, 2016)
Read, sleep, play games on my phone, surf the internet, and watch television.
(Carrie Tillman 8:25pm June 16, 2016)
Sit and rest for just a minute
Play a game on the internet to relax
Look at my e-mail for a second
Go see the grandkids ( a must )
I'll do it later
I really don't worry about the house any more since I'm here all day . The dust is not going anywhere , it will stay until I get ready to get rid of it !!
(Joan Thrasher 11:38am June 17, 2016)
I hate to procrastinate but I must admit I do it once in a while!
(Bonnie Capuano 9:28am June 18, 2016)
Vry good at postponing the must does...shame on me! Always "one more chapter", oops...have to answer text, oh oh...phone rang, darn, the dog want's out, oh no, I forgot!
(Kathleen Bylsma 3:59pm June 19, 2016)
Read just another chapter--that is my favorite procrastination!
(Cathy Burkhead 3:42pm June 20, 2016)
I'm not sure I want to admit to procrastinating! But...
- train the dog...we're supposed to be practicing for class so it's really a
useful,thing!
- read....just a "few" pages
- organize a room/drawer/shelf...you know the one that's way less important
than the thing I'm actually supposed to be doing
- nap :/
- get lost on the Internet....a five minutes Twitter or FB check turns into
thirty.
I've been known to set timers so if I do get distracted I can get myself back
on track.
(Laura Scott 12:00pm June 21, 2016)
Sleep
Read books-what's willpower?
Sleep more-I have no pets, someone must imitate a cat
Look for the current lost item in the house
Debate which craft project I should start/finish next
Internet use can substitute for any of the above.
(Laura Gullickson 12:06pm June 22, 2016)
read another book. take a long shower. do some laundry. check my email. enter another contest.
(Cynthia Powers 5:31am June 22, 2016)
I prefer to read a good book or newspaper, work a crossword puzzle, go on the internet, check and answer e-mail or watch television instead of doing boring housework.
(Anna Speed 1:13pm June 22, 2016)
Oh I love your covers so much!!!! Reading...reading and more reading
(Bonnie Capuano 2:08pm June 22, 2016)
Loved Hold Your Breath which is one of the many ways I
procrastinate! ;)
(Kathleen Bylsma 5:37pm June 22, 2016)
Sounds like a very exciting read!
(Melody Kaufman 7:50pm June 22, 2016)
Registered users may leave comments.
Log in or register now!