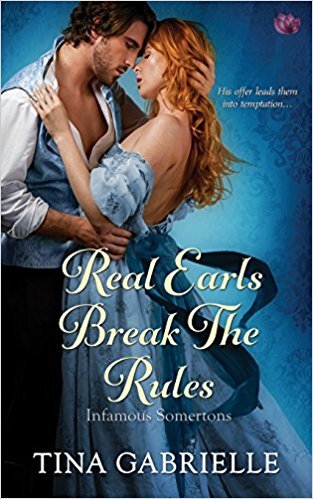 Purchase
His offer leads them into temptation...
Infamous Somertons #2
Entangled
December 2016
On Sale: November 21, 2016
Featuring: Amelia Somerton; Brandon St. Clair, the Earl of Vale
216 pages
ISBN: 1682813614
EAN: 9781682813614
Kindle: B01MPZLUQ6
Paperback / e-Book
Add to Wish List

1816 England
Brandon St. Clair, the Earl of Vale, has never been one to follow the rules. Even though he must marry a wealthy heiress so that he can be rid of the pile of debt he inherited with his title, he can't stop thinking of another. Amelia Somerton is the daughter of an infamous art forger and is not a suitable wife. But that doesn't stop Brandon from making Amelia a different offer, the kind that breaks every rule of etiquette…
Sin runs in Amelia's family. And even though she now rubs elbows with the aristocracy, she knows the truth—she has the ability to forge priceless works of art. She'll never be seen as an acceptable wife, not that she wants to marry, anyway. So when the earl scandalously offers her the one thing she's always dreamed of, she can't help but take it. But what begins as a simple arrangement, soon escalates into much more, and as the heat between them sizzles, each encounter becomes a lesson in seduction…
Infamous Somertons
Comments
12 comments posted.
Re: Real Earls Break the Rules

Thank you Fresh Fiction for hosting me!
(Tina Gabrielle 8:53am November 23, 2016)
I love the variety of characters out there... interesting individuals that have stories to share whether they are commoners, royalty, etc.
(Colleen Conklin 12:02pm November 23, 2016)
I enjoy a lot of types of heroines. Intrepid ones are
probably my favorites, though, regardless of any other
characteristics or status.
(Janie McGaugh 1:18am November 24, 2016)
Thank you Colleen Conklin! Yes, I do love variety in my characters. I like
writing the commoners as well as the royalty. It makes for a fun and diverse
read.
(Tina Gabrielle 11:42am November 24, 2016)
Thank you for commenting Janie McGaugh! Intrepid is a good choice!
(Tina Gabrielle 11:43am November 24, 2016)
Yes, I love all types of heroines.
(Mary Smith 11:37am November 25, 2016)
Thanks for commenting Mary Lynch! I enjoying writing strong heroines.
(Tina Gabrielle 11:28am November 26, 2016)
I don't like any one type of heroine. It all depends on the story which one will fit
best. Of the ones you listed, the Bluestocking would be my favorite. A lady
down on her luck is another favorite.
(Patricia Barraclough 8:58pm November 27, 2016)
I love variety, but my favorites are strong, sassy, feisty, educated women.
(Sharon Mitchell 2:10am November 29, 2016)
Hi Patricia. A lady down on her luck sounds like a great idea. I'll have to think of this for a future story!
(Tina Gabrielle 11:28am December 3, 2016)
Hi Shannon! Strong, feisty, and sassy describe my heroines best. They make for a great romance.
(Tina Gabrielle 11:30am December 3, 2016)
Among the products listed on the site, which one is the
best? https://onlychainsaw.com/best-scroll-saw/
(Ross Jonnes 4:33am December 3)
Registered users may leave comments.
Log in or register now!