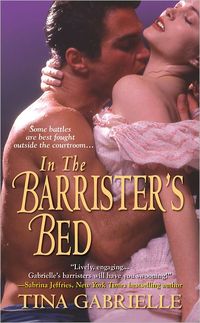 Purchase
Regency Barrister #2
Kensington
July 2012
On Sale: July 1, 2012
Featuring: James Devlin; Bella Sinclair
320 pages
ISBN: 1420122754
EAN: 9781420122756
Kindle: B00746OQGC
Paperback / e-Book
Add to Wish List

A Hotly Contested Claim
A bastard by birth, James Devlin lives on his own terms--until a twist of fate reveals that he is the true Duke of Blackwood. Though the brooding bachelor swears to hold on to his freedom, he does intend to take back his childhood home. But once at Wyndmoor Manor, he discovers an arresting adversary in Bella Sinclair. Her hot-blooded claim to his home is amusing. . .and arousing.
Which is why he isn't leaving until he takes possession of everything--starting with the bewitching Bella. . .
A Sensual Surrender
Bella is furious when the Duke barges into her home, declaring it rightfully his! The willful widow is not about to give up her haven without a fight, no matter how determined the Duke is--or how sensual the battlefield. But once she's sharing a house with the beguiling barrister, she is in danger of losing everything--one deep, slow kiss at a time. . . "
Regency Barrister
Comments
43 comments posted.
Barristers sound like an interesting change from the usual Regency. Although the all-powerful noblemen may be romantic, it is nice to have the opportunity to read about something else.
(Irene Menge 11:38am October 9, 2012)
Thanks, Irene! I love the dukes and earls as well, but writing the barrister books has been fun and adventurous. They are a sexy group of Regency men!
(Tina Gabrielle 12:35pm October 9, 2012)
Sure lawyers can be sexy. I am not sure I have a particular favorite romance hero although regency period romances are among my favorites so I have read several with gentleman & lords. A Barrister sounds like an interesting change of pace that I look forward to reading about.
(Chelsea Knestrick 1:18pm October 9, 2012)
Of course a lawyer can be sexy. They come in all sizes, shapes, and with varied personalities. Lady Evelyn Darlington as a lawyer during the Regency period of time is a real surprise.
(Anna Speed 1:29pm October 9, 2012)
Of course lawyers can be sexy! Especially when you call them barristers!! All kidding aside, it seems to be that underlying confidence that most lawyers (at least, most of the GOOD lawyers) have, while not being overbearingly egotistical jerks. And of course, it certainly doesn't hurt if they are good-looking!

Later,

Lynn
(Lynn Rettig 2:34pm October 9, 2012)
of course a lawyer can be sexy, why not?
(Debbi Shaw 2:52pm October 9, 2012)
Lady Evelyn was one of my favorite characters to write. She is the daughter of a barrister and Oxford professor. Her dream is to become a barrister, but women were not permitted to become lawyers at that time. But she does find true love with her father's former student, Jack Harding. The book has a bit of mystery, too.
(Tina Gabrielle 3:01pm October 9, 2012)
Sounds like a good read:)
(Fred Holmes 3:04pm October 9, 2012)
A lawyer can be sexy, because many possess this quality as
their charisma and appeal shines through.
(Sharon Berger 3:10pm October 9, 2012)
An intriguing twist to this novel, entwining law with romance. Attorneys can be very sexy, although in many legal books, romance is usually secondary to the plot, usually suspense/thriller.

I don't feel the occupation determines the sexiness of the hero per se, but rather the character's interaction with the heroine and the substance of the plot. I happen to find businessman leads very sexy as well.

This looks like an interesting series!
(Gina O 3:20pm October 9, 2012)
Oh I love the variety of heroes out there... each great in there own way! I will say that I have not read too many with a lawyer as the main character... sounds good!
(Colleen Conklin 4:29pm October 9, 2012)
I enjoy stories that take place in the Regency period and I do so love those lawyer shows. This is a nice combination. I look foward to reading this book.
(Kathleen Yohanna 5:43pm October 9, 2012)
There's nothing like an attractive male dressing up in a full suit, brief case in hand, heading out for the court room. One that's smart, shrewd, AND sensitive at the same time ... not sure what is more attractive!
(Linda Barton 5:46pm October 9, 2012)
Regency is fun and I like Victorian too.
(MaryAnne Banks 5:49pm October 9, 2012)
You bet they can!!!! Can't wait to read the book!
(Ashley C 6:09pm October 9, 2012)
Thanks to everyone for such great comments!
(Tina Gabrielle 6:23pm October 9, 2012)
I like all types of heroes and I think a lawyer can be sexy as long as he is on the heroine's side.
(Maureen Emmons 6:32pm October 9, 2012)
You bet they can!
(P Noda 8:27pm October 9, 2012)
I haven't had a chance to read any books where an attorney was a hero, so I can't comment in that regard. As for doctors, I've read books where a Veterenarian was the hero, in a sense, and thoroughly enjoyed it. For me, I really don't care what the title of the person is or if there a commoner. As long as they're not puffed up too dramatically as a character - meaning that they're believable, I'd enjoy the book. Both of your books sound as if they'd be perfect to curl up with this Fall with a hot beverage and my 2 kittens!! Who could ask for more?? Just looking at the cover of the book In the Barristers Bed leaves me without a need for that warm beverage!! Very hot and well done!! ;-)
(Peggy Roberson 8:47pm October 9, 2012)
I like lawyers and dukes.... I like wordy people so lawyers definitely qualify!
(May Pau 9:05pm October 9, 2012)
Thanks again for the comments! I do like the thought of curling up with a hot beverage, adorable kittens, and a good book this fall! Who can resist?
(Tina Gabrielle 9:22pm October 9, 2012)
Sounds like a great series, looking forward to reading them.
Good luck and happy writing!
(Tracie Travis 9:54pm October 9, 2012)
Lawyers, are SoSo, this one sounds sexy. I like Highlanders.
(Deb Pelletier 10:16pm October 9, 2012)
Certainly, lawyers can be as sexy as the next man/woman; they just have more reason to hide it professionally than most. Your books look like great reads.
(Janie McGaugh 11:05pm October 9, 2012)
Hi Tina, your books sound terrific! I agree with P Noda above (You bet lawyers can be sexy! ;-))
(Jill Archer 11:28pm October 9, 2012)
I love Regency and I think all men can be sexy - it just depends on how you write them!
(Barbara Hanson 8:36am October 10, 2012)
Do you remember Colin Firth as Mr. Darcy (Barrister) in Bridget Jones? The perfect example of SEXY!! Oh, I do believe lawyers can be sexy simply for that reason. I think the sexiest is an intelligent man with a sense of humor - it doesn't matter what his profession is, as long as he has a depth and a heart.
(Carla Carlson 12:42pm October 10, 2012)

(Tina Gabrielle 12:57pm October 10, 2012)
Yes, I remember Colin Firth! He is one of my favorites. I also love a man who is confident enough in his own masculinity not to be intimidated by an intelligent woman. That's the theme in most of my books!
(Tina Gabrielle 12:58pm October 10, 2012)
Their wives must think so!
(Shirley Nienkark 2:19pm October 10, 2012)
Didn't a lot of boys want to be lawyers growing up? A lot of them said, "A doctor
or lawyer" when asked what they wanted to go to school for.
(Debbie Burdeen 3:14pm October 10, 2012)
I think any occupation can produce sexy men---it just depends on their personality.
(Sue Farrell 4:40pm October 10, 2012)
You can find sexy in any profession.
(Rita Wray 5:34pm October 10, 2012)
I recently read In The Barristers Bed and I adored it!! I really want to read the first book in the series to catch up! I am looking forward to more of the series to come!
(Christine Mead 5:42pm October 10, 2012)
Oh yes! My girlfriend went to see a lawyer to separate from her husband and fell in love. He referred her to somoene else and asked her out. She's been married to him now for 16 years!
(Brenda Rupp 8:45pm October 10, 2012)
Lawyer are definitely sexy. The Prosecutor and I scheduled to meet just an half an hour early to go over my testimony as an expert witness.

He and I have never met in person but we have spoken over the phone regarding a case. Me being me, I was outside of the courtroom early. When he said my name, I looked up and I went gaga over him. I was speechless for a minute or two before I gathered myself together and reminded myself that he needed my expertise in court.
(Kai Wong 9:11pm October 10, 2012)
I do love a man in uniform, though a sharp suit can be very sexy.
(Mary Preston 6:01am October 11, 2012)
I expect John Grisham would think legal people can be sexy! And look at the pink-clad heroine of Legally Blonde... while not trying to be a blonde bombshell, she joined law school to pursue her boyfriend.
American readers may not realise that in Britain and Ireland, a solicitor prepares a case for court but then engages a barrister to speak in court. Barristers wear black because they are in mourning for Queen Anne. (Don't ask me.) The barrister may be a gentleman but as such he cannot be engaged by a client. The client pays the solicitor, who pays the barrister, thus pretending the barrister is not engaged in trade - which would make him ineligible to be presented at Court. Yes it is pathetic and antiquated and it is still the case today, which is why it costs so much to pursue a legal case.
(Clare O'Beara 6:50am October 11, 2012)
I suppose they can but they are NOT for me!
(Sandra Spilecki 12:07pm October 11, 2012)
It's not the profession, it is the behaviour that makes a character sexy.
(Roxana Perez 12:16pm October 11, 2012)
I don't know why they couldn't! :)
(Penny Mettert 11:46pm October 11, 2012)
Sure, lawyers can be sexy and powerful.
(Alyson Widen 4:20pm October 19, 2012)
WP Link Shield
Review - Kill Bad Link Cloaking
(Jack Nolland 11:51am June 2, 2016)
Registered users may leave comments.
Log in or register now!