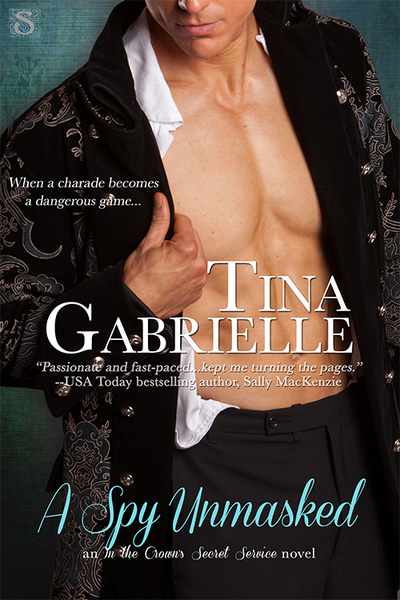 Purchase
Crown?s Secret Service #1
Entangled Scandalous
November 2014
On Sale: November 10, 2014
Featuring: Lady Sophia Merrill; Robert Ware
278 pages
ISBN: 1633751333
EAN: 9781633751330
Kindle: B00OO8HBQK
e-Book
Add to Wish List

London, 1820
The mission did not go quite as Robert Ware--known in society as the new Earl of Kirkland--planned. A spy in the service of His Majesty, Robert is a "guest" at a masquerade party as he retrieves vital information for a murder investigation. Until he's quite unexpectedly interrupted by an exquisite, masked woman with glittering green eyes. And a pistol she has cocked and aimed right at him...
Lady Sophia Merrill has defiantly taken up justice's shining sword, determined to expose the brigand who murdered her eccentric but brilliant father, and stole his latest invention. Now she must masquerade as Robert's betrothed in order to infiltrate the Inventor's Society and find the killer. But the undeniable potent attraction between them not only imperils the investigation, but Sophia's reputation... and both of their lives.
Crown's Secret Service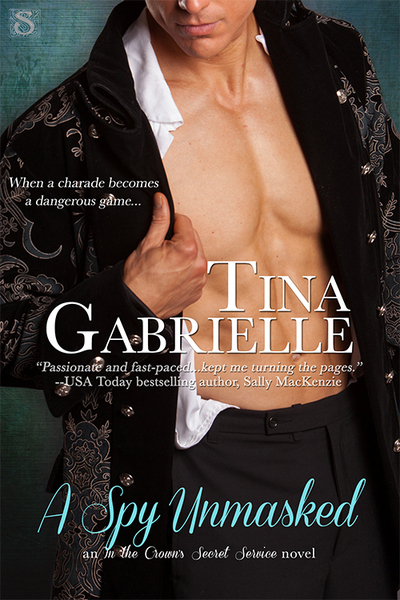 A Spy Unmasked
#1.0
Kindle | BN.com | | |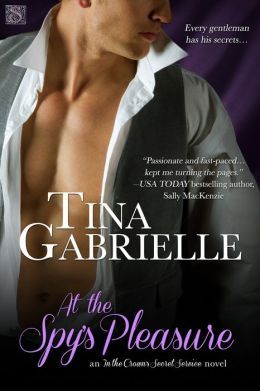 At the Spy's Pleasure
#2.0
Kindle | BN.com | | |
Comments
21 comments posted.
Re: A Spy Unmasked

Oooh, this story sounds really terrific!
(Cheri Oggy 2:57am November 12, 2014)
I love historical romances and this one sounds great! Hope I win!!! Thanks for the chance!
(Bonnie Capuano 8:46am November 12, 2014)
Thank you Cheri and Bonnie! I enjoyed writing the book.
(Tina Gabrielle 10:24am November 12, 2014)
Even though the story may be full of excitement and intrigue, I have to confess that the romance is still my favorite part!
(Bonnie r 11:52am November 12, 2014)
Oh I enjoy spies in books... love historicals... thanks for sharing!
(Colleen Conklin 12:59pm November 12, 2014)
I suppose the appeal is that spies would need to be very
capable people able to navigate any situation and of course,
their ability to protect.
(G. Bisbjerg 2:39pm November 12, 2014)
This sounds like a good page turner.
Marilyn
(Marilyn Collins 3:35pm November 12, 2014)
the spy accomplishing the impossible. but the gadgets are always good.
(Angela Parrish 3:50pm November 12, 2014)
Thanks everyone! I do agree the romance is the most important
part of the book, but I loved writing about my mysterious spy
hero. He's an expert safe cracker and the scenes where he was
finessing open safes were interesting to research and fun to
write. I hope you all enjoy the book!
(Tina Gabrielle 4:16pm November 12, 2014)
So what do you love about spies in books? they are the
ones that try their best to be incognito, usually without
meaning to they reveal themselves to someone. they
always get the girl. they help so many that don't even
know they are being helped. usually get hurt and heal
very fast. they are bold, daring, sexy, and in my
imagination have the most sexy bedroom voice when they
talk.
(Tina Ullrich 4:51pm November 12, 2014)
Your book sounds like the kind of story I like to read. Iknow I would enjoy it. I
have yet to read one of your books. Hope I get a chance to.
(Jackie Wisherd 5:14pm November 12, 2014)
Thank you all for your comments. I hope you enjoy "A Spy
Unmasked."
(Tina Gabrielle 10:50am November 13, 2014)
You're one of my new favorite authors! Love your books!
(Shelly Ash 11:48pm November 13, 2014)
Intriguing novel
(Susan Jang 12:32pm November 14, 2014)
Sounds great. Thanks.
(Pam Howell 11:27am November 14, 2014)
Congrats on your release!
(Denise Austin 1:07pm November 14, 2014)
A spy always brings so much excitement, intrigue and of course romance to keep a reader on edge while reading the story. It's a fun type of read.
(Anna Speed 1:34pm November 14, 2014)
Love Spy books. Especially when they are sexy too.
(Leslie Waters 4:47pm November 14, 2014)
Spies are so mysterious and like you said they always have the
best gadgets. My favorite genre is Historical and that twist
of spies makes it just perfect. Congrats on your new release!
JoannaM
(Joanna Moreno 8:48pm November 14, 2014)
I love seeing them finally find the other half of their
souls.
(Janie McGaugh 10:01pm November 15, 2014)
Spies are sophicated people. They also have all these nice gadgets and can adopted to their circumstance. They are creative.
(Kai Wong 10:14pm November 16, 2014)
Registered users may leave comments.
Log in or register now!