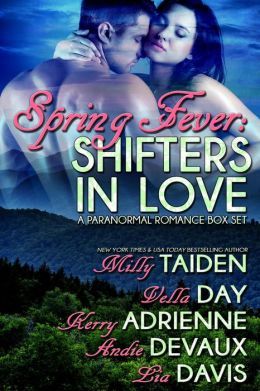 Purchase
A BBW Paranormal Shapeshifter Romance Bundle
After Glow
March 2015
On Sale: March 24, 2015
ISBN: 0046288538
EAN: 2940046288537
Kindle: B00TBO79P0
e-Book
Add to Wish List

Romance Anthology | Romance Paranormal
Thaw winter's chill with FIVE brand new stories about SEXY, alpha male shifters with spring fever from FIVE of today's hottest paranormal authors.
Match Made in Hell (A BBW paranormal romance) by New York Times and USA Today Bestselling author, Milly Taiden
When quiet Laura Nieves is tossed together with hot as hell warrior Damien Wrath, eternity heats up really fast. Add in the fact they're living in hell with a crazy mistress, things go from hot to explosive. Their basic urges will take over, or they'll kill each other.
An Unexpected Diversion by Vella Day
Cheyenne Snow has been given an ultimatum by her father--the pack's Alpha--find a shifter husband soon, or she'll be forced to marry. Understanding that the odds of her meeting the deadline are slim, Chey decides to go out with a bang and find a human diversion.
Waking the Bear by Kerry Adrienne
Overprotective bear shifter, Griff Martin, reluctantly rents his mountain cabin to an artist, Amy Francis. He quickly realizes the plucky artist is his mate. But danger is brewing in the forest, and Griff has to be ready to safeguard both his female and his den, at the risk of losing both.
Prime Desire by Andie Devaux
Nicolas can't stop thinking about the woman whose life he saved, and Evie has never forgotten the weretiger who rescued her from certain death. When apparent serendipity brings them together again, Nicolas is faced with controlling his inner tiger around the woman he desires above all others. But will Evie be able to overcome her fear of his nature to give them a second chance at love?
Bear Essentials (A BBW paranormal romance) by Lia Davis
When bear-shifter Trey meets the curvy, raven-haired goddess, Nichole, he realizes exactly what he wants and knows she's worth any amount of trouble. All he has to do is seduce all of her insecurities away and claim her as his bonded mate.
Comments
31 comments posted.
Re: Spring Fever: Shifters in Love

My favorite type of PNR hero is the shifter. Am fascinated by
the portrayals of pack dynamics, a whole different side of the
hero to explore, and how the author managed to show the
compatibility of romantic couple.
(G. Bisbjerg 12:09pm March 12, 2015)
Oh I love Paranormals... what a variety out there, but one of my favs are the shifters... love their ability to change form!
(Colleen Conklin 12:55pm March 12, 2015)
Angels captivate me. Talk about powers from above. It's always
interesting to see how things play out.
(Tressie Leppo 2:35pm March 12, 2015)
I think vampires are my top favorite. They are quite old and think of all the history they have lived through and seen. I would love to visit the past. If only time travel
was possible. LOL
(Earlene Gillespie 4:29pm March 12, 2015)
Vampires are my favorites, because they're just so sexy and
tormented!
(Janie McGaugh 9:04pm March 12, 2015)
Because I consider myself to be more of a "good girl," I
would have to choose the Angel out of the paranormal Heroes.
I try to fight for good over evil in my own life, so I can
relate. The runner up would be a toss-up between shape
shifters and witches. The shape shifters, because it would
be such a rush to be able to turn into something else if you
needed to escape from a situation!! I also like the Witch,
because I would like to be able to cast a spell on someone
if they did something they shouldn't have, either to me, or
to someone else, in retaliation. I also have other reasons,
and a Witch would be the perfect reason why. Your latest
book sounds really interesting, and would make a great read,
so I've put it on my TBR list. Congratulations on what I
know will be a good seller!!
(Peggy Roberson 9:11pm March 12, 2015)
Got to go with the Shifters. There are so many
possibilities - wolves, lion, tiger, bear...oh my!
(Samantha Tennant 11:26pm March 12, 2015)
I love Paranormal and Angels are my pick. They have that
goodness bout them yet I wouldn't want to make them angry.
Fallen are even better because they've had that badness locked
up for so long I can only imagine how it's going to play out.
:)thanks for the post.
Carol Luciano
Lucky4750 (at) aol (dot) com
(Carol Luciano 12:32pm March 13, 2015)
I believe everyone has a bit of magic in them. They only need to tap into it... ;>
(S W 5:02pm March 13, 2015)
You are a new author to me, so I hope I win.
(Judy Ferguson 7:38pm March 13, 2015)
Vampires are my favorite because there are many different
things that go into play when they show up. They are full of
cool things and I just love reading books about them
(Chris K 10:54pm March 13, 2015)
Angels because they give me a feeling that I dont think anyone
else feels but the make me feel good about me and what I will
probably come one day and sometimes they can be bad.
(Mary Byars 10:57pm March 13, 2015)
The paranormal creature I would pick is shifters due to the
vast majorities of them and dynamics that have been put into
them. I really enjoy everything that happens during the
paranormal occurrence of them.
(Angela Mansfield 11:55pm March 13, 2015)
Shifters. I like the way they use their human thoughts/behaviors when the are shifted. I also like it when they keep some of their shifter attributes in human form - Bear shifters are very large, foxes are sneaky theives.
(Anne Jones 2:16am March 14, 2015)
thanks for the chance
(Susan Gannon 9:17am March 14, 2015)
Shifters are my favorite. Has to be because one minute
they are in one form and the next a different form. Love
them.
(Jennifer Ingman 11:46am March 14, 2015)
Vampires. They are the most fun.
(Pam Howell 12:00pm March 14, 2015)
I became fascinated reading two different authors books in both shifter angels and wolves/werewolves...so those are my two most favorites, since once I started the angel series of 3 books, that were so good, I couldn't put them down and hated for the series to come to an end. I love those that draw you in so deeply. Paranormal romances of all types intrigue me. As a kid, I stayed up til the wee hours watching every vampire, werewolf, mummy, monster movie one after the other, every Fri. night with my sister. We loved them!
(Linda Luinstra 4:19pm March 14, 2015)
Not a usual paranormal reader but willing to learn, This sounds very interesting story!!!
(LeAnn Knott 5:31pm March 14, 2015)
I love them all, as long as he´s Alpha and *rawr*worthy =)
Thanks for the giveaway & Happy Saturday!
//Linda
(Linda Larsson 7:10pm March 14, 2015)
I really love shifters--especially big cat
shifters and dragon shifters along with
vampires because they are all Alpha!!!
(Ashley Applebee 9:13pm March 14, 2015)
I love shifters, especially
wolves and bears but I also like
reading about different shifters
like rabbits, hedgehogs and
dolphins. I am not a big vampire
or demon fan, I do enjoy the
angel stories sometimes. Thank
you
(Gina Keitz 2:58am March 15, 2015)
Shifters. There can be so much variety.
(Laura Gullickson 4:24am March 15, 2015)
This sounds like a book I'd love to read. I love the cover too!! Thanks so much for the chance!!!!
(Bonnie Capuano 9:45am March 15, 2015)
shifters sounds awesome read
(Susan Gannon 10:32am March 15, 2015)
You glad spring is almost here so tired of the cold and
snow.
(Emily Stemp 10:53am March 15, 2015)
Were Bears are the best because who can resist a big ol' teddy bear.
(Sarah Ulfers 1:09pm March 15, 2015)
Witches/Wizards/Sorcerers are my favorite because I love reading about the science/theories behind magic.
(Lisa L. 3:58pm March 15, 2015)
My favourite are shifters. Probably because the hero was a
shifter in the paranormal book I ever read.
(Jen Barnard 4:36pm March 15, 2015)
That was supposed to say "first paranormal".
(Jen Barnard 4:37pm March 15, 2015)
I love how protective & chivalrous shifters are. Thanks.
(Jana B 6:04pm March 15, 2015)
Registered users may leave comments.
Log in or register now!