Kerry Adrienne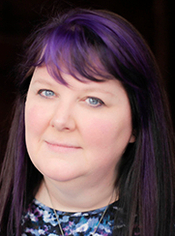 Photo Credit: Marti Corn Photography

Blogging at Fresh Fiction
Character Perspective | Shoshannah: the ancestral spirit
March 22, 2018
Throughout the Shifter Wars series, there is one character that is in the Read More...
Kerry Adrienne | Best Fish Tacos, perfect for Bears and Lions!
August 17, 2017
Thanks so much for hosting me for the release of the third book in my Shifter Read More...
Kerry Adrienne | Character Inspiration—Olivia
May 25, 2017
In my latest novella from Carina Press, SAVING HIS WOLF, I got the interesting opportunity Read More...
Kerry Adrienne | Meet Derek Poole (from PURSUING THE BEAR)
December 1, 2016
Character Interview (Perspective): Meet park ranger and woodworker, Derek Poole from PURSUING THE BEAR Read More...
Kerry Adrienne | 5 Reasons Griff Loves Amy
August 4, 2016
Top five things Griff loves the most besides Amy (in no order): Evenings by the fire in the fall Read More...
Kerry Adrienne | What makes Mari a heroine worth reading about?
January 28, 2016
Mari is a mermaid who wants to have her independence. She runs a small touristy beach souvenir shop (located in the building the hero owns Read More...
Kerry Adrienne | Ten Elements of a Gothic Romance
October 8, 2015
THE GUARDIAN OF BLACKBIRD INN is a Gothic romance, though I didn't Read More...
Kerry Adrienne | Multi-Genred Writing
August 26, 2015
Maybe I am a bit scattered, or maybe I just like too many genres. I've written (or have book plans to write) in contemporary Read More...
Kerry Adrienne loves history and spends large amounts of time wondering about people who lived and walked on Earth in the past. She's a mom to three daughters, six cats, and various small animals, including a panther chameleon. Her shoe horde will attest to her fine shopping skills.
In addition to writing, she's a college instructor, artist, costumer, and editor. Her new love is her Mini Cooper Convertible, Sheldon, and they have already gone on many adventures.
Log In to see more information about Kerry Adrienne
Log in or register now!
Series
Wicked Tale | Shifter Wars
Books:
Taming the Lion, August 2017
Shifter Wars
e-Book
Mated, June 2017
e-Book
Saving His Wolf, May 2017
Shifter Wars
e-Book
Pursuing the Bear, December 2016
Shifter Wars
e-Book
Waking the Bear, August 2016
Shifter Wars #1
e-Book
Storm Damaged, February 2016
e-Book
The Guardian of Blackbird Inn, October 2015
A Wicked Tale
e-Book
Come Undone, July 2015
e-Book
Cruise Control, July 2015
e-Book
Spring Fever: Shifters in Love, March 2015
e-Book