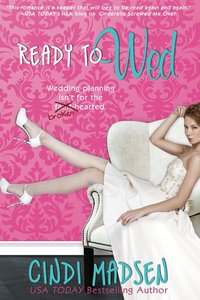 Purchase
Entangled Select
August 2014
On Sale: July 22, 2014
Featuring: Brendan; Dakota Halifax
350 pages
ISBN: 162266258X
EAN: 9781622662586
Kindle: B00H0V06UG
Paperback / e-Book
Add to Wish List

Is there anything worse than getting jilted at the altar? How about being a wedding planner getting jilted at the altar for your own wedding...on a cruise already out at sea?
When Las Vegas resident Dakota Halifax loses her fiance, she swears she's given up on love altogether. She pours her heart into her weekly wedding advice column and fills her days planning events to celebrate others' forever love.
When her childhood best friend Brendan moves to Las Vegas and they reconnect, she starts to wonder if maybe love could find her again. But then her ex reappears, begging for another chance. Can someone once-burned and twice-shy ever find her way down the aisle again?

Media Buzz
News at 4: Wednesday Reads - July 30, 2014

Comments
6 comments posted.
Re: Ready to Wed

My Husband named our one dog Bandit, because she was a
Dalmatian mix, with black spots around both eyes. As for
other animals, mainly cats, I watch their mannerisms, and
try to come up with a name that way. My current cats are
named Sugar Ray and Gizmo. Sugar Ray was named Sugar
originally by our Landlords' Wife, and I added the Ray, when
we found out our mostly white cat was a male. I picked out
Gizmo, because this cat is just "all over the place, and
into everything." At the time, we had 8 kittens to name,
along with the 2 mama cats, so you can imagine what we were
up against. For reasons known only to my Husband and I, the
names were Callie, Mia, Luke, and the others aren't coming
to me this morning. It was a while ago, and unfortunately,
we had to give them to a no-kill adoption shelter. We live
in a small apartment, and were only able to keep 2 of them,
which was a hard decision to make. Naming pets is a bit
hard to do, and I think it's a bit harder to do when you get
a dog, because when you have to call out their name, you
don't want to sound stupid. I never would have thought of
the name Cupid, but it fits the story line of your book, and
I'm looking forward to reading your book!!
(Peggy Roberson 10:51am July 23, 2014)
We've had all sorts of names for different dogs and cats --
sometimes the critter has lived up to their names (so think
twice about names). We currently have Bounder a golden
retriever who does indeed bound everywhere, and Bandit a
torti cat who had a reverse bandit mask in light blonde over
her eyes who is a little thief. We've got several other
furry ones, but they don't do as good a job living up to
their names.
(Glenda Martillotti 10:52pm July 23, 2014)
I try and choose a name that suits the pet, something unique and fitting. For instance, out latest furry baby, a black kitten, is named Crook for the crook in the end of its tail. The name has turned out to be quite fitting as he has certainly stolen my husband's heart. One of our dogs we called Blue, short for Blueberry as he looked like a blueberry muffin cut in half, all blue-grayish and speckled.
(Debbie Kelly 3:16pm July 24, 2014)
sadly, we haven't been very creative - we've had several cats named 'Kitty'; others came to us already named, thereby sparing themselves the indignity of yet another Kitty....My mother used the first initials of her children to name a dog or two, but as she points out, she would have named a boat the same contrived name!
(Beth Fuller 4:36pm July 24, 2014)
It's interesting how animals seem to grow into their name. My daughter
named her cat Fluffy when she was a little girl & it ended up being a boy, so
my brother's decided to go with the German version of Fluffy because
Flaumig sounds so much tougher. Lol
(Cindi Madsen 9:00pm July 24, 2014)
Usually there's too much input on a name for the cat from
all the prime or immediate relations. Jerold or Jerry had a
few including Percival, but I have no idea where that came
from. The dog thought any word that began with a "B" meant
we were talking about him, go he'd give us this quizzical
look since his name was Barney or Barnels.
(Alyson Widen 5:58pm July 31, 2014)
Registered users may leave comments.
Log in or register now!