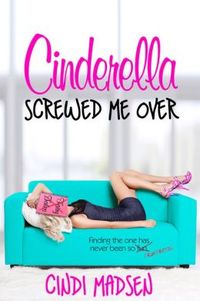 Purchase
Cinderella Screwed Me Over
Cindi Madsen
Entangled Select
November 2013
On Sale: October 22, 2013
250 pages
ISBN: 1622660315
EAN: 9781622660315
Kindle: B00BMKFPL6
Paperback / e-Book
Add to Wish List

Darby Quinn has a bone to pick with Cinderella. Burned one too many times by ex-boyfriends, Darby has lost all belief in the happily-ever-after that the fairy-tale princess promised her. She's sworn off love, Prince Charmings, and happy endings and she's happy about it. Really. Or at least she was…until she met Jake, her gorgeous neighbor and the manager of her favorite restaurant. But Darby has rules about dating, ones she's culled from her years spent with so-called "princes," and starting something with Jake would break all of them.
Charming, fun, and unwilling to give up on her, Jake doesn't fit any of the profiles Darby has created from her case studies of ex-princes-gone-bad. Finally presented with her own Prince Charming, can Darby take a chance on a happily-ever-after?
Full of wit and sarcastic humor, Cinderella Screwed Me Over proves that sometimes the perfect love, like a perfect pair of shoes, is just within your grasp.
Comments
25 comments posted.
Re: Cinderella Screwed Me Over

I loved Rapunzel from the newest disney movie because she was great!the pan in the head of the hero was a nice touch ;-) I picture her as Emma Stone with blonde hair because she seems as a determined girl who knows to have adventures. thanks for the giveaway
(Elena k 3:06pm October 23, 2013)
Cinderella... She would leave on her own and become the successful
woman that was being used and abused.
(Michelle Schafer 5:26pm October 23, 2013)
Alice in Wonderland.....I think its been skewed in many a poor song.....
(Susan Coster 6:17pm October 23, 2013)
I like Beauty and the Beast, but maybe with Beauty being the beastly one? LOL
(Marcy Shuler 9:36pm October 23, 2013)
Snow White and the Seven Dwarfs....instead of seven, there were only
six....no grumpy!
(Melanie Backus 11:27pm October 23, 2013)
Little mermaid, but the prince fancies a fish......
(Chris Coulson 4:21am October 24, 2013)
I like Snow White. What if she had a rather not so innocent past?
(C Culp 8:10am October 24, 2013)
i like snow white , cinderella cinderella screwed me over is
something i have thought about because i always wondered if
the step sisters and always hope to get the otehr side of teh
story (the step sisters) have a happy ending and that
cinderella isnt as sweet as we all thought
(Denise Smith 9:46am October 24, 2013)
Love the title!! Beauty and the Beast because the Beast never changed back to human!!! Can't wait to read this book either!!!
(Bonnie Capuano 9:59am October 24, 2013)
Snow White, The book sounds good, I'd love to read it.
(Wilma Frana 10:12am October 24, 2013)
Interesting...!
(Richard Proctor 10:17am October 24, 2013)
Wish I could tell Darby that if you're just patient, your
prince will come! Mine did!
(Maria Proctor 10:26am October 24, 2013)
Belle from Beauty and the Beast is my favorite. Maybe the Beast ends up eating her! ;)
(Sue Galuska 10:54am October 24, 2013)
I always loved Cinderella. I think she would be married to the prince, of course, but, she would also be a wonderful and loving princess in her kingdom. She'd bring all the children and adults of the kingdom to the castle for holiday parties. She'd always be available to listen to any child's dreams and stories. Sorry, but I guess I really do want Cinderella to stays in fairytale land. :)
(Vennie Martinisi 11:28am October 24, 2013)
love your books and the clever titles
(Paula Staton 3:00pm October 24, 2013)
I have always loved Tinker Bell. She's a sassy little sprite. It always seemed to me she was jealous of Wendy, and that Wendy basically screws her over by getting too close to Peter Pan. But Wendy does grow up and Tink lives in Neverland forever, so Tink gets the last laugh!
(Sandy Fielder 4:09pm October 24, 2013)
Little Miss Muffett comes to mind. She not only got her wits scared out of her, she had to leave her seat and lost her "whey". Now, all she has to do is stomp on that stupid spider.
(Rosemary Simm 5:42pm October 24, 2013)
Cinderella as she is just sooo sweet and love able.
(Jean Benedict 5:43pm October 24, 2013)
Love all these answers! :)
(Cindi Madsen 9:05pm October 24, 2013)
Awesome title for a book!
(Callie Stuck 9:52pm October 24, 2013)
I like the Swan Prince. I'm not sure how it could be skewed. I guess it depends on the version that gets used.
(Laura Gullickson 10:01pm October 24, 2013)
How cool. Thank-you.
(John Fry 10:43pm October 24, 2013)
I love BEAUTY AND THE BEAST. I can totally see the girl being
the beast.
(Mary Preston 8:23am October 25, 2013)
I can't wait to read this book it sounds unique!
(Jane Thompson 11:21am October 25, 2013)
This book looks like a fun read and I'd pick it up to see
what's between the covers.
(Alyson Widen 7:28pm October 31, 2013)
Registered users may leave comments.
Log in or register now!