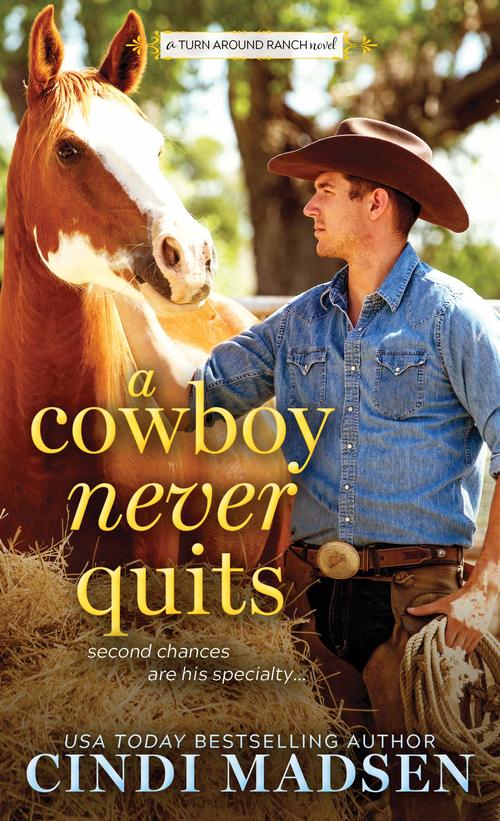 Purchase
Turn Around Ranch
Sourcebooks Casablanca
January 2020
On Sale: January 1, 2020
Featuring: Jessica Cook; Wade Dawson
384 pages
ISBN: 1492689173
EAN: 9781492689171
Kindle: B07VVS7H7J
Mass Market Paperback / e-Book
Add to Wish List

Romance Western | Romance Contemporary
These hardworking cowboys give everyone a second chance...
When single mom Jessica Cook is at the end of her rope, she takes her 16-year-old daughter to Turn Around Ranch. The ranch has a great reputation for teen therapy, and Jessica prays there's room there for her and Chloe.
Wade Dawson's first priority is to keep the ranch afloat to help teens and their families. But he can't seem to keep his boundaries when it comes to Jessica—she's talked her way into a job on the ranch so she can stay near her daughter and her tenacity and courage are truly impressive. Not to mention she's a natural beauty and sparks fly whenever he's in her vicinity.
But as one crisis after another befalls the ranch, Wade is going to have to decide whether he can afford to let a woman get under his skin...
Turn Around Ranch
Comments
31 comments posted.
We lived in Colorado Springs for 3 years and it was the best
assignment my husband had in his Air Force career. I
actually love the weather. I grew up in northern New York
on the Canadian border. The cold, snow, ice, dirty slushy
mess on the warmish days and in Spring were what I
disliked the most. In Colorado, we would get a couple feet
of snow and a week later it had evaporated and was 70
degrees. You can also hit a blizzard in the mountains in July
and drive out of it as you go lower in altitude. Anyway, it
was our first exposure to the real West and we explored as
much of the area as we could. There is a different attitude -
a bit more respect and courtesy, care for the land and their
animals, they work hard and rodeos prove they play hard.
People are more open. They tend to be what they are and
you can take it or leave it. A bit of honesty few aren't used
to much any more. We travel out West whenever we can.
We miss it.
(Patricia Barraclough 2:42am January 3, 2020)
I love farm men to begin with! My husband grew up on a farm
and we lived there together for many years. Very sexy when a
man know how to put in some hard work!
(Mackenzie Bates 5:50am January 3, 2020)
Cowboys are so masculine! They know their animals, land and women!
(Tracy Urschler 9:20am January 3, 2020)
I love the outdoors and ruggedness - and if you add in
horses, I'm in heaven.
(Nancy Reynolds 4:52pm January 3, 2020)
I love a good cowboy romance because you get to see the closeness of family.
(Cynthia St. Germain 6:18pm January 3, 2020)
Cowboys are so manly and work well with animals and can
sense their needs. They may not be in touch with their
emotions, but will do anything to keep their livestock on
schedule and fed.
(Alyson Widen 1:06am January 4, 2020)
When I was a kid a lot of the TV shows and movies were about
cowboys and they were handsome heros.
(Melanie Rosen 1:17pm January 4, 2020)
I was raised in the country where we had horses,so that add
a cowboy and a great combination
(Vickie Couturier 2:52pm January 4, 2020)
I love cowboys because they are very hard working and
caring and they put family first. I like the small town
setting, too, so I get to know a lot of the townspeople as
well.
(Tina Rucci 4:27pm January 4, 2020)
Say the word COWBOY and I want to read the book. There always seems to be something special about a cowboy hero.
(Anna Speed 1:35pm January 6, 2020)
Love cowboys and horses.... Really enjoy reading about those
rugged guys.
(Colleen Conklin 12:06pm January 7, 2020)
I love a alpha male with tight jeans and a cowboy hat.
Cowboys are tough, hard working and protective of their
family. A cowboy romance had all the feels in them.
(Lynne Brigman 12:38pm January 7, 2020)
I Love reading about cowboys and horses!!
(Heather Amos 1:32pm January 7, 2020)
I love cowboys because they really know how to treat a women.
(Victoria Kondovski 2:42pm January 12, 2020)
Live in Texas where the cowboys and cowgirls. What better place to enjoy
romantic evenings on a Texas Ranch
Dave Fredendall
01/12/20
(David Fredendall 2:58pm January 12, 2020)
I love the women who can tame the rugged man.
(Lori Byrd 3:10pm January 12, 2020)
I love how they treat their family and their loves. I have
always wanted to be loved by a cowboy.
(Christina Boronkas 3:25pm January 12, 2020)
Great interview with Cindi! Having been around horses and
hors people for many years, I know the devotion it takes.
The magic a good farrier can work is amazing!
(Kathleen Bylsma 4:57pm January 12, 2020)
I really enjoy cowboy romances because the stories are always so
entertaining. I like how they respect and love their family even when they're
arguing with them. I like their wild spirit and incomparable charm. Mostly I
like it when they fall in love and will do anything to protect the ones they
love.
(Annette OMullan 5:12pm January 12, 2020)
heartwarming, truly american, and a hard working man felled
by a woman
(Denise Holcomb 5:29pm January 12, 2020)
I've lived in the country all my life and just love books
like this. Love the color of a cowboy and the horse.
Colorful. It's perfect. It calls my name and says Read
Me, Read Me!! Love books like this.
Love Cowboys because they're hardworking and lose their
heart so easy to a gorgeous woman. The woman though are
hardworking but yet guard their heart. I love it when
they finally get together after fighting their feelings.
(Crystal Stewart 6:33pm January 12, 2020)
I like that the cowboys are loyal, hardworking, love animals and are sexy
too.
(Lori Raines 7:31pm January 12, 2020)
Typed in comment twice. Won't accept it. Funny cause this is the one book I really would like to win.. cowboys & romance....
(Irene Henderson 7:52pm January 12, 2020)
Of course it accepted it when I didn't leave my real comment which was about a cowboy's strength & protection.
(Irene Henderson 7:54pm January 12, 2020)
Nice to be transported to the Wild, wild, west!
(Martin Bodnar 8:03pm January 12, 2020)
love the ruggedness of cowboys hard working and hard
loving
(Tricha Leary 11:05pm January 12, 2020)
I like the stories where they find out there a dad.
(Kim Hansen 5:13am January 13, 2020)
I love Gina Maxwell's books! I just finished Hook! OMG!!! I love cowboys because of how loyal they always seem to be and of course how strong their bodies usually are! ;)
(Sue Galuska 9:36am January 13, 2020)
I love out the outdoors stuff
(Lindsey Andronak 1:14pm January 13, 2020)
What's not to like about a cowboy romance? Cowboys are loyal
to their family, hard working, and athletic!
(Linda Herold 11:51pm January 13, 2020)
When I think of a cowboy romance, i think of family love
and respect
(Janet Johnson 12:22pm January 14, 2020)
Registered users may leave comments.
Log in or register now!