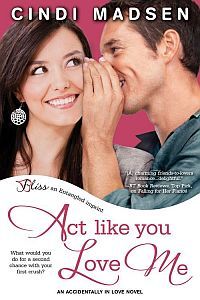 Purchase
Accidentally in Love #2
Entangled Bliss
June 2013
On Sale: June 10, 2013
Featuring: Sawyer Raines; Brynn McAdams
ISBN: 1622660897
EAN: 9781622660896
Kindle: B00CNTSV7K
e-Book
Add to Wish List

What would you do for a second chance at your first crush?
Brynn McAdams isn't the awkward drama geek she was in high school--she's grown up and confident, or at least she likes to think so. But when her old crush, the impossibly handsome and impossibly unattainable Sawyer Raines, comes back to town to direct her community play, Brynn finds herself determined to be someone other than the girl he doesn't even recognize. Good thing she's an excellent actress.
After his bad breakup in NYC, the last thing Sawyer wants is to get involved with another actress. But the glamorous and beautiful Brynn draws him in, even though as her director, he knows she's off-limits. There's just something about the woman that feels...familiar. Like home.
As Brynn's lies start to snowball, she struggles to stop acting and come clean. But what if Sawyer is already falling for the fake Brynn, not the Brynn she truly is?
Accidentally in Love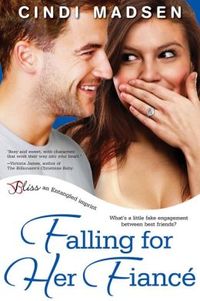 Falling for her Fiance
#1.0
Kindle | BN.com | | |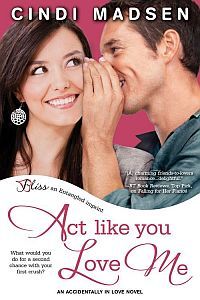 Act Like You Love Me
#2.0
Kindle | BN.com | | |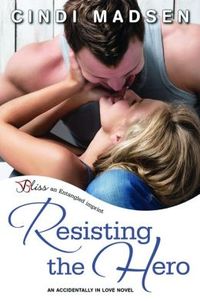 Resisting the Hero
#3.0
Kindle | BN.com | | |
Comments
18 comments posted.
i cant remember really any one that stands out but i know
there is just maybe i dont want to remember it lol
(Denise Smith 1:01am June 26, 2013)
This sounds like a fun read. Don't we all wish we could be
someone else for a little while!
(Sandie White 2:23am June 26, 2013)
I used to have such a crush on this guy and he was so out of reach. Now if I look
back at my 16 year old self, I think oh my gosh you were a dork. I took
weightlifting just to be around him. Although he looked at me like I was way out
of his league, I learned to life weights and found it was something I loved.
Today, he is a bald old man and as for me, I'm confident in myself.
(Val Pearson 2:59am June 26, 2013)
My life has lots of embarrassing and awkward moments - but somehow I've managed to survive! Your book sounds like a great read. Thanks for the chance to win. Best of luck with it!!!
(Nancy Reynolds 9:38am June 26, 2013)
I've survived a lot of crazy moments. I'd love to win this book.
(Wilma Frana 11:07am June 26, 2013)
I have had my share of those moments and have to remind myself that by tomorrow, it will be old news.
(Anna Speed 11:28am June 26, 2013)
Yay for weightlifting! The things we do to try to get a guy's attention. Lol. I've
learned to laugh at myself more. But my face still gets hot every time!
(Cindi Madsen 12:54pm June 26, 2013)
Oh so many some turned out and some didn't but that's life
(Ava Curtis 2:29pm June 26, 2013)
I can understand wanting to be someone else. I was very quiet in school. After workig in a grocery store for several years I am not quiet. I speak my mind about things. That might be why my manager and I do not see eye to eye. I would love to win this book.
(Cynthia Cook 3:01pm June 26, 2013)
I studied abroad in Europe in college and there was a guy I really liked. A group of friends and myself traveled to Austria one weekend. We were walking down the street and I turned around to flirt with my crush and ran straight into a sign. It was so awkward after that. Luckily, we're still friends years later, but romance was definitely not in the cards for us.
(Jamie Fortney 5:13pm June 26, 2013)
I love your post and look forward to reading ACT LIKE YOU LOVE ME!
(Dosh Young 5:28pm June 26, 2013)
My mom used to tell the story about how she had the lead in the school play about nerdy, homely girl who turned into a swan by the end. Sounds like something she might have enjoyed!
(Marcia Berbeza 7:51pm June 26, 2013)
When I was younger I was very clumsy and always embarrassing myself. Thankfully as I've gotten older I've gotten a little less clumsy and a lot less worried about what others might think. Looking forward to finding out how things progress between Sawyer and Brynn.
Good luck and happy writing!
(Tracie Travis 8:39pm June 26, 2013)
Loving these stories! I haven't run into any signs, but walls sometimes pop
up out of nowhere. Lol. The drama aspect with the Importance of Being
Earnest was really fun to play with :)
(Cindi Madsen 9:22pm June 26, 2013)
Not all things turned out the way I wonted. Thanks for a chance to win.
(Amy Milne 10:29pm June 26, 2013)
I'm not sure I could narrow down my embarrassing moments to just one!
Your book sounds like a lot of fun!!!
(Linda Brennan 10:49pm June 26, 2013)
I have do many embarrassing movements that it would take the page to tell
them lol. Two stand out because they happened when I was in my teens
the first one was in middle school walking to one of my classes and I
slipped and fell right in front of everybody and the second one was when I
was in church wearing my favorite heels and as I am walking to get the
communion I slipped and fell again in front of a full house. I remember that
my brother telling my mom that I shouldn't be wearing heels.
(Evelyn Diaz 2:11am June 27, 2013)
Oh no! Well I love heels! They're a bit tricky at first. :)
(Cindi Madsen 11:08am June 27, 2013)
Registered users may leave comments.
Log in or register now!