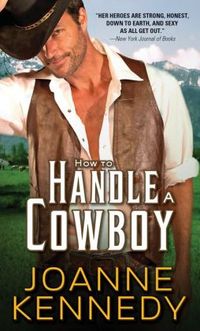 Purchase
Cowboys of Decker Ranch #1
Sourcebooks
April 2014
On Sale: April 1, 2014
Featuring: Ridge Cooper; Sierra Dunn
416 pages
ISBN: 1402283660
EAN: 9781402283666
Kindle: B00HFDVOGE
Paperback / e-Book
Add to Wish List

Western | Romance Contemporary
It takes a village to raise a child – and a cowboy to open a woman's heart.
Rodeo cowboy Ridge Cooper has always had one goal in life: stay in the saddle for eight seconds. Now, sidelined by a career- ending injury, he's trapped at his family's ranch outside Wynott, Wyoming with nothing to do. But when he volunteers to teach foster kids to ride, he finds a new purpose in life-one that matters far more than buckles and babes.
For social worker Sierra Dunn, a job managing a group home in the tiny town of Wynott, Wyoming is just a quick stop along the way to changing the world. But try as she might, she can't help getting attached to the ten-year-old boys in her care. The five little refugees from abusive homes steal her heart, but there's plenty left over for local rodeo legend Ridge Cooper.
Sierra tells herself it's time to move on, but the town's sense of community and the homey atmosphere at the ranch tug at the heartstrings of this street-smart city girl. And when one of the boys is in danger, she learns that with the help of a faithful cowboy, she can change the world one child at a time.
Cowboys of Decker Ranch
Comments
31 comments posted.
And cowboys. Don't forget readers love to read about cowboys. :-)
(Lisa Hutson 6:43am April 3, 2014)
I love series as long as each book can be read as a
standalone. And who doesn't love a cowboy?
(Glenda Martillotti 8:03am April 3, 2014)
I love series, but I also love stand-alone books. For me it
depends on the story and how it should be told.
(Karin Anderson 9:39am April 3, 2014)
Thanks to Fresh Fiction for hosting me today! It sounds like everyone's on board and ready to start a new series - especially if it's about cowboys!
(Joanne Kennedy 10:47am April 3, 2014)
I agree, Karin. Every book should be a complete and satisfying story, whether it's part of a series or not. I like endings that make you sit back and sigh, and sit back a little while to enjoy the feeling the story gave you.
(Joanne Kennedy 10:51am April 3, 2014)
Thanks to readers for stopping by! I'd be interested to know this: do you prefer series books or standalone stories?
(Joanne Kennedy 10:52am April 3, 2014)
I couldn't agree with you more about books in a series. I have read books before where the Author goes on and on about the prior books from their series, and if the Author was sitting next to me, I think I would punch them!! Don't they get it that not only does it take up useless pages, but that it gets boring when you read the same thing over and over again?? Not only that, but it usually adds nothing to the story line!! If it was omitted, it would really enhance the story, instead of add to it. Unfortunately, there is one series that I've been reading from the beginning, and this particular Author has been doing just that in every book. It drives me up the wall, so I sort of skip over it, then contine on with the rest of the book, after she gets done with her "amnesiatic rant." I'm looking forward to reading your latest book with bated breath!! It sounds like a real winner, and I'm sure the series is going to be one that you can sink your teeth into, and truly enjoy!! Congratulations!!
(Peggy Roberson 11:39am April 3, 2014)
Series are wonderful, since the characters have depth and I
can follow their lives. Your book sounds captivating and
special. Cowboys are my heroes and always will be. Best
wishes.
(Sharon Berger 12:04pm April 3, 2014)
I enjoy books in a series... getting to see characters again that I already met...
(Colleen Conklin 12:45pm April 3, 2014)
I love books in a series - but especially when each story can be stand alone, if need be. But I love getting to know (and revisit) the "cast of characters"!!! And ... cowboys, too?!!! How can you go wrong. This sounds like a wonderful series. Best of luck with it! And thanks very much for this chance to win.
(Nancy Reynolds 1:19pm April 3, 2014)
I love series books. They give you the chance to know the
characters more and to see what happens to them later on or
with other characters.
(Tina Ullrich 4:39pm April 3, 2014)
I love cowboy stories, I'd love to read this one.
(Wilma Frana 4:55pm April 3, 2014)
I love books in a series when authors incorporate the characters into the next book revisiting their lives to find out what they're now doing (having a baby, etc. after they'd fallen in love and gotten married at the end of the previous book). Carolyn Brown does this. I especially love cowboy stories! I never pass up on any I find anywhere...I have to read them all.
(Linda Luinstra 6:20pm April 3, 2014)
I love a series of books. Your love for the characters just keeps going and
with cowboys to boot.......yay!!!!!!!
(Melanie Backus 7:34pm April 3, 2014)
I love series and/or connected stories and cowboys are an added bonus. I like seeing what previous characters are doing because in a good book they almost feel like friends and I'm invested in their lives. I like starting with the first book in a series, but also think each book should stand alone so the reader doesn't feel lost if they don't start with book #1.
(Marcy Shuler 9:10pm April 3, 2014)
I love series books. A cowboy is a plus and waiting to see
who returns in the next book are a plus. And waiting to see
if a character that you have grown to love/admire gets their
own story keeps you coming back for more.
(Cindy Olp 12:39pm April 4, 2014)
I love series. I love the continuity of fav characters and
settings. Thanks for the giveaway!
(Linda Townsend 8:30am April 4, 2014)
I love series. Once I get an author new to me, I have to read them all!
(Barbara Wells 9:14am April 4, 2014)
I like series that involve family members but are still a
stand alone book. I hate to get "lost" when I read book 2 or
3. Tansk for the giveaway.
(Leona Olson 9:51am April 4, 2014)
What a great book title!
(Maria Proctor 11:00am April 4, 2014)
i love cowboy romance stories they are my favorite
(Denise Smith 11:27am April 4, 2014)
What a great combination! I enjoy series, cowboys, and please, let's not forget romance.
(Anna Speed 12:25pm April 4, 2014)
Looks like a must read.
(Tina Lechuga 1:16pm April 4, 2014)
I got to live in Wyoming-- though in the big city of Rock
Springs-- for two years, and I love Wyoming and its cultures.
I look forward to reading your series!
(Mary Ann Dimand 1:38pm April 4, 2014)
I pretty much only read series books. I really like getting
into the characters and enjoy feeling the connection that you
gain through a series.
(Denise Austin 2:26pm April 4, 2014)
I enjoy series books and especially series books of cowboys!
(Vennie Martinisi 2:41pm April 4, 2014)
I love cowboy romances.
(Mary Smith 3:02pm April 4, 2014)
i love series and cowboys!!!
(Jennifer Beck 6:45pm April 4, 2014)
I LOVE series especially when each book can be read as a stand alone.
(Betty Hamilton 3:39am April 5, 2014)
Love those strong ,determined cowboys aho are so special to love. A Texas Fan. Theresa Henry theresaehenry@yahoo.com
(Theresa Henry 4:59pm April 5, 2014)
For me I love both series, if they can stand alone, and stand alone books. For me it's always the story and yours sounds great.
(Carol Woodruff 6:42pm April 5, 2014)
Registered users may leave comments.
Log in or register now!