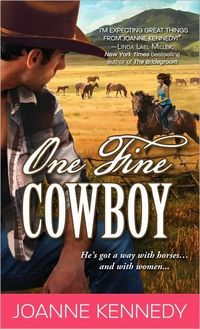 Purchase
He's got a way with horses -- and with women
Acquainted With the Night #2
Sourcebooks Casablanca
September 2010
On Sale: September 1, 2010
Featuring: Nate Shawcross; Charlie Banks
383 pages
ISBN: 1402236700
EAN: 9781402236709
Kindle: B003YFJ554
Mass Market Paperback / e-Book
Add to Wish List

Romance Western | Romance Contemporary
Nate Shawcross is perfectly content to spend his days training wild horses. So when a beautiful greenhorn unexpectedly shows up for a seminar from the famous "Horse Whisperer" of Wyoming, all he wants to do is send her packing. Graduate student Charlie Banks came to the ranch to learn about interspecies communication, but when she meets the ruggedly handsome cowboy, she starts to fantasize about another connection entirely. Nate needs to stay focused if he's going to save his ranch from foreclosure, but he can't help being distracted by the brainy and breathtakingly sexy Charlie. Could it be that after all this time he's finally found the one woman who can tame his wild heart?
Acquainted With the Night
Comments
24 comments posted.
Re: One Fine Cowboy

cowboy yes, show me yes... LOL!
(Tina Werner 8:02am September 4, 2010)
I love cowboys. I would like them to tell me and than show me how they feel.
(Cheryl Lynne 12:36pm September 7, 2010)
I love the words, so telling is great and then a little action
(Cheryl Ricin 1:09am September 7, 2010)
I do love me some cowboys, please enter me!
(Gail Hurt 1:54am September 7, 2010)
I LOVE COWBOY! AM IN!
(Amanda Edmond 6:31am September 7, 2010)
'Cowboys' just the image that word gives you says it all - can't get enough!
(Barbara Hanson 7:55am September 7, 2010)
Unusual premise - interesting!
(Jl Welling 8:37am September 7, 2010)
sounds great
(Pam Howell 8:39am September 7, 2010)
Looks like a great read and I am another one who loves cowboys. It's the manliness...yehaw!!!!

Valerie
in Germany
(Valerie Bongards 8:41am September 7, 2010)
a cowboy is definitely my kind of man whats not to like tight jeans, horses and cowboy hats isn't that most little girls dream (I know its mine).
(April Strength 8:48am September 7, 2010)
I love this cover, the way he's got his eye on the woman!
(Cheryl Castings 11:20am September 7, 2010)
Looking forward to reading your books!!
(Betty Miles 12:10pm September 7, 2010)
I do love romantic heroes and yes, I'm beginning to love again the cowboy!!
(Kelli Jo Calvert 1:28pm September 7, 2010)
Oh, yes!!! Cowboy, cowboy, cowboy!
(Joanne Reynolds 1:28pm September 7, 2010)
Give me a cowboy anyday!!! I would love a guy that would tell you and show you how much he cares...
(Colleen Conklin 1:45pm September 7, 2010)
I would love to have a copy of this book. I love cowboy stories.
(Pat Lieberman 1:55pm September 7, 2010)
Yes, a cowboy is my kind of man. And I'd rather be shown than told how a man feels.
(Leni Kaye 2:40pm September 7, 2010)
I guess we love cowboys because we know they had a code in the old west and we assume they still do, trust them, believe in them and love them.
(Diane Sadler 3:06pm September 7, 2010)
Would love to find a cowboy.:) I'm happy to find a new author that writes about cowboys.
(Sheila Faylor 6:35pm September 7, 2010)
Thanks for the comments, everyone! I'm glad to hear there are so many cowboy fans out there...and I don't mean football!
(Joanne Kennedy 7:36pm September 7, 2010)
Cowboys are a breed of their own.
They may not be outwardly tender
or romantic but it is there in the
little things they do. I love my
cowboys.
(Jenn Baker 7:55pm September 7, 2010)
Nice write-up, Joanne. To answer your questions: "Is a cowboy your type of man?" You'd better believe it! I really go for honest, unaffected, sincere, down-to-earth types who live close to the elements and must bring out their best qualities as a matter of course. There's something appealing about this sort of mindset and lifestyle that's hard (at least for me) to put into words, but it sure is enjoyable to read about.

As for your second question: "Would you rather have a man tell you how he feels—or show you?"---well, you know what we all hear in Creative Writing 101: "Show, don't tell". Not only does it mean more, but also it's a better gauge of character. Usually it's harder for a person to act phony than it is to speak falsely, and still be believed.

Keep up the good work!
(Mary Anne Landers 9:39pm September 7, 2010)
Actions speak louder than words even for cowboys. Thanks for the contest.
(Sheila True 10:05pm September 7, 2010)
Sheila, you're so right! And in Nate's case, it's all about action. Thanks for commenting!
(Joanne Kennedy 12:32pm September 8, 2010)
Registered users may leave comments.
Log in or register now!