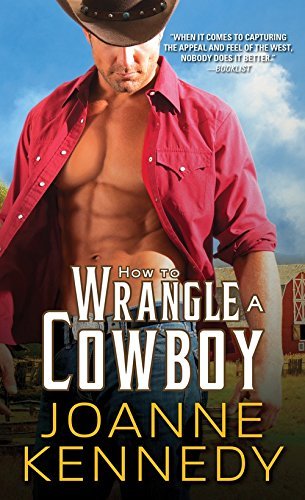 Purchase
Cowboys of Decker Ranch #3
Sourcebooks Casablanca
February 2016
On Sale: February 2, 2016
Featuring: Lindsey Ward; Shane Lockhart
480 pages
ISBN: 1402283725
EAN: 9781402283727
Kindle: B0169AK28Y
Mass Market Paperback / e-Book
Add to Wish List

Romance Contemporary | Western
The last thing this cowboy expected
Inner-city veterinarian Lindsey Ward always loved visiting her grandfather's Wyoming ranch, so it breaks her heart to have to sell it. She'll miss the scent of hay and sagebrush under the wide-open sky, but at least the sale will help fund the clinic she's always dreamed of.
Was to get roped by a city girl
Ruggedly handsome foreman Shane Lockhart and his adorable son aren't making it any easier for Lindsey to focus on what has to be done. It's exhilarating going toe to toe with a rough, tough cowboy whose stubborn idealism matches her own, but it's Shane's tenderness that might tip Lindsey's heart over the fence.
Cowboys of Decker Ranch
Comments
29 comments posted.
Interesting info. Glad I got to read the blog. Like to win
the book
(Flick Ait 2:10pm February 10, 2016)
No my dad's died before my parents were married and my
mom's died when I was little.
(Marissa Yip-Young 2:49pm February 10, 2016)
My maternal grandparents met on a blind date. They fell in love and
married shortly thereafter. She was a maternity nurse, and he was a
country music singer. My parents met through friends and married quickly.
I've researched our genealogy :-)
(Jennifer Talbert 4:58pm February 10, 2016)
My parents met through my mom's next door neighbor's son... my dad agreed to a date, but told my mom right away that he did not date anyone for more than a month or two... well they have been together since...
(Colleen Conklin 5:37pm February 10, 2016)
I have no idea how my parents met nor my grandparents. They
have all passed on.
(Sharon Berger 5:47pm February 10, 2016)
Both of my grandparents came from Italy, my dad's parents were picked from their parents and my mom's parents met at a dance, my parents were high school sweethearts, they got divorce after 27yrs. of marriage, I live in a small town and everyone were so upset with this news.
(Carole Fiore 7:57pm February 10, 2016)
My husband & I worked for the same company, but never met
until a happy hour. Then, the next day, he happened to be
at my gym. We started talking & the rest is history!
(Sharlene Wegner 8:13pm February 10, 2016)
This sounds like the kind of book I like, I'd love to win it.
(Wilma Frana 8:36pm February 10, 2016)
My husband and I lived in the same town and went to the
same gym in Washington State, but we met in Whistler, BC
over Superbowl Weekend of 1994. Although we lived near
each other, We had to leave the country in order to
actually meet.
(Terrill Rosado 10:06pm February 10, 2016)
love cowboys Canada is know to love there Cowboys
(Emily Stemp 2:11pm February 11, 2016)
My "Mum" Sadie had gotten out of a bad marriage in the 40's (Dad & Aunt Evelyn were grown & on their own). Mum Sadie got a job at the concession stand of a local theater (Embassy Theater, Reading PA). Pop Leroy was a movie projectionist(Ran the movie & made sure audio & video matched). It took Pop Leroy about 6 years to get "Rebecca" Mum Sadie, preferred "Daisy" or "Rebecca", her middle name to go out with him. They finally married & bickered happily ever after for 50 years.

My Mom was at a local dance with a friend shortly after WW2 ended, my Dad had hitchhiked from his Army/Air force discharge center back to Reading PA. Dad & a buddy saw the dance hall, peeked in & saw this pretty brunette. Dad was a little shy & asked Mom's best friend if she thought my Mom would dance with him. It took about 4 years to convince my Mom that she would make such a pretty Mrs. Gerhart.
(Mina Gerhart 3:28pm February 11, 2016)

(Mina Gerhart 3:28pm February 11, 2016)
No luck on my grandparents though, since they were gone
before I was born. But as for my parents, I remember they
said they were neighbours.
(Jk Vaid 6:59pm February 11, 2016)
My grandfather was a young preacher and so my grandmother went to his church and fell in love with him , they got married and had a son and a daughter ( my mother ). Grandfather died at an early age when I was a baby so I've just heard these stories about him .I'd love to win your book. Thanks for this chance .
(Joan Thrasher 7:50pm February 11, 2016)
I'm going to have to find out how my grandparents met...both maternal and paternal were fresh from the old country: Germany and Ireland and I've never known.
My parents met over a poker game in the airplane hanger where my father was manager. Mother attended with her best friend who was dating one of the guys!
(Kathleen Bylsma 7:53pm February 11, 2016)
A great big thank you to everyone who posted "meet-cute" stories! I love hearing true romance stories from the past. Those dances around the time of WWII must have been something! My own parents met at their first "Freshman Mixer" at the University of Maine. My mother picked out my father right away; she was wearing a dress with a lace back, and my dad thought that was, in his words, "soooo sexy!" He got up the courage to talk to her, and they dated all through college. My father was very tall, thin, intellectual and awkward at the time, and says he could never believe this "beautiful creature" seemed to like him - maybe even love him! They were married for 64 years before my dad passed away last April. Their solid, loving marriage is one of the reasons I'm drawn to writing romance!

Thanks to everyone who commented. I was on the road when this posted, and so I didn't get to answer each of your stories individually, but I loved them all. Good luck in the contest!
(Joanne Kennedy 11:32am February 12, 2016)
my mom was on a double date with her friend. My father was on a date with her friend after the date. he started showing up at my mom home.
(Jennifer Beck 11:53am February 12, 2016)
No i don't know how my parents met or grandparents that i
great question. have to ask my mom
(Emily Stemp 7:21pm February 12, 2016)
My parents met just before WWII through my Aunt and they wrote each other all the time. When Daddy came home after being wounded they got engaged and married.
(Bonnie Capuano 8:41am February 13, 2016)
my parents worked in the same company - Mom was selling
tickets to a roller skating party - Dad said he would buy two
of she would go with him
(Diane Sallans 6:46pm February 13, 2016)
Mother went to a poker game with her girlfriend who was to meet her boyfriend at the airplane hanger where he worked. that's where she met my father.
(Kathleen Bylsma 8:05pm February 13, 2016)
My mom and dad met at a square dance. At first they just danced together once in a while then, they began to date.
(Carol Woodruff 10:57am February 14, 2016)
My mother lost her father when she was very young and my maternal grandmother was left to care for my mother and three other children. My father's mother died when he was only four and his dad was left with three children to raise including my father. Both parents drifted to wherever they could make a living for their children. So my maternal grandmother and my paternal grandfather ended up in Santo, Texas where they picked cotton to provide for children. At very young ages my mother and father met picking cotton in the cotton fields of Santo and eventually fell in love. It was a love and marriage that lasted their lifetimes.
(Gladys Paradowski 11:32am February 14, 2016)
Oh, my goodness! I never asked my parents how they met, and now it's too late. They were living in the same area, so I guess they met at church or a friend introduced them.
(Anna Speed 12:36pm February 14, 2016)
I have no idea how my parents or grandparents met. However, from
observing my parents it was always easy to see that they truly loved each
other. I think that is the most important part. I am going to ask them today
how they met!
(Lily Shah 1:39pm February 14, 2016)
I don't know about my grandparents, I think my Mom and Dad met
in school. My man and I is an interesting situation. We worked
together and I was on light duty because of an accident and
got put in his department. The first time he ever talked to me
was teasing me about my crutches and accident. We have been
together 11 years, with 2 little boys.
(Tanya Guthrie 2:59pm February 14, 2016)
I think you might know my mom, Carolyn Brown. Anyway, she picked my Daddy out of a picture. He was stationed in Germany. She was a high school sophomore from Tishomingo, OK. She pointed to my Daddy's platoon picture and told her friend (who was dating another member of the platoon) she wanted to write him. So, they did--for 2 years! He sent her engagement ring and the proposal through the mail. She got on a greyhound bus in Oklahoma to go to Pennsylvania to marry a man she'd never met face to face. She'd never even heard his voice. They'll be married 50 years this August.
(Amy Morgan 4:32pm February 14, 2016)
My parents met at the train station where my father worked in the ticket
office selling tickets and my mother was the telephone operator. She was
engaged to a breakman who had regular "runs" on trains running in and out
of St. Louis on the night shift. As she began to get to know my father, the
breakman she was engaged to began to be less interesting. One night
when he was on his "run," she returned his engagement ring to his mother,
telling her she was "sorry, this just won't work." This was the beginning of
my parent's relationship, started before WWII, and ending as death parted
them after 49 1/2 years of marriage.
(Phyllis Kemp 7:29pm February 14, 2016)
So happy!!
(Candy Voisine 2:56pm February 20, 2016)
Registered users may leave comments.
Log in or register now!