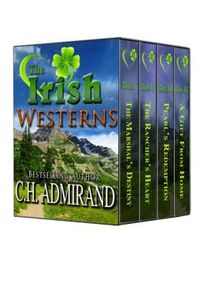 Purchase
The Irish Westerns Boxed Set
C.H. Admirand
Books 1-4 of the Irish Westerns series
Self Published
September 2013
On Sale: August 30, 2013
ISBN: 0148609910
EAN: 2940148609919
Kindle: B00EWNXS28
e-Book
Add to Wish List

For those of you who are wondering if you've read the entire series to date, here are the first four books bundled.

THE MARSHAL'S DESTINY (Bk 1)
Irish born Margaret Mary Flaherty leaves New York City for Colorado carrying the signed proof her brother needs to keep greedy landowners from stealing his ranch. Joshua Turner, U.S. Marshal, is headed to Colorado to investigate charges of cattle rustling and land fraud.​

Their paths cross in the middle of enemy territory, where Marshal Turner comes to the aid when Maggie's stagecoach is attached by hostile Indians. One look at the handsome marshal, and Maggie swears her destiny's calling to her from the depths of his brilliant green eyes. One look at the fiery-haired woman with eyes the color of cornflowers and Joshua wonders if he's finally found the woman who will teach him how to love.

THE RANCHER'S HEART (Bk 2)
James Ryan's peaceful existence turns upside down the night he catches young Mick O'Toole trying to rustle his cattle. Running from a dark past of his own, Ryan agrees to take the boy and his ailing widowed mother in.

Widowed Bridget O'Toole's life finally changes for the better the night the darkly handsome rancher opens his home and his heart to her and Mick. But her past is just a day's ride away from town, on a collision course with Ryan's, when her husband returns from the dead, blazing a path of destruction straight toward Bridget, Mick and the new life they've made in Emerson, Colorado.

PEARL'S REDEMPTION(Bk 3)
Pearl Loyd would do anything to keep her ranch and protect her girls. When Davidson Smythe shows up on her doorstep claiming to have bought her ranch, she shoots first and asks questions second.

Davidson Smythe wants to start over, leaving Boston and his brother's suspicious death behind. Sight unseen, he spends his half of the inheritance on a ranch out in Colorado, only to find the ranch occupied by a battered angel who can shoot like the devil.

A GIFT FROM HOME (Bk 4)
John Reilly is expecting a package from home, something light as a feather and twice as sweet. Little does he realize the package isn't the baked goods he's been dreaming of but a grown-up version of the thirteen-year-old girl who used to follow him everywhere.

When John Reilly doesn't return to County Cork, Ireland, Jessi Fahy boards a ship and tracks him down. She arrives in Emerson, Colorado, hot, tired, and dusty, but he doesn't recognize her. Five and a half years of waiting in vain, combined with a horrendous voyage and the realization that John doesn't remember her, have Jessi fisting her hand and testing Mrs. Reilly's secret weapon. With a wicked right cross, big John Reilly goes down like a stone.

In Book 4 of C. H. Admirand's Irish Western Series, the temporarily disbanded Committee for the Betterment of Emerson is at it again! This time they accuse Jessi Fahy of setting fire to Peterson's Stable, injuring Mr. Peterson, brawling in public and ruining the good name of the Flahertys' foreman, John Reilly.
Comments
No comments posted.

Registered users may leave comments.
Log in or register now!