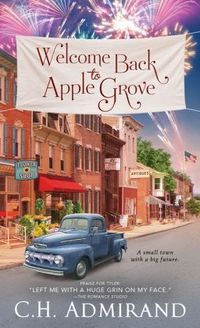 Purchase
Welcome Back To Apple Grove
C.H. Admirand
Small Town USA #3
Sourcebooks Casablanca
December 2013
On Sale: December 3, 2013
Featuring: Grace Mulcahy; Pat Garahan
384 pages
ISBN: 1402269056
EAN: 9781402269059
Kindle: B00FW3A0U0
Paperback / e-Book
Add to Wish List

There's No Place Like Home...
Grace Mulcahy thought she'd finally gotten Apple Grove, Ohio, out of her system. Then she's lured back for a family barbecue and spies a broad-shouldered hottie hanging out at the grill. He somehow seems utterly at ease, whether flipping burgers or horsing around with her hellion nephews. Why didn't her brother-in-law tell her he had such gorgeous friends? Suddenly her mouth is watering for more than her best friend's famous pie.


Some fires aren't meant to be fought…
When firefighter Pat Garahan sees Grace, it's like a five-alarm bell goes off and he's the one ablaze. She says she wants to leave Apple Grove, but he will do whatever it takes to keep her around. The life of a firefighter isn't an easy one though, and he'll have to prove their immediate spark can have a lasting chance at love…


Small Town USA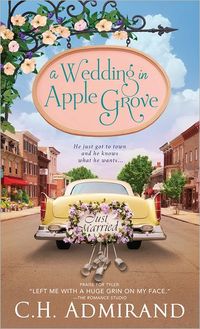 A Wedding In Apple Grove
#1.0
Amazon.com | BN.com | | |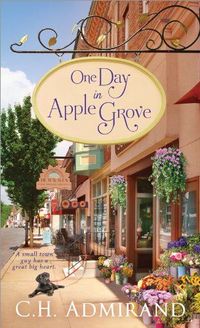 One Day in Apple Grove
#2.0
Amazon.com | BN.com | | |
Comments
53 comments posted.
Re: Welcome Back To Apple Grove

sounds really good thanks so much for the giveaway
(Denise Smith 12:02pm December 20, 2013)
Sounds like a fire waiting to happen! Thanks for sharing.
(Lynsey Peterson 2:24am December 20, 2013)
I love to spread peanut butter between two Ritz crackers and dip that in
white almond bark. When it hardens, you've got a great little Cookie.
Merry Christmas!
(Melanie Backus 8:16am December 20, 2013)
Book sounds great. I love those butter cookies with the hershey's kiss in the middle.
(Pat Lieberman 8:17am December 20, 2013)
Thanks for inviting me to guest blog today about something close to my heart...my kitchen ;)
(C.H. Admirand 8:33am December 20, 2013)
You're very welcome, Denise ;) I loved writing this series.

Well, Lynsey, that's what I'm hoping for sparks that ignite and lead to love ;)

Wow, Melanie that sounds yummy. I'll have to look up a recipe for White Almond Bark...haven't made that yet. I'm more of a dark or milk chocolate kindof gal ;)

Another new one for me, Pat! I'll have to save some of those Hershey's Kisses for the butter cookies--and not just the peanut butter cookies. Sounds yummy!
(C.H. Admirand 8:35am December 20, 2013)
Strawberry jam filled Thumbprints or Peanut Butter Kisses
(Beth Elder 8:42am December 20, 2013)
I know I'd love to read this book....it's now on my list!! Hello Santa...
(Bonnie Capuano 8:42am December 20, 2013)
Oh, this sounds so good! Thanks for the giveaway! I love
books with firefighters...
(Linda Townsend 9:09am December 20, 2013)
My two favorite Christmas cookies are Chocolate Chip and Snickerdoodles.
(Kathy Morrison 9:24am December 20, 2013)
I love Chocolate chip and peanut butter balls. Thanks fr a chance to win. Merry Christmas
(Judy Ferguson 9:56am December 20, 2013)
Lovely post. The book is captivating.
(Sharon Berger 11:02am December 20, 2013)
I love Sugar Cookies!
(Richard Proctor 11:07am December 20, 2013)
If I had to pick a favorite cookie for the holiday, it is a new recipe, make cookies in mini muffin tins, place a rolo/peanut butter cup inside and let them melt but meld with the baked cookie. I am sure that any flavor will work.
(Deana Connelly 11:08am December 20, 2013)
My favorite is my Mom's cinnamon pinwheel cream cheese
cookies!
(Maria Proctor 11:19am December 20, 2013)
I live 20 minutes from Aiken. Your book sounds like something
so many people do, go back home. My favorite cookie for the
holidays is sugar cookies with lots of icing.
(Theresa Norris 11:32am December 20, 2013)
It is not a holiday cookie, but it is a tradition in my family to make M&M cookies together every Christmas season!
(Colleen Conklin 11:47am December 20, 2013)
My favorite cookie is one that's been passed down from my Mom, and she was known for making them. I believe that she got the recipe from her Mother, too. It's a cookie that is rolled out in crescent shapes. The dough is very flaky and sweet, and takes 2 days to make. I use the old filling of prune, which you don't realize you're eating, but some people use a nut filling. I've also used apricot filling, but always go back to the original prune. Every year, my friends ask me if I'm going to bring them some of my Mom's cookies, and in the beginning, they turned their nose when I told them what they were filled with. So now I'm known for her cookies, just like she is!! The other cookie I'm known for are cherry winks, which are also really good!! I know both of those are going to be as good as your book, and I'm looking forward to sitting down with a big plate of cookies and your book, for some serious reading!! Have a wonderful Christmas, and a Happy New Year!!
(Peggy Roberson 11:57am December 20, 2013)
Chocolate chip cookies may not be a Christmas type, but they are always a favorite among the members of my family.
(Anna Speed 12:10pm December 20, 2013)
My Christmas shopping this year is books. I have to have this one.
(Barbara Wells 12:30pm December 20, 2013)
I loved my mother's russian tea cookies!!
(Betty Hamilton 12:41pm December 20, 2013)
This book sounds like a warm cookie right out of the oven..very comfy. As for my favorite Christmas cookie, it's hard to say, but, I guess it's an Italian lemon cookie called Jeannettes. My sister I called the lights in the snow because when you sprinkle the colorful sprinkles on the wet glaze the color sort bleeds and they look like Christmas lights reflecting on snow.
(Vennie Martinisi 12:41pm December 20, 2013)
Homemade sugar cookies with sprinkles and almond cookies are my two favorites.
(Denise Austin 12:51pm December 20, 2013)
Merry Christmas to you and yours. Thanks for sharing your talent of writing with all of us.
(Stephanie Strausberger 1:13pm December 20, 2013)
Oh my goodness,I love that cover. That would have to be a terrific story to read with a cover like that.
Peanut butter kiss cookies are a huge favorite here. I am a terrible cookie maker. But I can guy the tube of cookie dough and bake those. They turn out fabulous.
Merry Christmas!
(Lisa Hutson 1:17pm December 20, 2013)
wow thank you for the chance! Who is your favorite author to read?
(Vickie Schultz 1:29pm December 20, 2013)
I don't do much baking any more, but my daughter is better than I was at baking. Your books sound wonderful, and since I originally was from PA, the location of your book appeals. Have a blessed Christmas and a prosperous 2014.
(Patricia Baldwin 1:59pm December 20, 2013)
I love peanut butter cookies all year round & for the holiday, if I can find those fancy Italian lace cookies, count me in.
(Susan Coster 2:05pm December 20, 2013)
Finally got our grandson settled down with his momma and baby-brother-to-be on the couch snuggling watching the Muppet Family Christmas. Whew! They wear me out ;)

Hi Betty - I don't think I've ever had strawberry thumbprints they sound delicious. PB ones are a big favorite here too ;)

Thanks, Bonnie. I loved writing this series and especially this book.

LOL Linda, you know firefighters don't get enough credit for what they do for a living. Hello...the walk toward the fire!

Hey, Kathy - I've yet to try snickerdoodles, they're on my list to try to make one of these days ;) Chocolate chips are always a favorite here.

That's another vote for chocolate chips, Judy. Hmmm...what are peanut butter balls? Have to look them up.

Hi Sharon, I'm glad you enjoyed the post. ;)

Hey Richard - Sugar cookies...it's what's for breakfast! Seriously I baked some the other day to take to a booksigning with gingerbreads and scones and only took half with me...my guys were delighted to find the cookies and the bowl of icing waiting for them the next morning. Goes great with coffee ;)

OMGOODNESS, Deanna!!! My daughter just heard me rhapsodizing over your idea of rolos (my fave) melting into the cookie dough in the mini muffin tin. Her words "GENIUS!" Not mean sarcastically at all--she's due in February and food is pretty much a focus these days ;)

Hi Maria - I've never had cinnamon pinwheels w cream cheese...another cookie to look up. ;)

Well, Theresa, it is a small world isn't it? Aiken, SC! Are you planning on going to the Sweet Tea and Chocolate Cake Book Club's Luncheon in the Fall? It's in Augusta, GA. I'll be there one of the authors hosting a table. Sugar cookies...great anytime of the day!

Hi Colleen - that's my name too ;) M&M's in cookies...another wonderfully yummy idea ;)
(C.H. Admirand 2:42pm December 20, 2013)
Hi Peggy - how wonderful that you're known for your mom's cookies, now too ;) I love prune danish and anything with cherries in it, so count me in for your mom's cookies and the cherry winks ;) I loved spending time in Apple Grove and am sad to say goodbye to the good people there.

Hey Anna - another vote for chocolate chips! Milk chocolate or semi-sweets?

LOL, Barbara for years, when our kids asked me, I always told them books for Christmas and birthdays. ;)

Waving to Betty! Ooooh Russian Tea Cakes sound yummy--must be tea time:0

Hey Vennie - OMGoodness, can I use your quote about my book being like a warm cookie out of the oven? Love it! I'd love to try the Jeannettes...I love lemon and Italian pastries and cookies are always delicious. How lovely that you and your sister called them lights in the snow ;)

Hey Denise - another vote for sugar cookies and almonds ones ;) Yummy!

You know, Stephanie, M&Ms are always a good choice in cookies or in your hand ;)

Hey Lisa, the cover is wonderful and I'm soooo happy that they finally found an F1 to put on the cover! PB kisses have always been a hit here, when our kids were little they used to eat the kisses off the cookies and leave the cookies for their daddy to eat:) That tube of cookies is always a good choice, we like to eat the dough right out of the tube ;)

Thanks, Patricia, I really loved writing this series and am having withdrawal now that it's over. We used to take rides in Lancaster County every summer when our grandparents came up from FLA to visit. We'd take them out to Shankweiler's Restaurant for lunch ;)

Hey Susan, another vote for PB cookies....I've never had Italian Lace cookies, yay another new cookie to find a recipe for. ;)
(C.H. Admirand 3:03pm December 20, 2013)
Chocolate chip without nuts, horseshoe, or nut tossies. The last 2 are the
ones my gram used to make every year.
(Michelle Schafer 3:13pm December 20, 2013)
We always make Peanut Bitter Blossoms (your PB Kiss cookies) and Pecan Tassies - basically little pecan pies made in the mini muffin tins.
(Marcy Shuler 3:37pm December 20, 2013)
Hey Michelle - lots of votes for chocolate chips ;) I'm definitely going to look up horseshoe and nut tossies ;) Yay Gram ;)
(C.H. Admirand 3:38pm December 20, 2013)
That's Peanut BUTTER Blossoms (above), not bitter. LOL
(Marcy Shuler 3:39pm December 20, 2013)
Wow, Congrats on your new book: WELCOME BACK TO APPLE GROVE.
I like the book cover too! I love sugar cookies with pretty
decorations during the holidays. Blonde Brownies are great
too! I would love to win and read your new book this
Christmas. Happy Holidays Everyone! Thank You very much.
Cecilia CECE
(Cecilia Dunbar Hernandez 3:54pm December 20, 2013)
My favorite cookie is chocolate chip. I'll take those any time, especially Christmas.
(Carol Woodruff 4:03pm December 20, 2013)
Hi Marcelyn - ahhh...lots of people use different names for the same deliciousness. Pecan Tassies are amazing! Love Pecans ;)

Thanks Cecilia. I've been waiting to write Patrick's story since the first book in the series when he was Honey B. Harrington's blind date ;) Yum another vote for sugar cookies. Blonde Brownies are a great choice too ;)

Yay, Carol, another vote for chocolate chips ;) You can't go wrong with ANYTHING that has chocolate in it...just sayin' ;)
(C.H. Admirand 4:56pm December 20, 2013)
If I have to choose my favorite cookie it would have to be chocolate chip, but will eat any put in front of me.
(Sheila True 4:57pm December 20, 2013)
I love your Apple Grove Series. Congrats on the new release!!
(Molly Wilsbacher 5:34pm December 20, 2013)
LOL, Sheila - OK...I confess, I'll eat just about any type of cookie...well except for ones with mint flavoring in them. I think chocolate chips have the most votes so far ;)

Thanks for loving Apple Grove, Molly ;)
(C.H. Admirand 5:42pm December 20, 2013)
A sexy firefighter---yes, I will read this book.
(Sue Farrell 5:52pm December 20, 2013)
I LOVE CHOCOLATE CHIP COOKIES!!!
I love the cover and cant wait to read!!
Merry Christmas!!!
(Jennifer Beck 5:56pm December 20, 2013)
Thanks, Sue ;) Firefighters are very sexy ;)

LOL, Jennifer...lots of votes for Chocolate Chips!
(C.H. Admirand 8:17pm December 20, 2013)
Russian Tea Balls are my favorite and easy to bake cookie. Oh, that just reminded me of my Easy Bake Oven Christmas present(about 50 years ago) Really enjoyed it and the easy cookie mixes!
(Shari Santella 9:46pm December 20, 2013)
I love too many of the cookies - a nice one for Christmas is
Thumbprint Cookies with Raspberry Jam.
(Diane Sallans 10:51pm December 20, 2013)
Just love swooning over firefighters. They are so sexy.
(Kai Wong 11:18pm December 20, 2013)
I love gingerbread cookies.
(Rita Wray 1:43pm December 21, 2013)
Love homemade cut-out frosted and decorated sugar cookies, date fingers, and pecan tassies (all so good), and of course, homemade fudge (chocolate and peanut butter). Thanks for the great giveaway and love the book cover!!!
(Linda Luinstra 5:52pm December 21, 2013)
I guess I'm pretty boring. I LOVE my chocolate chip walnut oatmeal cookies. I'll meander through a plate of fancy cookies, but given my choice, I'll eat one of those every time!
(Marcia Berbeza 8:29pm December 21, 2013)
Congrats on the publication of Welcome Back to Apple Grove! It sounds like a wonderful book. My favorite cookies are peanut butter blossoms and walnut chocolate chip.
(Bonnie H 8:59pm December 21, 2013)
I do love sugar cookies.
(Mary Preston 1:18am December 22, 2013)
Try the website www.cookiereceipe.com this has all kinds of
cookies and some that are just not your normal cookies that my
grandkids and I are going through and trying them slowly but
surely.
(Tina Ullrich 5:58pm December 29, 2013)
Thanks for the giveaway. I love baking, and my family looks forward to it every year.
(Shari Bartholomew 5:34pm December 31, 2013)
Registered users may leave comments.
Log in or register now!