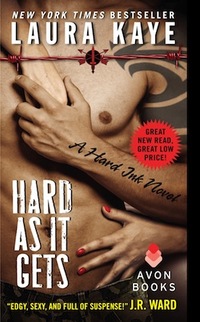 Purchase
Sometimes falling in love is as hard as it gets...
Hard Ink #1
Avon
December 2013
On Sale: November 26, 2013
Featuring: Becca Merritt; Nick Rixey
368 pages
ISBN: 0062267884
EAN: 9780062267887
Kindle: B00BATNM50
Mass Market Paperback / e-Book
Add to Wish List

Tall, dark, and lethal...
Trouble just walked into Nicholas Rixey's tattoo parlor. Becca Merritt is warm, sexy, wholesome–pure temptation to a very jaded Nick. He's left his military life behind to become co–owner of Hard Ink Tattoo, but Becca is his ex–commander's daughter. Loyalty won't let him turn her away. Lust has plenty to do with it too.
With her brother presumed kidnapped, Becca needs Nick. She just wasn't expecting to want him so much. As their investigation turns into all–out war with an organized crime ring, only Nick can protect her. And only Becca can heal the scars no one else sees.
Desire is the easy part. Love is as hard as it gets. Good thing Nick is always up for a challenge...
Videos
Hard Ink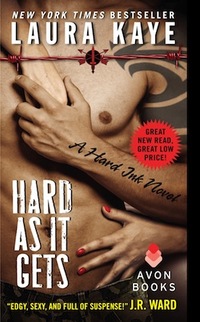 Hard As It Gets
#1.0
Amazon.com | BN.com | | |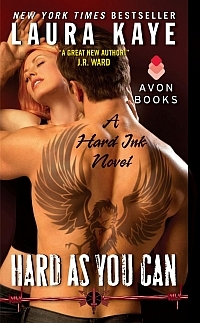 As Hard As You Can
#2.0
Amazon.com | BN.com | | |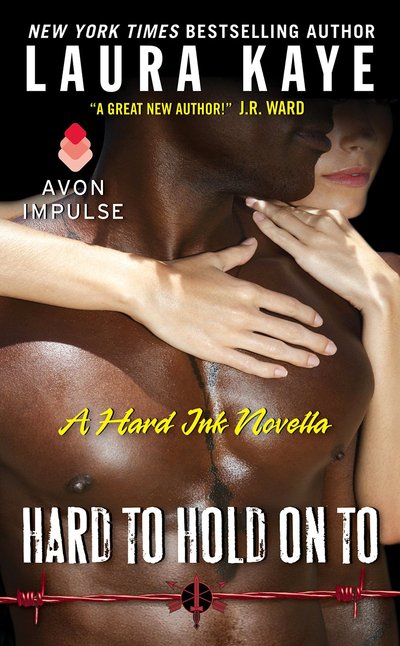 Hard to Hold On To
#2.5
Kindle | BN.com | | |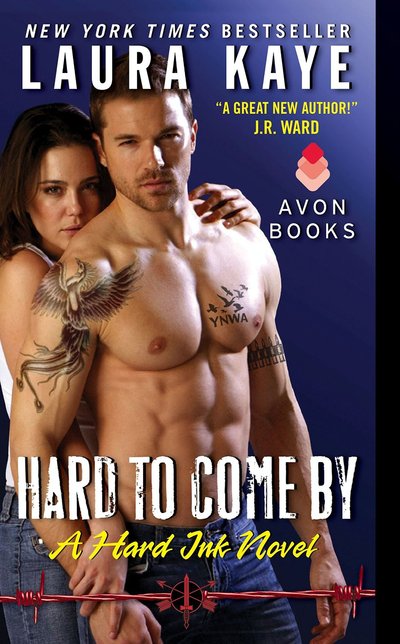 Hard to Come By
#3.0
Amazon.com | BN.com | | |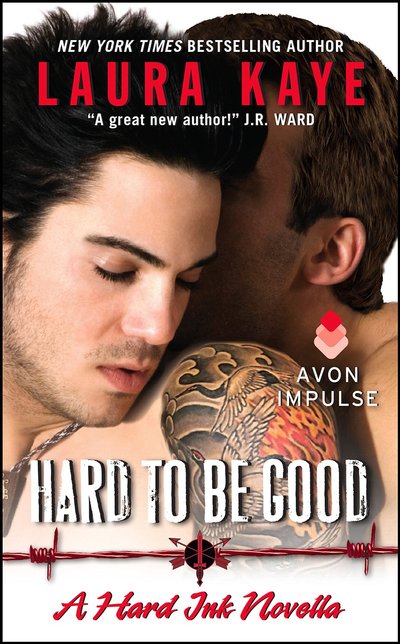 Hard To Be Good
#3.5
Amazon.com | BN.com | | |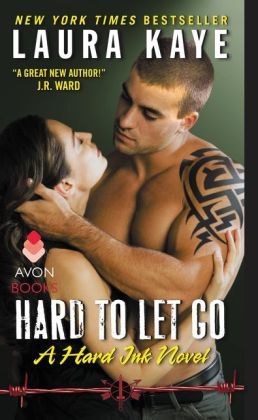 Hard to Let Go
#4.0
Amazon.com | BN.com | | |
Comments
44 comments posted.
Re: Hard As It Gets

sounds really good i cant wait to read this thanks so much
(Denise Smith 12:09pm November 25, 2013)
sounds like a mission I would like to undertake, read the book without putting it down, enjoy a cup of tea!
(Darci Paice 1:47am November 25, 2013)
I love that animals have become more prominent in romance.
(Heather Coulter 8:43am November 25, 2013)
Loved this book. Laura has managed to write realistic characters and a
female lead that I adore. I really enjoyed the comic relief the pup brought to
this story and I'm anxious to get my hands on the next installment.
(Kirsten Papajik 8:51am November 25, 2013)
I think my favorite would be Kevin from Jill Shalvis' Always on my Mind. He is a funny great dane.
(Sue Galuska 8:53am November 25, 2013)
To be honest my favorite animal is the Dust Bunnies that appear in Jayne Castle(Jayne Ann Krentz) They are the most memorable for me and I love them.
(Patricia Arnold 9:00am November 25, 2013)
I've read all of Janet Evanovichs' books, and her one love interest, Morelli, has a dog, but its' name escapes me at the moment. She also has her own pet. i agree that animals add so much to a book. They add warmth, and tenderness, joy, and yes, also laughs to a book when warranted. In a lot of cases, if I'm not familiar with an Author, but I see that there's going to be an animal as part of the plot of the book, due to the case that there's one on the cover, I'll be prone to get the book!! I'm looking forward to reading yours. It sounds like a really good plot, and I'm glad that you put an animal that "is special" in your book, because they need love, too!! Congratulations on your book, and have a wonderful Thanksgiving!!
(Peggy Roberson 9:30am November 25, 2013)
I'd love to tread this book...Peggy Roberson...his name is "Bob"! I, too, love Janet Evanovich and have all her books too. She is too funny!!!
(Bonnie Capuano 9:36am November 25, 2013)
________________________________________________
Thanks for all the great comments everyone!

@Denise - yay! Thank you!

@Darci - LOL! Love that!

@Heather - I know, right?

@Kirsten - Aw, yayayay! Thanks so much!

@Sue - Yes, Jill has a lot of great animal characters,
doens't she?

@Patricia - LOL! Love that!

@Peggy - Aw, I love your thoughts on that, Peggy!

@Bonnie - Bob is a hilarious name for a dog! :)

Good luck everyone!
________________________________________________
(Laura Kaye 9:55am November 25, 2013)
Sounds like a terrific novel. Great idea! Want to read!
(D'Arcy Oonagh 10:21am November 25, 2013)
I would love to read this book....and I love puppies...can give them a good home!
(C Culp 10:40am November 25, 2013)
Thank you for this great information. One question though, do you have a list of links to genuine and reliable websites that offer masters dissertation writing services at fair prices? Some of us who have never used these services before would like tips on where to begin the search, thanks.
(Umair Nazaqat 10:41am November 25, 2013)
I actually can't think of a favorite pet character off hand.
And yet for the reasons you list, I feel they are wonderful.
(G. Bisbjerg 10:56am November 25, 2013)
I don't have a favorite but I enjoy books that have feature animals.
(Sandy Giden 11:33am November 25, 2013)
I have just finished trouble by Samantha Towle and their dog Dozer is an amazing animal! I love pets in books, they are a great addition to the books and help the characters evolve. I love your books Laura and your new site hardinkpuppy. I really really want to win the puppy!!!thanks
(Elena k 11:36am November 25, 2013)
I love my dog but can't think of any series I read reg that have them.
Hmmm. Never thought if it b4.
(Vicki Hancock 11:46am November 25, 2013)
Puppies are wonderful little beings. My favorite is The dog in Jean Mckinly's library series. I wish I could remember his name, but, I think I'm having a senior moment! :(
(Vennie Martinisi 11:50am November 25, 2013)
I love furry characters. Kristan Higgins always includes at least one in her books and they add so much to the story. Your reasons for including one are great.
(Toni Linenberger 12:08pm November 25, 2013)
I love Robin Owens' Heart series and Rita Mae Brown mysteries.
The animals in both series play important and fun roles in
every book!
(Wasanaa Smith 12:20pm November 25, 2013)
I have read quite a few books with animals in them... they bring so much more to a story... specific titles are not coming to mind, but some I have enjoyed were written by Nora Roberts, Kristan Higgins, Christina Skye, etc.
(Colleen Conklin 12:40pm November 25, 2013)
I would love to read this book
(Tina Lechuga 12:53pm November 25, 2013)
I can't think of any books with an animal character..but enter me anyways....
(Susan Coster 2:16pm November 25, 2013)
The Familiar ones from Silhouette or Harlequin (been a bit since I read
one! Lol)
(Michelle Schafer 2:20pm November 25, 2013)
_______________________________________________
@D'Arcy - Thank you!

@Carletta - aw, I love that!

@G. - awesome!

@Sandy - that's good to hear! :)

@Elena - aw, I'm so glad you like that! Thanks for the book
love!

@Vicki - LOL!

@Vennie - Aren't they? THanks!

@Toni - Yes, Kristan has lots of great animals! Thanks!

@Wasanaa - Thanks for the recs!

@Colleen - don't they?

@Tina - thanks!

@Susan - LOL! I will! ;)

@Michelle - Will take a look!

Thanks for all the comments everyone! Good luck!
___________________________________________________
(Laura Kaye 2:43pm November 25, 2013)
I love Jill Shalvis's Animal Magnitism series because it's loaded with quirky animals.

Kristan Higgins' book, Just One of the Guys, also has a dog that just cracked me up. It was in heat and the hero put underwear on her before she escaped to run rampant down the main street of the town. LOL Many of her books contain animals.
(Marcy Shuler 4:07pm November 25, 2013)
My favorite romance novel with an animal character would be the dod Danny in "Promises Previal" by Sarah McCarty. He is sensitive and protective of the heroine, and right away you learn that he nearly died beside her in a fire. Got to love such devotion.
(Stephanie Lutz 5:27pm November 25, 2013)
Any of the dogs in If You Were Mine by Bella Andre!
(Vickie Schultz 5:36pm November 25, 2013)
Living with four dogs, I enjoy reading any romance novel with animals.
(Sheila True 6:01pm November 25, 2013)
I love any story with dogs or puppies. I lost my cute small dog of nearly 16 yrs. a couple years ago, so I now have to substitute the stuffed plush ones. I read a lot of romances but cannot recall any one in particular with an animal character. Would love to read yours which sounds great!
(Linda Luinstra 6:59pm November 25, 2013)
Sandra Hill's whales in some of her viking books are pretty funny.
(Laura Gullickson 8:45pm November 25, 2013)
I haven't read a romance with an animal in it but would love to. Keeping my
fingers crossed for the win!
(Melanie Backus 10:22pm November 25, 2013)
Sounds very interesting. Would love to win your book.
(Yaritza Santana 11:07pm November 25, 2013)
I love Kristen Higgins' books and Jill Shalvis' books. They have animals in the story and I also love their humor in the stories.
(Kai Wong 12:07pm November 26, 2013)
Kristan Higgins always puts animals in her contem. romances; they are usually featured on the book covers, too. I love her books.
(G S Moch 9:00am November 26, 2013)
I'm reading a PNR right now, and the animals in it are a
little more...personable than in real life for one character.
She senses emotions, which crosses over to animals. That's as
best I can come up with right now, still sleepy :-P
(Sarah Miles 11:01am November 26, 2013)
I love animals in stories, my absolute favorite is Lisa Kleypas' Love in the Afternoon. Beatrix has a menagerie of animals in her care, but my favorite one is Dodger the ferret.
(Anita H 3:05pm November 26, 2013)
Aside from Paranormal Shifter stories, which I love, Heather Long wrote a novella entitled "What Part of Marine Don't You Understand?" featuring Jethro a PTSD service dog. It struck VERY close to home, as my Hubby suffers from PTSD and is happiest when he is around our dogs, or the dogs at his doggie day care.

Animals humanized even the most hardened characters and we are able to see their loving, caring sides.
(Michelle Mazuros 3:25pm November 26, 2013)
Can't go wrong with any of the books in Jill Shalvis' Animal
Magnetism series. Plenty of animals in her stories and on the
covers too!
(Ada H. 4:08pm November 26, 2013)
How cute!! I would love to get one of the HARD AS IT GETS puppies. I
have five dogs, so you know where my heart is in terms of stuffed animals
:)
(Sasha H 8:04pm November 26, 2013)
I love Janet Evanovich's Plum novels. The pets are so funny. :)
(May Pau 8:50pm November 26, 2013)
Love Morelli's dog Bob in the Stephanie Plum books.
(Mary C 10:54pm November 26, 2013)
I would LOVE to win!!
always been partial to dogs
but now I have a kitten that wandered into my life Ravyn
(Pamela Faye Howell 9:37am November 27, 2013)
I can't go past Kristen Higgins' books for animals to love.
(Mary Preston 7:46am November 30, 2013)
Jill Shalvis has a terrific series called Animal Magnetism that's kind of centered around animals. I love it!
(Karen Johnston 9:57am December 2, 2013)
Registered users may leave comments.
Log in or register now!