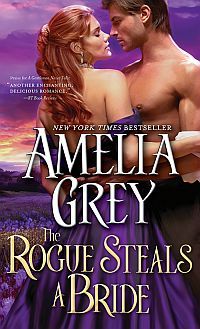 Purchase
The Rogue Steals A Bride
Amelia Grey
Rogues' Dynasty
Sourcebooks Casablanca
July 2013
On Sale: July 1, 2013
Featuring: Sophia Hart; Matson Brentwood
352 pages
ISBN: 1402239777
EAN: 9781402239779
Kindle: B00BTMLKPW
Paperback / e-Book
Add to Wish List

Matson Brentwood has finally met the woman of his dreams. The lovely, red-haired Sophia Hart heats his blood like no other lady. There's just one problem—she is the ward of the man he's sworn to hate.
Newly arrived in London, Miss Sophia Hart is looking for a husband-for herself and for her spinster aunt who has decided she wants a man. When her search lands her in front of Matson Brentwood she wants nothing more than to give in to his maddening charms. But she must deny her love for him and pay her debt to her father for costing him the love of his life. Was their love doomed from the start, or can Sophia and Matson find a way to be together?
Rogues' Dynasty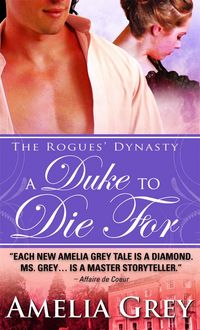 A Duke To Die For
#1.0
Amazon.com | BN.com | | |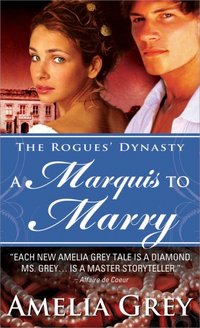 A Marquis To Marry
#2.0
Amazon.com | BN.com | | |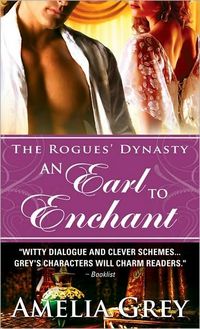 An Earl to Enchant
#3.0
Amazon.com | BN.com | | |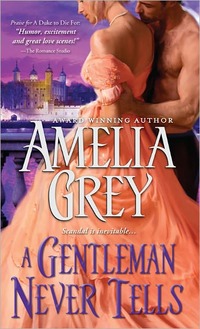 A Gentleman Never Tells
#4.0
Amazon.com | BN.com | | |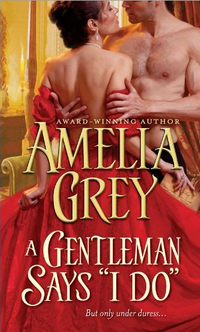 A Gentleman Says "I Do"
#5.0
Amazon.com | BN.com | | |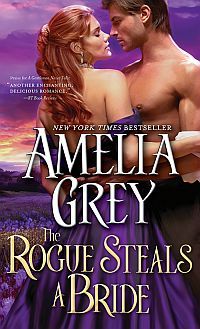 The Rogue Steals A Bride
#6.0
Amazon.com | BN.com | | |
Comments
24 comments posted.
Good morning,
Thank you for having me at Fresh Fiction today. I'll be checking in so if you have comments or questions just let me know.
Amelia
(Amelia Grey 10:13am July 11, 2013)
I love Regency romances, too. I read your lovely comments about why you
love Regency, and it was like you got inside my head! Your book sounds
wonderful! Congratulations and thanks for the giveaway!!!
(Linda Brennan 11:46am July 11, 2013)
Sounds great can't wait to read it. What a Lovely cover
(Alisha Woods 12:11pm July 11, 2013)
Love regency romance too! I love the balls and dresses... proms are just NOT the same!
(May Pau 12:22pm July 11, 2013)
Hi Linda, so glad you liked the post!
Alisha, alas they have the wrong cover up. My publisher changed it at the last minute and unfortunately we didn't get the new one to Fresh Fiction. Visit me on Facebook or my website to see the new cover.
May,I agree with you!
Thanks for commenting!
Amelia
(Amelia Grey 1:09pm July 11, 2013)
Historicals made me fall in love with reading... yours sounds like my kind of read!
(Colleen Conklin 1:10pm July 11, 2013)
I love regency romances also,book sounds great.Id love to be
able to go back to this time for a day and go to a big ball.
(Raeline Peterson 1:18pm July 11, 2013)
I don't read a lot of historicals (too long; I don't want to read past midnight), but I DID read AN EARL TO ENCHANT and just loved it! I enjoyed your witty dialogue tremendously (always a winner "in my book", LOL), liked the mystery of her father's murder woven through the romance, melted with the tenderness between the H/h, and just had to finish the book the same day I started it. Thank you for that!
That being said, so to speak, I'd love to read Matson and Sophia's love story. Is there witty dialogue there too? Sure hope so!
(Elaine Seymour 3:04pm July 11, 2013)
Hi Colleen, I love historicals too--any time period.
Hi Raeline, If you find a way to go back to a Regency ball let me know because I want to go too!
Hi Elaine, thank you for the lovely comments about An Earl To Enchant. And yes you will find witty dialogue in all my books. I have twin spinster aunts in The Rogue Steals A Bride so I had a lot of fun with them as well as Sophia and Matson. I think I'm noted for humorous dialogue. I certainly work hard to make it so. I hope you'll read it and email me and let me know if it measures up to An Earl To Enchant.
Amelia
(Amelia Grey 3:10pm July 11, 2013)
I am looking forward to reading this final book in the
series. I have read the other five and absolutely loved
them. It's been a long wait for Matson's story because I
didn't discover your books until last summer and the other
five were all out, so I was able to read them in in quick
succession. I am rereading the last two in this series just
to get me back in the Brentwood Twins frame of mind. I love
books with twins in them because I am the mother of
identical twin boys. Thank you for the contest.
(Sarah Rosenbarker 4:25pm July 11, 2013)
Hi L Lam, good to hear that you like historicals.

Sarah, thank you for letting me know you loved the series. I think Matson finally met his match. I hope you agree.
Amelia
(Amelia Grey 6:22pm July 11, 2013)
Would love to read this book, this sounds interesting.
(Deb Pelletier 7:05pm July 11, 2013)
Amelia, the book sounds great. I too love everything British because i
lived there when i was 8 years old. I love British history and historical
romance fiction books. Hope i win a copy of the book. Thanks for the
giveaway.
(Sarah Bauman 8:22pm July 11, 2013)
I've enjoyed your other books. I make sure our library branch gets them in!
(Laura Gullickson 10:06pm July 11, 2013)
I've actually never read too many Regency romance. I think the closest I've gotten to the genre is Pride and Prejudice. It is one of my absolute favorites but I just haven't managed to pick up any other real romance novels. Perhaps I'll get lucky and yours will be the first I read. =)
(Samantha King 10:38pm July 11, 2013)
Wow, I love your book cover: THE ROGUE STEALS A BRIDE and
your book sounds very fascinating and I would love to win it
and read it this summer. Thank You very much. Cecilia CECE
(Cecilia Dunbar Hernandez 11:52pm July 11, 2013)
I have read several Regency romances in the past and have enjoyed them very much. Your The Rogue Steals A Bride book sounds very interesting and exciting page turner. I look forward to reading it soon. Thank you for the chance to win it.
(Esther Somorai 11:56pm July 11, 2013)
I also love Regency Romances. Your book sounds like a great read.
(Carol Woodruff 4:17pm July 12, 2013)
oops fixed the article, sorry y'all
(Sara Reyes 5:45pm July 12, 2013)
Historical romance takes a lot of research to keep the details
accurate. I love romances no matter what the setting or
century.
(Alyson Widen 6:24pm July 12, 2013)
I love reading a good Regency romance. There's just something about that time period - the balls, the beautiful gowns and dapper gentlemen. It's all very romantic!
(Anita H 3:13am July 13, 2013)
I do so enjoy the British as well. Sometimes things just
sounds that much better with a British accent! LOL :)
(Ada H. 4:38am July 13, 2013)
I love Historical romances and this series sounds great.
(Marcy Shuler 3:15pm July 13, 2013)
I started reading Regency romances so that's probably why I
love them so much! I've now expanded into the Victorian
period, Georgian, Medieval, etc, but still love Regencies the
best!
(Sharyn Lewis 8:04pm July 13, 2013)
Registered users may leave comments.
Log in or register now!