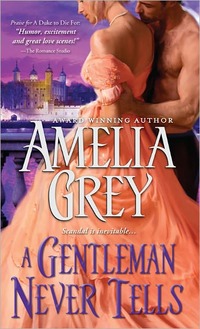 Purchase
A Gentleman Never Tells
Amelia Grey
Scandal is inevitable ...
Rogues' Dynasty
Sourcebooks
July 2011
On Sale: July 1, 2011
Featuring: Viscount Brentwood; Lady Gabrielle
384 pages
ISBN: 1402239750
EAN: 9781402239755
Kindle: B00514OWVI
Paperback / e-Book
Add to Wish List

Other Editions
Mass Market Paperback (reprint - June 2021)
A stolen kiss from a stranger...
As if from a dream, Lady Gabrielle walked from the mist and into Viscount Brentwood's arms. Within moments, he's embroiled in more scandal than he ever thought possible...
Can sink even a perfect gentleman...
Beautiful, clever, and courageous, Lady Gabrielle needs Brent's help to get out of a seriously bad situation. But the more she gets to know him, the worse she feels about ruining his life...
Enter the unforgettable world of Amelia Grey's sparkling Regency London, where a single encounter may have devastating consequences for a gentleman and a lady...
Rogues' Dynasty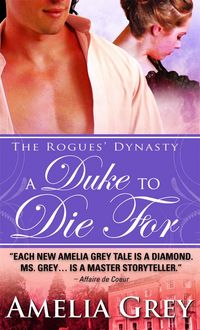 A Duke To Die For
#1.0
Amazon.com | BN.com | | |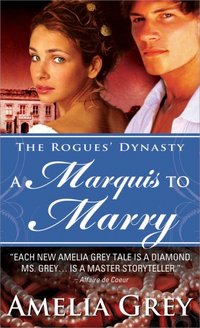 A Marquis To Marry
#2.0
Amazon.com | BN.com | | |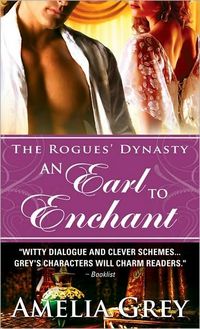 An Earl to Enchant
#3.0
Amazon.com | BN.com | | |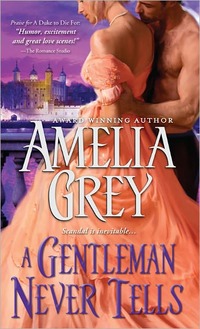 A Gentleman Never Tells
#4.0
Amazon.com | BN.com | | |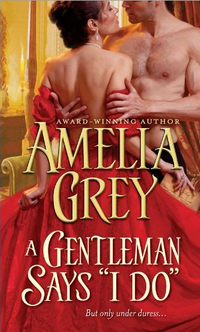 A Gentleman Says "I Do"
#5.0
Amazon.com | BN.com | | |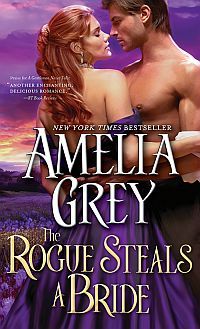 The Rogue Steals A Bride
#6.0
Amazon.com | BN.com | | |
Comments
61 comments posted.
Love, love, love the London royalty romances. A gentleman and a lover. What a combo. I want to read this book tonight!
(Constance Biller 7:25pm July 19, 2011)
Love this, I want more!

Thanks,
Patti
(Patti Paonessa 11:15am July 23, 2011)
I've seen a few typing errors and sometimes it takes some sorting out. But the ones that annoy me are when the picture of hero or heroine on the cover do not match their descriptions in the book - such a shame.
Love the idea of this book, it sounds a keeper!
(Barbara Hanson 3:03pm July 24, 2011)
I have run across a couple of books where the couple
pictured on the cover just do not match the ages and experience described in the story. It's usually the
male who looks so much younger than the female! Makes
it appear that there is a "cougar" in the story!
(Patricia Cochran 12:17pm July 25, 2011)
The typos are one thing to find, to err is
human..looking for what seemed like a whole
scene missing..editor/printers error. I have also
come across pages where the ink faded into
nothing or pages were bond so words were
somewhere in the glue or cut. Oh, as for
pictures..well, never buy a book for its cover. I
just chalk it up afterall I make mistakes too.
(Carla Carlson 1:39am July 25, 2011)
I really enjoyed this post. I have come across bloopers (these are the funnest) and typos in my reading. Usually it's grammatical errors which I don't rally mind and often overlook. Too much and it can be idstracting but thankfully have never come across a book where that was the case. Rarely do I come across bloopers thoug hand they do make me laugh. Although, right now I can't really any specifics from book. I think that's a good thing, I come across bloopers/errors laugh in the moment and move on. It's not a big deal to me where the story as a whole is.
(Na S 1:53am July 25, 2011)
*Sigh* I should have done an edit of this post before pressing the enter key. It makes me cringe seeing some of the errors especially considering the topic! See, that's my point everyone makes mistakes and I don't expect the author to be perfect. I do appreciate a fabulous story which will overshadow any bloopers. In fact if the bloopers make me laugh I'll appreciate it all the more.
(Na S 1:57am July 25, 2011)
Hmm... I can't think of anything major... I have seen the odd spelling errors or covers where they don't match the description of the couple... That's about it.
(May Pau 7:37am July 25, 2011)
Hi Amelia,

A Gentleman Never Tells ..I want to know how Gabrielle is going to ruin Brent's life...NOW! I love teasers.

Book

I've read a couple of books where characters names change. Once it was the heroine's name. This was a little confusing.

Another time, the book was set in Paris and they had the Sydney Opera House pictured on the cover.

Occasionally, you'll read a book where an appliance, electricity, airplane, an automobile wasn't invented yet, yet the characters are using them.

The worst faux pax is when the author doesn't research the topic or area where the story takes place.

Thanks for the chance to win A Gentleman Never Tells.
(Laurie Gommermann 7:59am July 25, 2011)
I have had a few books that have had misspelled words and one book that had 6 pages added that were duplicate pages. Thanks for sharing today!
(Dawn Staniszeski 8:45am July 25, 2011)
Love regencies and winning books. Re typos in books, check out ebooks. So many spelling errors. But maybe they want to see if we're paying attention.
(Darla Zimmer 9:12am July 25, 2011)
This book looks like a great read- thanks for the chance to win! :)
(Debbie Burdeen 9:35am July 25, 2011)
In the very first book of the Cynster series, the twins have red-brown hair (chestnut ringlets) but become blonds for all the subsequent books. Most errors that I see now are word mistakes (like "their" for "there") and grammar ("its" vs "it's"). There are some errors that should have been caught by spellcheck in some electronic books. Some electronic books also word splits (e.g. spl its).
(Carol Drummond 10:21am July 25, 2011)
It is so true about typos in e-books.. I am one of those people who spot typos almost automatically and I always say to myself "ha! Found another one" Don't these publishing companies have a computer with spell-check? Anyway, thank you for the opportunity to win a copy of "A Gentleman Never Tells"
(Cara Loiselle 11:02am July 25, 2011)
Good morning everyone! Sorry I'm late saying hello, but for some reason my password wouldn't let me in but better late than never!

Constance, not only a gentleman and a lover but dog lovers, too! I hope you enjoy it.

Patti, I hope you love it!

Barbara, believe it or not we authors are constanly having to tell the art department that the hair color isn't right. sometimes they listen to us and sometimes they don't. We do try to make everything just right.

Too funny, Patricia! Most of my books recently have had the heads cut off so you can't see the hero and heroine. Does this bother you? I've even asked the art department to please show all their faces but I don't have much clout. :-)

Carla, you've got the right outlook.

Isn't it too funny that we ALL make mistakes. Yes, the kind of bloopers I was writing about are usually caught at the revision, copy-editing, or the page proof stage and never make it to print. Typos are harder to catch.

May Pau, thank goodness you don't see too many! We do try hard.

Laurie, you are so right about the covers. And often in Regency covers they will put the unwed heroine in a dark purple or red or other colors and usually they would only wear very pale shades. But I know they put the richly colored dresses on to catch the readers eye so we authors usually let it pass.

Hi Dawn, and yes, I've seen those kinds of errors in finished books too. That is the printer's fault--not the authors.

Darla, you could be on to something there.

Debbie, I hope you enjoy it!

You know, Carol, I don't have an ebook of any kind but I know there are errors to go around in paper books so I can only assume there are plenty in e-books as well.

I'll check back after lunch today, ladies so keep the comments coming!
Amelia
(Amelia Grey 11:14am July 25, 2011)
I went to a romance writers book signing and they talked about a cover that got away before printing. There was something about the hands being too many or in the wrong place. It was pretty funny.
(Alyson Widen 12:06pm July 25, 2011)
Well, the funniest thing I can think of it a book I read, an eBook given away so people could comment on her writing and her is going to remain anonymous. I read about 1/2 way and all of the sudden there was another woman's name, not the main characters. It had already been checked over by the editor, and was available for purchase on Amazon.com and no one even noticed. She had accidentally changed the heroine's name at one point in the book. I emailed her thinking I had lost my mind. After I brought it to her attention, she in fact had put in the wrong name. She couldn't believe it had gone thru all those avenues and no one else that had ever read it noticed. She had to go in and change it. But in her defense, I am anal about errors in books. I always think, wow, I could have done proof reading better than that, lol. I am bad. I notice everything.
(Vicki Hancock 12:11pm July 25, 2011)
I love the book title---A GENTLEMAN NEVER TELLS! Yes I have seen typo's in books but I've seen more cases where the wrong word was used rather than a word misspelled
(Shirley Younger 12:13pm July 25, 2011)
A long time ago, I read two different books by the same author that had the exact same paragraph in them. I was reading one and it sounded so familiar that I looked in the other book and there it was. It discouraged me from reading any more of that author's books due to the similarities. A Gentleman Never Tells sounds really intriguing!
(Jody Hollenbeck 12:49pm July 25, 2011)
One series goes on and on but the year never changes. This bugs me.
Blessings,
Marjorie
(Marjorie Carmony 12:51pm July 25, 2011)
Hi Amelia and welcome! You are a new author for me and I loved your blog about bloopers. A GENTLEMAN NEVER TELLS sounds delicious and a must read. I was a secretary for many years and had to proofread my own letters, so not many misspelled words get by me. I agree with the others about bloopers in books/ebooks. I have seen them on covers where the hair colors don't match, misspelled words, paragraphs repeated, hero/heroine name changed, and paragraphs or sentences not finished.
(Cathy Phillips 1:00pm July 25, 2011)
I CAN'T THINK OF A BOOK BLOOPER OFFHAND, BUT I KNOW I WOULD LOVE THIS BOOK...I AM IN IT TO WIN IT!
(Silvana Moscato 1:02pm July 25, 2011)
I love books from this time in history, so much going on among the gentry!
(Joyce Bruner 1:16pm July 25, 2011)
Alyson, Oh my. That would make an author cringe!

Vicki, we do sometimes change names after the book is done. I've done that, but I always use the global search and replace. But I'll be more careful because even a computer can miss something.

Shirley, I'm sure that happens more times than we'd like to admit.

Jody, this is surprising unless the author was describing a character or even or something from a previous book. In A Gentleman Never Tells Sir Randoph Gibson, or Gibby, has been in the 3 previous books so I try to describe him the same way so I WON'T make the mistake of giving traits in one book that he didn't have in the previous ones.

Marjorie, you don't have to worry about that in my Rogue's Dynasty Series. The book before A Gentleman Never Tells ends early winter and AGNT picks up in early spring.

Cathy, you are so right.

Silvana, Good luck! Thankfully, I don't have to pick the winner!

I hope you'll give my book a try, Joyce!
Amelia
(Amelia Grey 2:11pm July 25, 2011)
I have often found bloopers in novels but they are usually small and easy to miss even with spell check. I hate to find bloopers in my text books. I feel that these shoud be checked very carefully and there should be no excuse for some of these mistakes.
(Kathleen Yohanna 2:12pm July 25, 2011)
I have seen some spelling bloopers, but I find it weird when they have the wrong character's name listed... say the heroine is talking about her sister and you read it and it has the heroine's name listed instead of the sister's... also descriptions of characters do not match the cover...
(Colleen Conklin 2:13pm July 25, 2011)
Quite a few books I've read have spelling errors but what really irritates me is misusage of words. One example I've seen quite a few times is "phase" and "faze" improperly used. Sometimes newer authors (especially in e-books) use descriptive words that really don't make sense.
(Joan OToole 2:25pm July 25, 2011)
I usually spot spelling bloopers pretty fast, most are easily missed. Thank you for the chance to win.
(Sheila Smith 2:25pm July 25, 2011)
I'm sure I've been caught doing many things I shouldn't but nothing really
comes to mind at this point. I just want to tell you, Amelia, how much I enjoy
reading your books. They all have a wonderful plot and great characters. I
look forward to reading your new book and...down the road...even more that
you write. Thank you for providing your fans with great reading pleasure.
Connie Fischer
conniecape@aol.com
(Connie Fischer 2:51pm July 25, 2011)
Sorry to say that I've never read your books and Historical ROmance is my fav of all genres......but what does make me frustrated in many books I read, are the mispelling of words, especially when there are many........yrs ago I had worked for a local newspaper and catching errors wasn't fun.lolol
(Joanne Bozik 3:12pm July 25, 2011)
I often find typo errors in books but I don't pay a lot of attention to them, that happens and I understant how. I have never really found anything to throw the book way off though. I really enjoy reading your books so I would love to read this one.
(Gail Hurt 3:35pm July 25, 2011)
They may have been embarrassing for you, but the description of your previous mistakes gave me a good laugh. I know I've seen a few minor errors in books but nothing major. It's good to know I'm not the only one who makes mistakes.
(Anna Speed 3:47pm July 25, 2011)
A reminder: Spell-check doesn't correct incorrect words (there for their), it just makes sure they are spelled correctly.

The cover with the extra hand is from one of Gwen Cready's books, I believe, and she found it funny after the fact. It has been corrected, however.

My favourite blooper was mentioned in another book group I belong to:

The heroine had just sneezed, and the hero "Pulled a handkerchief from his nose, and handed it to her." Yup, you read that correctly. From his nose. We all lost it for a while with that one!!

Personally, as a professional copy editor/proofreader, I find that I literally have to consciously turn off part of my brain to be able to read for fun. Luckily, I'm good at doing that!

Later,

Lynn
(Lynn Rettig 4:33pm July 25, 2011)
I have seen some errors that are humorous and at the same time I have had to reread a line two-three times to make sense of what I am reading. I also understand that when you are writing a book of such length things happen.
A Gentleman Never Tells sounds like a wonderful read. Thank you for sharing the the synopsis.
(Cindy Olp 4:55pm July 25, 2011)
I adore historical romance...
Many thanks, Cindi
jchoppes[at]hotmail[dot]com
(Cindi Hoppes 5:04pm July 25, 2011)
Spelling mistakes are terrible to come across. I read a book once where the pages were out of sequence. I took the book back to the book store. I don't know if anything ever happened to rectify it after that.
(Mary Preston 5:14pm July 25, 2011)
LOL love historicals ...

but the mistakes ive noted in books is : (paperback) is usually spelling or missed letters in a word
and (ebook) : alot have THIS IN THE FIRST FEW LINES -- AND ITS YELLING , or spelling - missed letters - or a few have had _ lines between words lol
(Rachael Kennedy 5:21pm July 25, 2011)
Hostoricas areone of my fav's and your sounds good, I'll have to give it a try
(Vickie Hightower 5:28pm July 25, 2011)

(Amelia Grey 5:43pm July 25, 2011)
You threw me for a loop with this question!! I can't say that I've found any mistakes while reading any books. I would have to say that the reason for this would be two-fold - either it's good proofreading, or I was so caught up in the storyline, that I didn't even pay attention to any typos, or glossed over them!! I would love to read your book, however. It sounds like it would be a wonderful read. It's a beautiful cover, and I'm sure the story will be just as good!! Congratulations!!
(Peggy Roberson 5:47pm July 25, 2011)
Kathleen,
I agree. That's why we have the revision stage, copy-edits stage, and page proofs stage before it goes to print. And still errors are missed!

Colleen, I'm with you on that.

Joan, I'm sure they would be embarrassed to know they had made such a mistake!

Sheila, good luck!

Connie, your words are music to my ears!

Joanne, when you are dealing with about 90,000 words some just slip by! :-)

Gail, more music to my ears!

Anna, yes, my bloopers were caught by my editor at the revision stage.

Lynn, I think that story tops mine! I laughed out loud!

Hi Cindy, good luck!

And another Cindi, good luck!

Mary, if the blooper was big enough they probably corrected it for future prints but probably didn't pull the book.

Rachael, I must get an e-reader! I don't have one.

Vickie, I hope you do and good luck on winning a copy!
Amelia
(Amelia Grey 5:53pm July 25, 2011)
I think the strangest thing I have seen is the book published backwards. Chapter 1 should have been chapter 10. Chapter 2 should have been chapter 9. etc. How it got published that way, I will never know. I realized after a few chapters that they were actually in reverse order. The problem was I HATE READING THE ENDING FIRST!! I am a chronological order nut. I hated that book for that reason.
(Renee Brown 5:59pm July 25, 2011)
I constantly spot errors in books I'm reading. When I write sometimes though, my brain fixes my errors so I often miss them...weird how that works. Sounds like a really good read. Historicals were my first love & I find myself drifting back to them.
(Ivy Truitt 6:07pm July 25, 2011)
hi well i am beta reader and then i read a book and then the author did not tell me what the chapter were o i figured it out and then did revison for her and it was fun the book you have the cover is great and the dress is pretty
(Desiree Reilly 6:29pm July 25, 2011)
Certainly sounds like the type of story I could immerse myself
in and get "lost"!
(Leanna Morris 6:59pm July 25, 2011)
Ditto to what Barbara said above about the cover pictures - particularly if they don't even have the right color hair. I know I've seen errors, but sometimes I think I read past them, pause & back up to re-read. Long ago I guess authors could blame the typesetters, but these days I guess it goes right from the authors computer?
(Diane Sallans 7:04pm July 25, 2011)
The only error is when the cover doesn't match the character.
(Deb Pelletier 8:13pm July 25, 2011)
I think the funniest blooper was in a romance novel where the woman said she was going to run away with her liver! I'm sure she meant lover. Gave me a good laugh. Bloopers should be laughed at as many are very funny. Thanks for your books!
(Constance Biller 8:30pm July 25, 2011)
I see bloopers where characters get switched by name and not just he/she.
(Lisa Kendall 9:43pm July 25, 2011)
I've seen a few typos here and there, but never like when I read an e-book. It's like it wasn't edited at all or even spell-check run.
(Molly Wilsbacher 10:22pm July 25, 2011)
The only major error that come to my mind is when an author was writing about
two sisters who looked nothing alike and acted nothing alike kept reversing their
names many times through the book. I love your books and am always looking
for new ones--great to hear there is one now.
(Sandra Spilecki 10:25pm July 25, 2011)
Well, what mistakes get me is when they have a bunch of Typos and writing errors that were not proofread. That gets me since I used to be an English Proofreader for Book Authors. Spelling and English mistakes make an Author look bad and uneducated somewhat. Thank YOU and Please enter me in your great Contest too. The Book sounds fantastic. Thanks, Cecilia
(Cecilia Dunbar Hernandez 10:34pm July 25, 2011)
I love regency romance books. I can't wait to read this one. Thanks for the opportunity to enter.

Over the pass 60 yrs I have found many errors and have had a lot of great laughs. I have a Kindle and have found several oops in the last week. Some were just grammer errors and some were the wrong words. lol
(Brenda Hill 11:30pm July 25, 2011)
I have come across scene errors where something they referred to or did earlier is different or overlooked later.
(Robin Daily 12:08pm July 26, 2011)
I couldn't log in when I first tried to yesterday. I'm still not sure if it was my computer or something else. So I tried again after making today's link work.
I've seen too many mistakes to remember in the last 50 years or so. One came up again recently--it's a fairly common one: His eyes 'bore' into her(s). Huh, what did his eyes "carry" or "bear" into her (or her eyes?) Don't eyes, figuratively, bore into someone, i.e., try to make a hole in someone? (Usually, it's definitely not a kind look, but a very annoyed or angry one.) That verb is to bore, bored, has bored. And the sentence should read: His eyes bored into her. Yes, bored also means to drive someone to boredom, but there are different meanings for to bore, as there are for many simple verbs.

By the misuse of the verbs to lie, lay, has lain (to be prone) and to lay, laid, laid (to put down something,) one story had a lady sit on a blanket "laid" in a fire. (The exact sentence was long and complicated and I can't remember it after 5 yrs. This is probably the set of verbs that are the most frequently misused. I don't really know why. The only overlapping I can see is "lay" for the present (put down s.th.) and "he lay" in bed all day yesterday." Unfortunately, very few writers/speakers of any kind still use these verbs correctly. They certainly aren't caught by most editors or proofreaders. I can remember one politician saying, "We know where our responsibilities must lay." Lay what? eggs? There must always be an object after this verb, while the other, to lie, is intransitive, i.e., it has no object. Sometimes I wonder if writers think only of to lie as meaning to tell an untruth and, therefore, avoid using it. For me there is never any question about which verb to use. Maybe that's because I know other languages where there such differences, e.g., German:liegen (intransitive) = to lie and legen (transitive) = to lay.
By the way, more and more I see i.e. used everywhere. Howev
(Sigrun Schulz 4:28am July 26, 2011)
That's why we are our own worst proofreaders. We know what we intended to write and therefore, "see" those words on the paper (or computer screen.) That's why it's always best to have someone else read the final manuscript before sending it in. Another thing I always do is have Google check my spelling. That gets annoying when I write in another language but it's invaluable for English. I'm alerted to any possible mistake. I say possible because if Google hasn't changed it, someone's will come up as a mistake. (It no longer does.)
(Sigrun Schulz 4:35am July 26, 2011)
It's rare to find typos in books, I do find them in newspapers, though.
(Mary Smith 6:15am July 26, 2011)
Thank you, everyone for your wonderful response to my blog. I loved being with you and hope to return soon!
Amelia
(Amelia Grey 10:42am July 26, 2011)
Hey Amelia,

Your book looks like it is wonderful fun.

a good book blooper I remember was actually in the book The Count of Monte Cristo, Edmond Dantès is naked when he is thrown into the sea in a body bag and escapes, and later, he puts something in his pockets.

I think one of my most interesting book blooper finds is a book I found at the bookstore I worked at. It was printed backwards. Really! The beginning of the book was at the back of the book and the back of the book was at the beginning. I bought the book just because it was so strange and quirky. And I guess I am strange and quirky to want it. but it made me laugh.

Blessings, Heidi.
(Heidi Durham 11:03am July 26, 2011)
Another case of mis-coloured hair: I just finished reading a Judith McNaught book, and the inside front cover has the heroine with fantastic, long, wavy auburn hair. The description inside? Golden blonde, about shoulder blade length, but still wavy. Go figure.

Later,

Lynn (again)
(Lynn Rettig 9:25pm July 26, 2011)
I find typos or wrong words in every book I read! I haven't found any really bad bloopers though!
(Brenda Rupp 9:40pm August 28, 2011)
Registered users may leave comments.
Log in or register now!